Totally Tubular Time Machine - Back to the Future Meets the MTV Music Awards
January 17, 2013 - by Griffin Miller
Get ready to hob and nob with your favorite "celebrity pop stars" in Totally Tubular Time Machine, a way off-the-chart unique, interactive, time travel-inspired theatrical meet-and-greet/concert.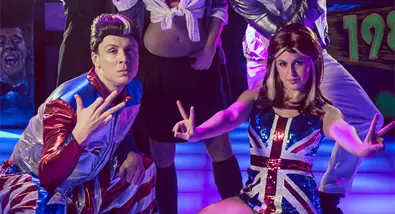 "You're not just at the party, you are the party," says producer/co-creator Robert Watman. "It's the ultimate interactive pop music experience because anything can happen between you and stars like Britney Spears, Justin Bieber, Ginger Spice, Vanilla Ice, Katy Perry, JLo and Puffy, too. Envision a Madame Tussauds that comes to life."
And wouldn't you just know that the backdrop for this reality-based musical -- featuring live hits performed by dead-on impersonators of Madonna, Michael Jackson, Lady Gaga -- is New York's celebrated Culture Club? (Watman, as it happens, is the guy who masterminded this, and other, iconic dance clubs.)
And it's not just music, my friends (although expect a mash-up of hits from the '80s, '90s & now – it's an up-close and personal opportunity to grill the stars on the gossip that's swirled around them, like, forever. "Maybe you'll want to ask Justin Bieber about why he and Selena broke up, or maybe just start a rumor yourself," notes Watman's co-creator (and producer) Denise Fennell.
I advise getting in while you can – you know how frustrating velvet ropes can be when you're standing on the wrong side! Culture Club is located at 20 W. 39th St. & the $60 ticket price includes admission to the nightclub after the show! 212-352-3101; totallytubularnyc.com
Reader Feedback