'True Love Gone Awry' in Murder Ballad
June 6, 2013 - by Melanie Baker
Freshly transported downtown by the Manhattan Theatre Club, Julia Jordan and Juliana Nash's Murder Ballad leads audiences through tangled, lusty webs against the backdrop of a divided New York City; the ever alive heartbeat of Lower Manhattan versus the comforts of complacency residing on Upper West Side. This new musical from Jordan (book and lyrics) and Nash (music and lyrics) challenges not only the conventions of a love story, but the ways in which we soak up performance.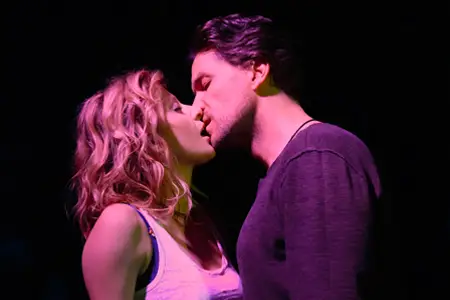 Caissie Levy and Will Swenson in Murder Ballad. Photo credit: Joan Marcus.
The Union Square Theatre, which typically functions as a proscenium-style performance space, is transformed drastically into a Lower East Side drinking hole. Think of your neighborhood haunt, with walls adorned with top-shelf and well booze side by side; the perfect home for the Four Horsemen (Jack, Jim, Johnnie, and José). The perfect set-up for two young, electric personalities to fall in love, discover peak sexual oblivion, and rip each other apart with brute, passionate force. Audiences are placed in thrust (two sections of seats lining the stage in the middle), and a select number of tickets land lucky theatergoers on the stage itself at bar tables right in the midst of the excitement. What's even better? Sure, waitstaff shuttle adult beverages right to your table before the show begins (a la Rock of Ages without the '80s twist), but during the performance, those on-stage tables see tons of action from the Murder Ballad cast. They sit down next to you, look you in the eye, rock out on top of your table, and engage in some of the most pulse-pounding moments of the evening as you bear witness and become part of the show's intoxicating environment.

Gritty bartender Tom, played by with muscular and masculine fervor by Broadway vet Will Swenson (Priscilla Queen of the Desert, and Tony-nominated for Hair) and the love-hungry Sara, portrayed by the magnetic and seamlessly dynamic Caissie Levy (Ghost the Musical, Hair) form the two halves of Murder Ballad's tempestuous love duo. Within the first song, the show's narrator—a bold, smoky-voiced Rebecca Naomi Jones (American Idiot, Passing Strange)—lays it on thick: "Listen and I'll tell a tale, a tale where good does not prevail." In fact, it will end in red as Jones raises a blood-soaked baseball bat, setting the stage for a whirlwind of whodunit plot points, shredding guitars, and sass by the pint.

What proceeds includes a fiery love triangle, as Sara denies her lust for Tom and trades her downtown romance for an uptown, straight-laced marriage with Michael (a very fitting John Ellison Conlee), an academic whose even-keel nature betrays him when Sara yearns for a more chemical connection (cue Tom's return). As last call approaches, secret trysts and Sara's unhappiness rise to the surface, giving way to heightened friction amongst the three players as the narrator navigates the stage and the plot with an inquisitive energy. It isn't until the final moments of Murder Ballad that Jones' narrator steps away from facilitating the evening's messy maze to playing an operative role in the show's final breath.

Murder Ballad is currently playing at the Union Square Theatre, 100 E. 17th St. For tickets or more information, call 800-982-2787 or visit murderballad.com.
Looking for Free Group Planning Services?
Get free advice on planning your group's trip to New York.
RESTAURANTS

Burke's dual-concept restaurant opened in 2005 and spans the...

THEATER

Gaston Leroux's famous period thriller is now one of Broadwa...

SHOPPING

Specializing in the great vineyards of California, France, A...

SIGHTSEEING

In addition to 360-degree views from Midtown Manhattan, the ...