New York City's Outdoor Music Festivals
November 2, 2015 - by Linda Sheridan
Click here to read part one of this story, covering the city's best concert venues.
Randall's Island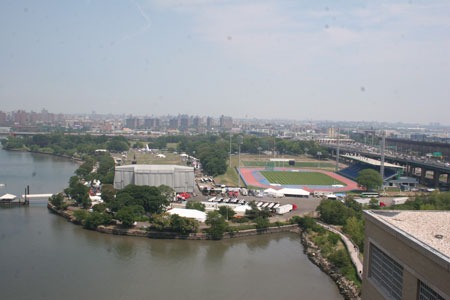 Photo: Randall's Island Park Alliance
With a capacity to hold between 35-40,000 people, Randall's Island has been a popular venue since the 1930s. Located in the East River, Randall's Island is separated from Manhattan by the river's main channel. Between the Island and the Bronx flows the Bronx Kill, while the famous rapids of Hell's Gate separate the Park from Astoria, Queens. Acts that have performed there include Dave Matthews Band, Cirque du Soleil, Lollapalooza, the Tibetan Freedom Concert, and many others. In Spring 2013, Randall's Island hosted the Frieze Art Fair. This summer, there's the highly anticipated three-day Governor's Ball (6/6-8), with headliners Drake, Deadmau5, Black Keys, Florence & The Machine, Bjork, Lana Del Ray, plus dozens of other bands. Randall's Island is easily accessible by the RFK Bridge and during certain events, New York Water Taxi provides ferry service. randallsisland.org
Prospect Park Bandshell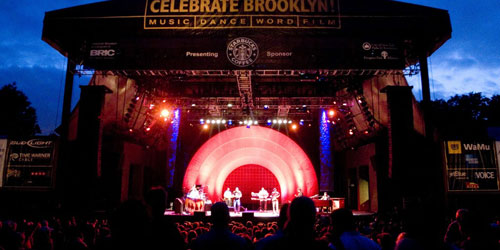 The Prospect Park Bandshell was designed by architect Aymar Embury II (1880-1966), who also designed Prospect Park Zoo. The Bandshell was renovated in 1983 in response to the success of the four-year-old Celebrate Brooklyn! Performing Arts Festival. In 1998, the bandshell again received major improvements with $3 million in funding from former Brooklyn Borough President Howard Golden. The three-story Bandshell features food and beer/wine concessions, public restrooms, and first-come, first-served seating in the 2000-seat plaza or 5000-capacity lawn. The 2015 lineup will include hot acts such as Chaka Khan (6/3), Lucinda Wiliams (6/25), Interpol (7/21), Modest Mouse (7/22) Willie Nelson (8/12) and others. Prospect Park is relatively easy to reach by subway, best bet, F or G Train to 15th Street-Prospect Park or 7th Avenue station. Prospect Park West at 9th Street, Brooklyn, 718-965-8999 (Prospect Park Events line); prospectpark.org
Forest Hills Tennis Stadium
Just 15 minutes from Penn Station via the LIRR, Forest Hills Tennis Stadium enjoyed a revival in 2013 with a blockbuster concert given by Mumford and Sons. The stadium is owned by the adjoining Forest Hills West Side Tennis Club, which in 2012 celebrated its 100th anniversary. The summer's lineup looks bright, including shows with Ed Sheeran (May 28-29), Who/Joan Jett (May 30), Van Morrison w/Taj Mahal (6/19), D'Angelo and the Vanguard with Gary Clark Jr (6/21); James Taylor (8/4) New York Pops w/Sutton Foster (8/6) and w/Pink Martini (8/7); Santana (8/14) and Alabama Shakes w/Drive By Truckers (9/19) foresthillsstadium.com
Nikon at Jones Beach Theater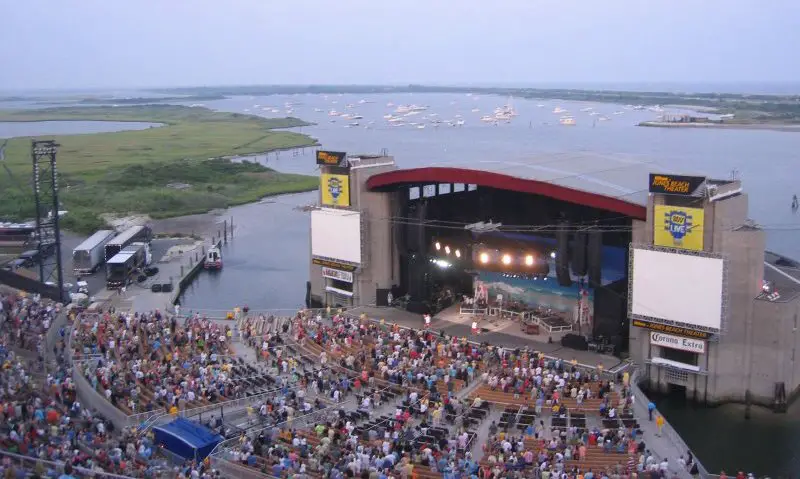 If a concert under the stars near the beach is your thing, Nikon at Jones Beach Theater, aka Jones Beach, is a great outdoor amphitheater, located at Jones Beach State Park in Wantagh, New York. Originally opened in 1952 as The Jones Beach Marine Theater, the original 8,500-seat theater underwent a renovation in 1992 and now can accommodate 15,000 seats. 1000 Ocean Parkway, 516-221-1000, www.livenation.com/venues/14252/nikon-at-jones-beach-theater
RESTAURANTS

A sophisticated, elegant steakhouse with generous portions o...

THEATER

A newly imagined meditation on narcissism, talented tykes an...

SHOPPING

An array of quality branded merchandise showcasing HBO's® aw...

SIGHTSEEING

Sweeping, unobstructed, open-air views of NYC from the top o...
Reader Feedback