Sightseeing > Attractions


More Attractions Listings... | Submit Listing Changes/Additions | Send this link to a friend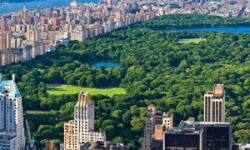 30 Rockefeller Plaza

877-692-7625
www.topoftherocknyc.com
Visit Top of the Rock Observation Deck and experience New York's most breathtaking view! Three floors of indoor and outdoor decks offer sweeping, unobstructed, open-air views of New York City.
Featuring reserved-time tickets, multi-media exhibits, and more. Open daily 8:00 AM to midnight, with the sky shuttle making a final run at 11:15 PM. Ticket prices are $27 for adults, $25 for seniors and $17 for children six to 12 years old. A variety of combination tickets are offered, including the Rock Pass which combines the Rockefeller Center Tour—a historian-guided tour of Rockefeller Center's buildings, gardens and public art—with a visit to Top of the Rock.
2011 Concierge Choice Awards Winner - Best Tourist Attraction
Related Links:

Visit the Activity Planner for More Great Activities
CityGuideNY.com Articles About Top of the Rock:
Click Here for the New York City Activity Planner!
Advertising | Add a Calendar Event | Bookmarks | Company News | Contact Us | Jobs @ City Guide
Suggest a Listing
For More Content Visit: Concierge Choice Awards | Promenade Magazine | NY Metro Parents Magazine
Bar Bat Mitzvah Book | NYC Activities | NYC Dining | NYC Discounts | NYC Events
NYC Museums | NYC Shopping | NYC Theater