Theater > Broadway


More Broadway Listings... | Submit Listing Changes/Additions | Send this link to a friend
225 W. 44th St.

212-239-6200
www.matildathemusical.com
The story of an extraordinary little girl who decides that despite a bad beginning filled with rotten parents, a terrifying school and a vicious head mistress, her story is going to be an astonishing one. With the help of her teacher, her friends and a little bit of imagination, Matilda proves that even if you're little, you can do big things. This Royal Shakespeare Company import received a record-breaking seven 2012 Olivier Awards including Best Musical. Tues. & Thurs., 7; Wed., Fri. & Sat., 8; Wed. & Sat., 2; Sun., 3. Call or visit website for variations in playing schedule. (2 hrs., 30 mins.)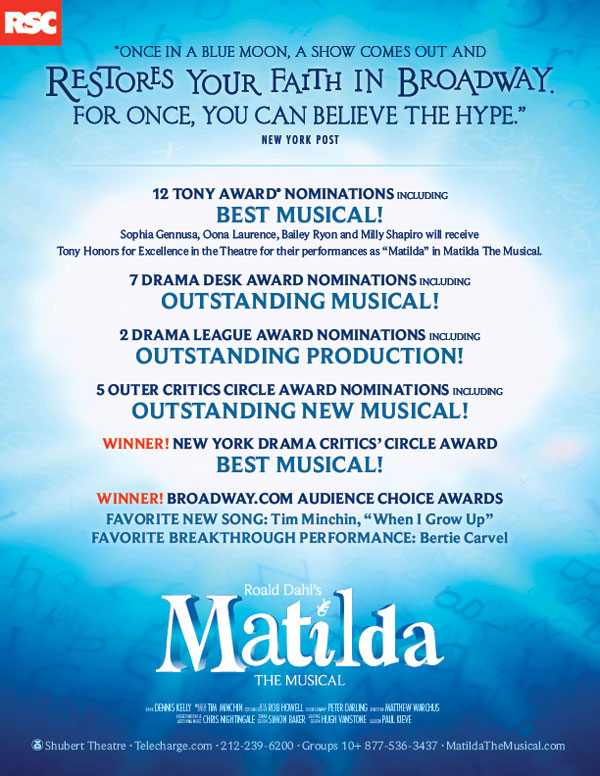 Related Links:

Visit the Activity Planner for More Great Activities
CityGuideNY.com Articles About Matilda the Musical:
Click Here for Money Saving New York City Offers!
Advertising | Add a Calendar Event | Bookmarks | Company News | Contact Us | Jobs @ City Guide
Suggest a Listing
For More Content Visit: Concierge Choice Awards | Promenade Magazine | NY Metro Parents Magazine
Bar Bat Mitzvah Book | NYC Activities | NYC Dining | NYC Discounts | NYC Events
NYC Museums | NYC Shopping | NYC Theater