Theater > Broadway


More Broadway Listings... | Submit Listing Changes/Additions | Send this link to a friend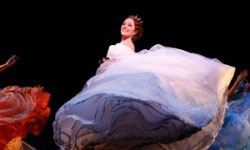 1681 Broadway

212-239-6200
www.cinderellaonbroadway.com
Douglas Carter Beane's new book for Rodgers & Hammerstein's Cinderella offers a new romantic twist on the ultimate makeover story of a maid-turned-princess, mixing fresh comedy and wit with the beloved tale's classic elements -- the pumpkin, glass slipper, masked ball and more. In addition to musical numbers from the original score-- including "In My Own Little Corner," "Impossible/It's Possible," "Ten Minutes Ago" and "Do I Love You Because You're Beautiful?" -- the show's Broadway debut will include several songs from the Rodgers & Hammerstein "trunk." Tues.-Thurs., 7; Fri. & Sat., 8; Wed., 1:30; Sat., 2; Sun., 3. Call or visit website for variations in playing schedule.
Related Links:

Visit the Activity Planner for More Great Activities
CityGuideNY.com Articles About Cinderella:
Click Here to Purchase Tickets to NYC Shows & Attractions!
Advertising | Add a Calendar Event | Bookmarks | Company News | Contact Us | Jobs @ City Guide
Suggest a Listing
For More Content Visit: Concierge Choice Awards | Promenade Magazine | NY Metro Parents Magazine
Bar Bat Mitzvah Book | NYC Activities | NYC Dining | NYC Discounts | NYC Events
NYC Museums | NYC Shopping | NYC Theater