Restaurants > Cafe


More Cafe Listings... | Submit Listing Changes/Additions | Send this link to a friend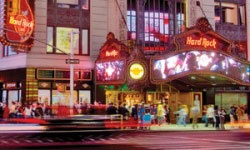 1501 Broadway

212-343-3355
www.hardrock.com
Rock your senses with tantalizing food and drinks and an awe-inspiring rock memorabilia collection. Priceless pieces from legends The Beatles, Led Zeppelin, Nirvana, Billy Joel, The Ramones and Elvis grace the walls along with more contemporary items including stage costumes worn by Madonna and Gwen Stefani. The 708-seat restaurant boasts a unique outdoor space above the building's historic marquee, which hosts private parties amid the excitement of Times Square.
Visit the Activity Planner for More Great Activities
CityGuideNY.com Articles About Hard Rock Cafe:
Click Here to Purchase Tickets to NYC Shows & Attractions!
Advertising | Add a Calendar Event | Bookmarks | Company News | Contact Us | Jobs @ City Guide
Suggest a Listing
For More Content Visit: Concierge Choice Awards | Promenade Magazine | NY Metro Parents Magazine
Bar Bat Mitzvah Book | NYC Activities | NYC Dining | NYC Discounts | NYC Events
NYC Museums | NYC Shopping | NYC Theater