Shopping > Specialty Stores


More Specialty Stores Listings... | Submit Listing Changes/Additions | Send this link to a friend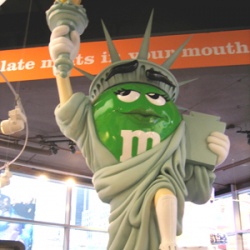 1600 Broadway

212-295-3850
www.mmsworld.com
Visit this Times Square retail-entertainment destination dedicated to the colorful fun of M&M'S Brand Chocolate Candies. This 25,000-square-foot, three-story sensory immersion into the world of M&M'S comes equipped with an interactive kids area, full-size #38 Ford Fusion NASCAR, and the largest display of M&M'S in the world! Come see why they're so much more than candy! Open daily, 9am-midnight.
Visit the Activity Planner for More Great Activities
Click Here for the New York City Activity Planner!
Advertising | Add a Calendar Event | Bookmarks | Company News | Contact Us | Jobs @ City Guide
Suggest a Listing
For More Content Visit: Concierge Choice Awards | Promenade Magazine | NY Metro Parents Magazine
Bar Bat Mitzvah Book | NYC Activities | NYC Dining | NYC Discounts | NYC Events
NYC Museums | NYC Shopping | NYC Theater