Sightseeing > Tourist Info


More Tourist Info Listings... | Submit Listing Changes/Additions | Send this link to a friend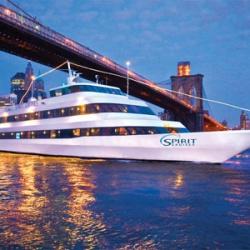 Chelsea Piers, 23rd St. & the Hudson River

866-483-3866
www.spiritcruises.com
Spirit Cruises is New York's most vibrant and entertaining dining vessel. Its bountiful buffets, stunning skyline and Statue of Liberty views and non-stop DJ music provide a one-of-a-kind New York experience. Join us daily for Lunch and Dinner and for specialty cruises on select dates.
Spirit also offers two different Private Proposal Packages, which include champagne, chocolate-covered strawberries, and more. Click here for more information.
Spirit Cruises recently unveiled some big changes on their new 2013 menus. Click here to view their full lunch and dinner menus.
Upcoming Events at Spirit Cruises:
Visit the Activity Planner for More Great Activities
CityGuideNY.com Articles About Spirit Cruises:
Click Here for Money Saving New York City Offers!
Advertising | Add a Calendar Event | Bookmarks | Company News | Contact Us | Jobs @ City Guide
Suggest a Listing
For More Content Visit: Concierge Choice Awards | Promenade Magazine | NY Metro Parents Magazine
Bar Bat Mitzvah Book | NYC Activities | NYC Dining | NYC Discounts | NYC Events
NYC Museums | NYC Shopping | NYC Theater