Restaurants > Thai


More Thai Listings... | Submit Listing Changes/Additions | Send this link to a friend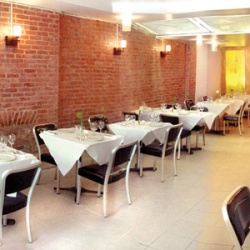 360 W. 46th St.

212-541-5943
www.bangkokhouseny.com
For Thai near Times Square, enter Bangkok House. The reasonably priced food has exotic flavors that will challenge your taste buds and please your appetites. We recommend ordering a few entrées that can be shared easily with a group. Great for before or after a Broadway show.
Visit the Activity Planner for More Great Activities
CityGuideNY.com Articles About Bangkok House:
| | |
| --- | --- |
| | JUMP TO CITYGUIDE LISTINGS |
Advertising | Add a Calendar Event | Bookmarks | Company News | Contact Us | Jobs @ City Guide
Suggest a Listing
For More Content Visit: Concierge Choice Awards | Promenade Magazine | NY Metro Parents Magazine
Bar Bat Mitzvah Book | NYC Activities | NYC Dining | NYC Discounts | NYC Events
NYC Museums | NYC Shopping | NYC Theater