Restaurants > American


More American Listings... | Submit Listing Changes/Additions | Send this link to a friend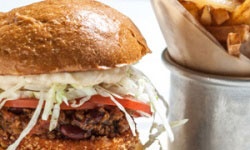 220 W. 44th St.

646-532-4897
www.guysamerican.com
Guy's American Kitchen & Bar is a dynamic restaurant introduced by Guy Fieri. From the crave-worthy menu featuring Guy's signature bold flavors and creative spins on American dishes, to its buzzing bar scene, Guy's Times Square restaurant promises a truly memorable dining experience. Menu items include Sangria Glazed Shrimp, Beer & Honey Porchetta, and Firecracker Chicken Wings, as well as desserts like the Salted Whiskey Caramel Fool. Guy's signature style will be infused in every aspect of the restaurant, with a demonstration kitchen featuring a flame-cooking rotisserie and -- hanging from the ceiling -- an enormous 12-foot wide chandelier showcasing a collection of Guy's retired pots and pans. An exciting bar program will feature beers brewed locally by Heartland Brewery, creative cocktails and a California-heavy wine list. Open for lunch and dinner, 7 days a week.
Related Links:
Guy's American Kitchen and Bar Review (Review) Visit the Activity Planner for More Great Activities

CityGuideNY.com Articles About Guy's American Kitchen and Bar:

Click Here for the New York City Activity Planner!




Advertising | Add a Calendar Event | Bookmarks | Company News | Contact Us | Jobs @ City Guide
Suggest a Listing

For More Content Visit: Concierge Choice Awards | Promenade Magazine | NY Metro Parents Magazine
Bar Bat Mitzvah Book | NYC Activities | NYC Dining | NYC Discounts | NYC Events
NYC Museums | NYC Shopping | NYC Theater