Cultural Arts > Museums


More Museums Listings... | Submit Listing Changes/Additions | Send this link to a friend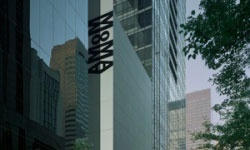 11 W. 53rd St.

212-708-9400
www.moma.org
One of the world's finest collections of modern and contemporary art. Highlights include Vincent van Gogh's The Starry Night, Claude Monet's Water Lilies, and Barnett Newman's Vir Heroicus Sublimis.
Upcoming Events at Museum of Modern Art (MoMA):
Visit the Activity Planner for More Great Activities
CityGuideNY.com Articles About Museum of Modern Art (MoMA):
Click Here for the New York City Activity Planner!
Advertising | Add a Calendar Event | Bookmarks | Company News | Contact Us | Jobs @ City Guide
Suggest a Listing
For More Content Visit: Concierge Choice Awards | Promenade Magazine | NY Metro Parents Magazine
Bar Bat Mitzvah Book | NYC Activities | NYC Dining | NYC Discounts | NYC Events
NYC Museums | NYC Shopping | NYC Theater