Post Feedback | Printer-Friendly | Send Article to a Friend
February 14, 2007 - by City Guide
Featured Listings
Bangkok House· For Thai near Times Square, enter Bangkok House...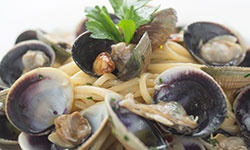 Da Marcella· A Mediterranean taverna in the Theater District...

San Domenico NY, New York's preeminent Italian restaurant, announced that its month-long Risotto Festival will take place Feb. 20-Mar. 16, 2007. The menu, designed by San Domenico NY's award-winning Executive Chef Odette Fada, features multiple types of Italian rice in elegant and memorable risotto dishes that are beloved by both Italians and American cognoscenti.

"Risotto is one of our favorite spring dishes," said Chef Odette Fada. "Not only because it can be prepared with ingredients that are delicate or hearty enough to make it a primo piatto or a main course, but because cooking the dish is just as satisfying as eating it!"

The risotto dishes are $25 each, with a special risotto tasting for two -- featuring four risotti -- for $45 per person. The restaurant will use several varieties of imported rice from Buon Italia at Chelsea Market and Riso Aquerello for its Risotto Festival. They include:

Riso Arborio: A superfine grain with good flavor that is slightly less delicate than Carnaroli, making it an easier rice to work with in the kitchen.

Riso Carnaroli: A superfine rice similar to but more delicate than Arborio. It has an elegant texture and excellent flavor, cooks for a long time and requires attention so that it is served precisely when done.

Riso Semifino Vialone Nano: Short, semi-fine grained rice that is used specifically in Venice and in general for recipes with fish and spring vegetables. This rice is leaner than other varieties.

Riso Aquerello: Carnaroli rice aged for at least one year to produce a less-starchy rice with harder kernels. Both elements help the rice maintain a granular texture throughout the cooking process and it is always al dente.


---

About SAN DOMENICO NY

When Tony May first opened San Domenico NY in June 1988, he pledged to bring the best in modern Italian dining and service to New York City, in a refined and comfortable setting. Restaurant reviewer Bryan Miller agreed, and six weeks later awarded San Domenico NY three stars in the New York Times. Since that first stunning review, the restaurant has received countless accolades, as diners and critics alike revel in Executive Chef Odette Fada's elegant, ingredient-driven menu. Now in its eighteenth year, May's commitment to providing diners with an unparalleled level of fine Italian cuisine continues to grow. San Domenico NY is located at 240 Central Park South in the heart of Midtown Manhattan. For more information, visit www.sandomeniconewyork.com.


Archives: Related Articles
Most Popular Articles on CGNY