Post Feedback | Printer-Friendly | Send Article to a Friend
May 6, 2008 - by City Guide
Featured Listings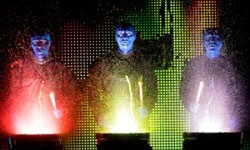 Blue Man Group· The trio of "post-modern clowns" present their outrageous in...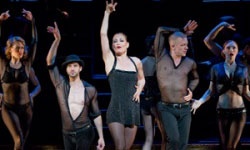 Chicago· Kander and Ebb's "musical vaudeville" in which Roxie Hart ga...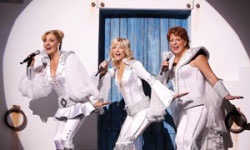 Mamma Mia!· This hit musical incorporates 22 ABBA songs into a story abo...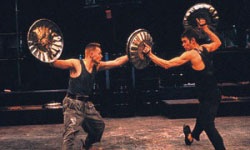 Stomp· The world-renowned eclectic theatre of percussion...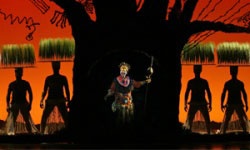 The Lion King· The stage version of Disney's celebrated animated feature....

The Sports Museum of America (SmA), the country's first and only interactive, multi-media all-sports museum experience, opens on Wednesday, May 7th. SmA has partnered with more than 50 single-sports Halls of Fame, national governing bodies, and other top athletic organizations to showcase exhibits, memorabilia, stories, and heroes that resonate with fans of all ages.
   
Located in the heart of Lower Manhattan, SmA is steps away from Wall Street, the South Street Seaport, and the 9/11 memorial currently underway, and a quick subway ride from Midtown.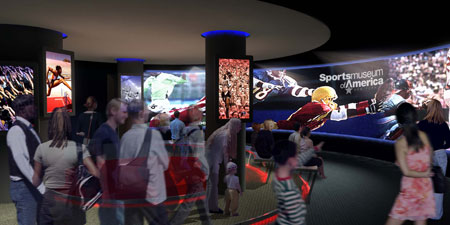 Partners include USA Football and the Pro Football Hall of Fame, NASCAR, USA Basketball and the Naismith Memorial Basketball Hall of Fame, the NCAA Hall of Champions, USA Hockey, the Hockey Hall of Fame, the Women's Sports Foundation, the Negro Leagues Baseball Museum, the Yogi Berra Museum & Learning Center, U.S. National Ski and Snowboard Hall of Fame and Museum, USA Track & Field, the National Track and Field Hall of Fame and others.
   
SmA has also tapped some of the most decorated, iconic sports stars in America for its Honorary Board of Trustees. Founding members of the Board include seven-time NBA All-Star Jason Kidd, Heisman Trophy winner Doug Flutie, Olympic Hall of Famer Mary Lou Retton, former World Heavyweight Boxing Champion Joe Frazier, racing legend Mario Andretti, tennis great Martina Navratilova and Basketball Hall of Famer Julius "Dr. J" Erving. Some of these athletes have donated memorabilia of great significance to the Museum so visitors can personally connect to the lives and history of their favorite sports legends.
   
Museum visitors will have access to an array of personal mementos, including the #48 car driven by Jimmie Johnson in 2006, the year he earned NASCAR's top title as the NEXTEL Cup Champion and the U.S. flag that goalie Jim Craig wore after the U.S. Hockey Team upset the favored Russian rivals in the Miracle on Ice during the 1980 Winter Olympics.
   
SmA will use the latest technology to put visitors "in" the game. As you make your way into the hockey exhibit, "Intensity on Ice," you step right into the goal and put your face inside the interactive goalie masks. In the Fan Culture gallery, you can test your skills against broadcasting legends when they broadcast a play-by-play from key moments in sports history. In "Auto Racing: The Need For Speed," you strap yourself in the driver's seat as great moments of the Daytona 500 speed by.
   
In addition to the memorabilia and state-of-the-art digital interactives, there will be over 20 original signature films within a number of the exhibits. "The Pit Crew Video: The Race Within the Race" showcases the tension and teamwork as a pit crew performs during a race. "Intensity of the Game" features basketball highlights while artfully showcasing the grace of the game. "Pros on the Field" takes a look at how Lawrence Taylor, Sammy Baugh, Jerry Rice, Jim Brown, and others changed the style of play for their respective positions.
   
SmA also boasts themed sections. "Dare to Dream" features professional athletes as children; "Olympics: When the World Comes Together" tells the stories of America's greatest athletes and teams throughout history; "Barrier Breakers" highlights the tales of six athletes who overcame adversities such as immigrant status and gender discrimination to become the best in their respective sports; "SportsNation: Where Everybody Plays" features four interactive databases for fans to share their  love of the sports they play.
  
The Sports Museum of America is the permanent home of one of sports most revered honors -- the legendary Heisman Trophy -- as well the Billie Jean King International Women's Sports Center, which includes the first hall of fame dedicated to the pioneers in women's sports.

The Sports Museum is located at 26 Broadway, corner of Broadway and Beaver Sts., 212-747-0900; www.sportsmuseum.com



Archives: Related Articles
Most Popular Articles on CGNY