Best Italian Ices in New York City
May 8, 2017 - by Chelsey Grasso
Also known as water ices, Italian ices are the perfect NYC snack when summer starts rolling in. You'll find Italian ice spots all over the city, but these five picks below are the best of the best when it comes to this classic Italian dessert. Don't you deserve a little refreshment?
Best of NYC Water Ices: Pasticceria Rocco (West Village)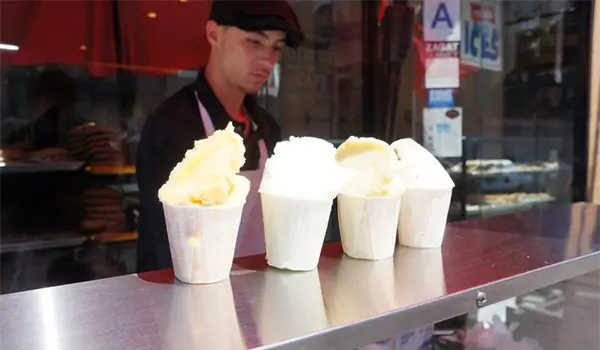 Pasticceria Rocco makes one of the most authentic Italian ices in the city, and they've been doing it for over 40 years. Flavors range from traditional lemon, chocolate, and cherry to more innovative flavors such as cremalata and pistachio. Flavors rotate daily, so you're sure to always be in for a surprise. Stop by between May and September to cool down with one of Rocco's most beloved, icey sweets. By the way, according to Rocco, "real New Yorkers don't use spoons with their Italian ices". 243 Bleecker St., 212-242-6031, roccos.nyc
Best of NYC Water Ices: Famous Ben's Pizza (South Village)
If you haven't already guessed, pizza isn't all Ben's is known for… in fact, as far as we're concerned, it might as well be called "Famous Ben's Ices". Crème a latto, pistachio, pina colada, coconut, strawberry, Ben's Famous cocoa, lemon-cherry, tutti frutti, and mango flavors are all available, along with daily ice specials. Featured in both Sex in the City and Men in Black 2, this water ice spot is one of the most popular during the steamy New York City summers. 177 Spring St., 212-966-4494, famousbenspizzaofsoho.com
Best of NYC Water Ices: The Lemon Ice King of Corona (Queens)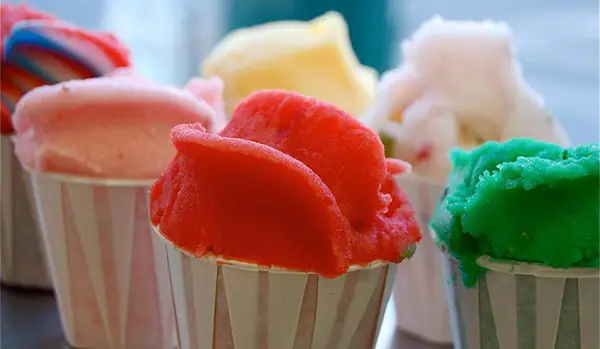 Considering its named after its water ices, The Lemon Ice King of Corona is the place to go if you're willing to trek it out to Queens. (You may recognize the spot from The King of Queens intro montage). You'll find over three dozen flavors at this joint, including all the usual suspects as well some not-so-usual ones, including tangerine, vanilla, grape, bubble gum, coffee, mint, licorice, watermelon, and sour apple. Located only two minutes from Citifield, The Lemon Ice King of Corona makes the perfect dessert stop before or after a Mets' game. 52-02 108th St., 718-699-5133, thelemonicekingofcorona.com
Best of NYC Water Ices: Uncle Louie G (Brooklyn)
Good ol' Uncle Louie G… he never lets you down. The flavors here tend to be a bit eccentric, but isn't that why we love him? Coney Island Cotton Candy, Holi Canoli, Soprano Spumoni, Cake Batter, and Over The Rainbow will surprise your taste buds, while Mucho Mango, My Honey Doo, Strawberry Fields, It's a Crime Lime, and Lick Me Lemon are ideal options for the traditionalists. (Bonus points just for those names!). Additional locations in Brooklyn and Queens. 233 Smith St., 646-820-8771, unclelouiegee.com
Best of NYC Water Ices: Rita's Water Ice NYC (Upper West Side)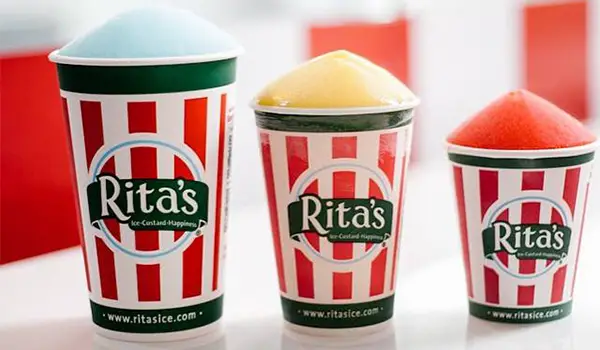 Rita's Water Ice makes a legendary Italian ice that's made fresh daily and served within 36 hours of mixing. With a few dozen flavors to choose between (including oddballs such as Sour Patch Kids Red, Wild Black Cherry, and Peanut Butter & Jelly), you'll want to hit up Rita's quite a few times during the sticky summer. If you're looking to try something even more special, order up one of their Gelatis, which consists of a layering of your favorite Italian ice and a creamy frozen custard. So, so good. Additional locations in Brooklyn and Queens. 2486 Broadway, 212-362-5880, ritasice.com
Looking for Free Group Planning Services?
Get free advice on planning your group's trip to New York.
RESTAURANTS

Burke's dual-concept restaurant opened in 2005 and spans the...

THEATER

Kander and Ebb's "musical vaudeville" in which Roxie Hart ga...

SHOPPING

An array of quality branded merchandise showcasing HBO's® aw...

SIGHTSEEING

Start by ascending to the top of the tallest building in the...