The Strange, Wonderful Case of the Jekyll & Hyde Club Times Square
January 6, 2014 - by City Guide News Desk
As gentrification sweeps across the country, it gets a little bit more difficult to find one of those "only in New York" dining experiences. But fear not—or, perhaps, be fearful—as the recently opened Jekyll and Hyde Club Times Square offers a dining adventure unlike any we've experienced in some time.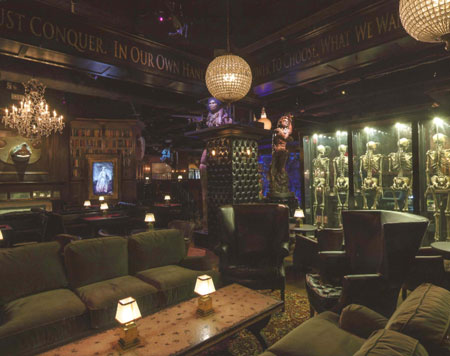 Many places promise to offer "something for the whole family," but here that promise is actually fulfilled. Inspired by Robert Louis Stevenson's 1886 novella The Strange Case of Dr. Jekyll and Mr. Hyde and late Victorian England, the stunning interior is cavernous, two-stories-high, and filled to the brim with plush leather seating and live actors who wander about portraying well-developed characters (such as the time-travelling scientist Professor Scuttle). There's also a plethora of memorabilia, and animatronic creatures that periodically come to life with diners while a stage hosts the occasional reanimation of Frankenstein's monster, and Joseph Merrick (The Elephant Man) offers a touching tale about looking beyond one's physical appearance.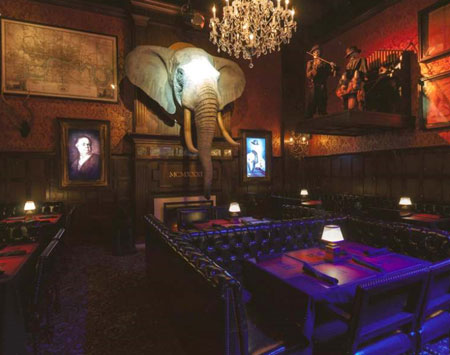 At places such as this, the food is often an afterthought, but that's not the case here. Executive chef (and David Bouley protégé) Paul Miranda heads up a kitchen with a wide range of dishes that run the gamut from traditional Italian pasta dishes to Artisan-style Stone Hearth pizzas to steaks and burgers. (There's also a surprising number of vegetarian options.) And the specialty cocktails are just as thematic as the atmosphere, with names like Death by Poison, Alter Ego, and the Kiss of Death.
Open 7 days a week: Sun.-Tues. & Thurs., 11am-midnight; Wed., 10:30am-midnight; Fri., 11am-1am; Sat., 10:30am-midnight. 216 W. 44th St. (7th-8th Aves.), 212-869-4933; jekyllandhydeclub.com
Looking for Free Group Planning Services?
Get free advice on planning your group's trip to New York.
RESTAURANTS

The home of decadent desserts like the famous Frrrozen Hot C...

THEATER

Gaston Leroux's famous period thriller is now one of Broadwa...

SHOPPING

An array of quality branded merchandise showcasing HBO's® aw...

SIGHTSEEING

This renovated museum complex includes the 900-foot-long air...