The 87th Annual Macy's Thanksgiving Day Parade Kicks Off the Holiday Season
November 6, 2013 - by CG News Desk
A global icon of the holiday season returns to bring the nation another year of enchantment, as the 87th Annual Macy's Thanksgiving Day Parade marches down the streets of New York City. On Thursday, November 28, 2013 at 9am, the dazzling spectacle begins! Stepping off with its signature giant helium character balloons, fantasy-filled floats, marching bands, performance groups and a gaggle of clowns, America's Parade promises non-stop pomp and pageantry for spectators young and old.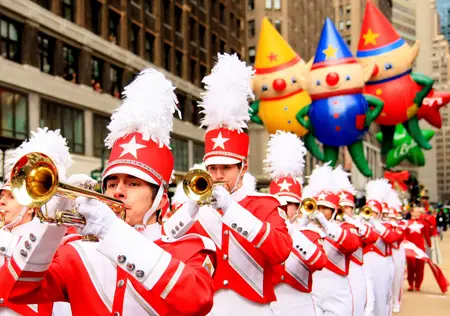 BALLOONS AND FLOATS

This year the line-up of wonder features 15 giant character balloons; 37 large scale, novelty/ornament balloons, balloonicles, balloonheads and trycaloons; 30 floats; 1,600 cheerleaders and dancers; 900 clowns; 11 marching bands; and a host of celebrity performers.
Joining the line-up this year are two returning favorites with brand new designs and two never-before seen characters set to take flight this Thanksgiving. Making their Thanksgiving Day debuts are: Adventure Time's Finn and Jake; Snoopy and Woodstock; SpongeBob SquarePants; and the dragon Toothless from How to Train Your Dragon.
Set to mark the 75th anniversary of The Wizard of Oz, a 47-foot tall giant hot air balloon carrying the Wizard of Oz himself along with Dorothy and special balloonhead characters of the Scarecrow, Tin Man, Cowardly Lion and the Wicked Witch of the West.
To mark the first time in the Parade's history that the Thanksgiving falls on the first night of Hanukkah, a special spinning dreidel balloonicle will spins its way down the route.
Rounding out the ballooning line-up are returning favorites including Buzz Lightyear, Diary of A Wimpy Kid, The Elf on the Shelf, Hello Kitty, Julius, Papa Smurf, Pikachu, Pillsbury Doughboy, Ronald McDonald, Sonic the Hedgehog, and Spider-Man.
New floats include A Sea of Surprises; A World at Sea; the scrumptious madness of Despicably Delicious!; the flying ship Dreamseeker; and puppetry aboard the Enchanting World of Lindt Chocolate.
The returning float roster includes 1-2-3 Sesame Street; Big Apple; Bridge To The Future; Cornucopia; Daytime, Play Time, Night Time Too…; Dora's Christmas Carol Adventure; Frozen Fall Fun; Goldfish on Parade; International Cele-bear-ation Clock Tower; It's All Rock & Roll; Marion-Carole Showboat; Mount Rushmore's American Pride; On The Roll Again; Pep Rally; Santa's Sleigh; The Smurfs; Stirrin' Up Sweet Sensations; Teenage Mutant Ninja Turtles; Tom Turkey; True Spirit of Thanksgiving; Uncle Sam's Top Hat; Wild Wild West Express; Winter Wonderland In Central Park; Woodland Family Gathering and Zhu-niverse.
MARCHING BANDS/PERFORMANCE GROUPS
The parade's eleven marching bands are: Concord Community High School (Elkhart, IN), Lakota West High School (West Chester, OH); Macy's Great American Marching Band (United States); James Madison University (Harrisonburg, VA); Marian Catholic High School (Chicago Heights, IL); Mountain View High School (Mesa, AZ); Ooltewah High School (Ooltewah, TN); Tarpon Springs High School (Tarpon Springs, FL); Union High School (Tulsa, OK); United States Marine Corps (Quantico, VA); and the University of Massachusetts Amherst (Amherst, MA).
Performance groups include the all-male cloggers of All That! (Myrtle Beach, SC), the special jump ropers of J.U.M.P. (United States), dancers of Spirit of America Dance (United States), the South Shore Drill Team (Chicago, IL), and Varsity Spirit Cheer (United States).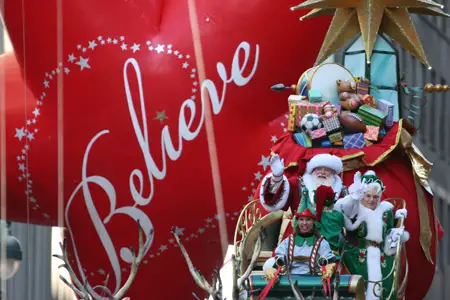 Also joining the festivities are the cast of A&E's Duck Dynasty, Big Apple Circus, Kristin Chenoweth, Cherokee National Youth Choir, Chica and the gang from Sprout, Cirque du Soleil, Gavin DeGraw, Brett Eldredge, Fall Out Boy, Jimmy Fallon and The Roots with the cast of Sesame Street, Fifth Harmony, Florida Georgia Line, Ariana Grande, Jack Hannah, Megan Hilty, Joan Jett and the Blackhearts, Sharon Jones and The Dap Kings, Sandra Lee, Cher Lloyd, Austin Mahone, Mannheim Steamroller, Miss America 2014 Nina Davuluri, NFL legends Bart Oates, Amani Toomer, Hines Ward, NHL legends Cam Neely and Mike Richter, Kellie Pickler, Debby Ryan, Richard Simmons, and The Summer Set.
MARCHING PATH
The 2013 Parade route will continue to see the march kick off from 77th Street and Central Park West. The Parade will then march down to Columbus Circle, where it will turn onto Central Park South, before making its way straight down midtown Manhattan on 6th Avenue from 59th to 34th Streets. The Parade concludes with its final turn onto 34th Street in front of Macy's Herald Square.

BALLOON GIANTS TAKE SHAPE
Long an open secret for many New Yorkers, the Parade's big balloon inflation night has grown to become a grand event attracting more than one million visitors. The revelry begins on Wednesday, November 27th at 3pm when the entrance to Macy's Parade Balloon Inflation at 79th Street and Columbus Avenue opens to the public. From there spectators will get an up close peek at the balloon giants as they are inflated in preparation for the big day. The inflation area is open to the public until 10pm.

A NATIONWIDE MUST-SEE
From the streets of New York City to television screens across the country via NBC-TV, on Thursday, November 28th from 9am-noon (in all time zones), the holiday season officially begins when the Macy's Thanksgiving Day Parade steps off at the sound of Let's Have a Parade!
For more information, visit macys.com/parade or call the Macy's Parade hotline at 212-494-4495.
Reader Feedback