New York knows how to do Thanksgiving. The Macy's Thanksgiving Day Parade is our biggest claim to fame, but close behind come the amazing Thanksgiving dinners served in our hotels and restaurants. Whether you're looking for a traditional bird with all the fixin's, or something a little more haute, we've got the best prix fixe dinners and more for Thanksgiving 2019 in New York City.
Best Thanksgiving Dinners NYC: Midtown East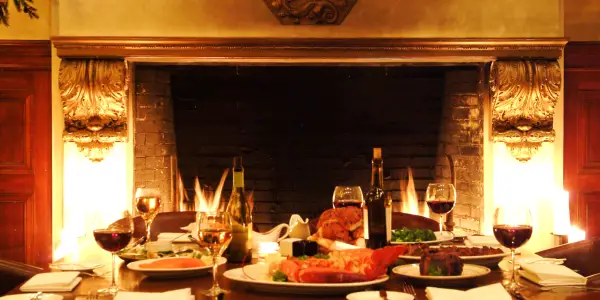 Peter Luger alumni Benjamin Prelvukaj and Chef Arturo McLeod have combined over 30 years of experience to create Benjamin Steakhouse, conveniently located near Grand Central Terminal in the century-old Chemist Club Building. Along with its usual refined Old World service and charm, Benjamin Steakhouse will be offering a Thanksgiving prix fixe on Thursday, November 28th. The main entree is traditional Thanksgiving turkey with stuffing, roasted yams, potatoes au gratin, and cranberry relish. For appetizer, you can choose between pumpkin soup and an autumn salad; dessert is pumpkin pie with vanilla ice cream. $69.95 per person (not including alcohol, tax, or tip). 52 E. 41st St., 212-297-9177, benjaminsteakhouse.com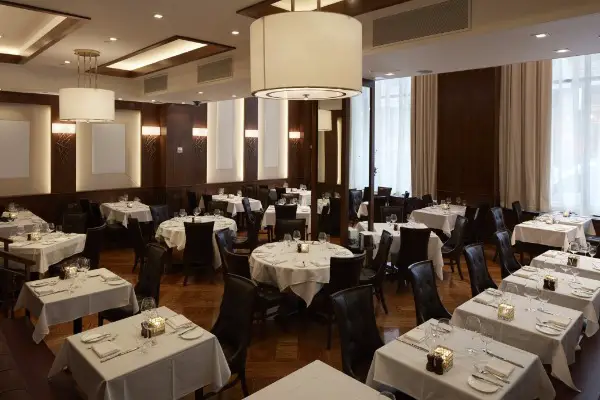 The 2019 Concierge Choice Awards winner for Best Restaurant Experience is Benjamin Steakhouse's spinoff Benjamin Steakhouse Prime. This midtown hot spot combines modern elegance with traditional steakhouse classics, picking up signature standouts from seafood legend The Sea Fire Grill, another sister property (below). This Thanksgiving look for a $69 three-course prix fixe that starts with appetizers like pumpkin soup, burrata, or autumn salad; followed by a traditional Thanksgiving turkey with all the fixin's, and pumpkin pie a la mode for dessert. 23 E. 40th St., 212-338-0818, benjaminsteakhouse.com
Famous for USDA prime-aged beef, fresh seafood, fine wine, and elegant desserts, Morton's The Steakhouse is the ideal place for a memorable dinner. Case in point? Thanksgiving 2019, when the Morton's on Fifth Avenue in midtown will be open starting at noon. Who needs turkey when you can get a perfect steak? Or start a new tradition: Steak & Lobster, available for a limited time only. 551 Fifth Ave., 212-972-3315; also visit their downtown location near the 9/11 Memorial at 136 Washington St., 212-608-0171, mortons.com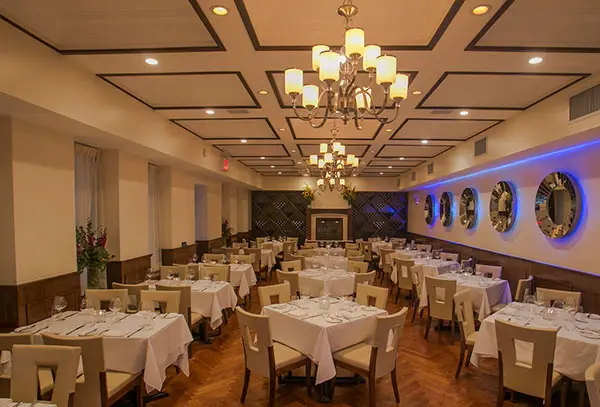 The Sea Fire Grill does for seafood what Benjamin Steakhouse does for beef (hardly a surprise, given the same pros are behind both). For $69 per person, this year's three-course Thanksgiving Day menu includes choice of appetizer (bibb salad, roasted kabocha squash soup, polenta with shrimp and scallops), followed by organic heritage turkey with sourdough stuffing, cranberry sauce, mashed potatoes, mushrooms, and pearl onions, and finished with tea or coffee and a choice of pumpkin or pecan pie. 158 E. 48th St., 212-935-
Best Thanksgiving Dinners NYC: Midtown West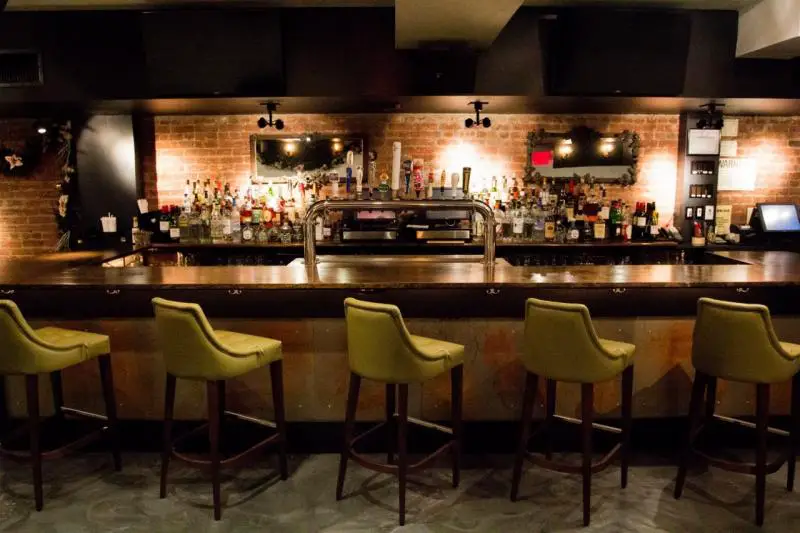 Serving Modern American cuisine, classic and signature cocktails, craft beers, and Scotch and whiskeys from one of the largest collections in the area, Croton Reservoir Tavern has been offering midtown a turn-of-the-century New York experience since 2003. For Thanksgiving, look for a creative prix fixe menu, with salad or butternut squash soup to start; short ribs, salmon, pumpkin ravioli, or a fresh oven-roasted turkey with all the fixin's for mains; and pumpkin pie with spiced whipped cream for dessert. Kids can get in on the action, too: they have their own prix fixe ($30; for 12 and under) with a choice of turkey dinner, chicken fingers, or mac 'n' cheese, and house-made chocolate chip cookies for dessert. 108 W. 40th St., 212-997-6835, crotonnyc.com
Del Frisco's Double Eagle Steakhouse New York, near Radio City Music Hall in Rockefeller Center, redefines fine dining in the heart of New York City. Del Frisco's locations nationwide are open on Thanksgiving with an all-day dinner menu as well as a special Thanksgiving prix fixe. For that latter, look for slow-roasted turkey breast with apple-sausage stuffing and a variety of trimmings, plus a choice between two appetizers and two desserts (not an easy one there, it's pumpkin cheesecake or pecan pie a la mode). The prix fixe price in NYC is $95. 1221 Avenue of the Americas (entrance on 49th St.), 212-575-5129, delfriscos.com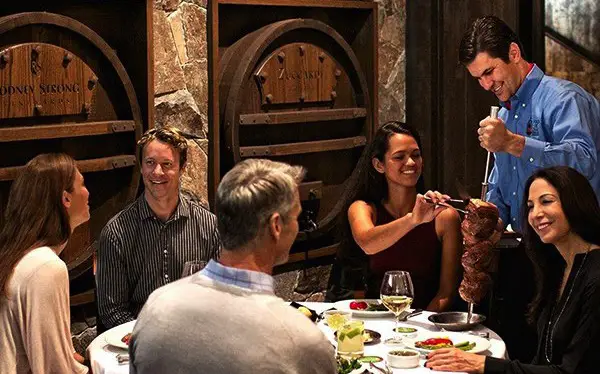 In 1979, Fogo de Chão began sharing the gaucho way of preparing meat in Porto Alegre, Brazil. Today, its gaucho chefs still expertly grill 16 cuts of meat and offer continuous tableside service. For Thanksgiving Day you'll find traditional Brazilian sides (cheese bread!), a market table and feijoada (stew) bar, and, of course, a selection of very fine fire-roasted meats. Thanksgiving hours are 11am to 9pm (dinner prices apply all day). Children under 6 free, and children 7-12 are half price. 40 W. 53rd St., 212-969-9980, fogodechao.com
This Thanksgiving, French bistro Le Privé is offering a special $60 prix fixe dinner that includes a choice of an appetizer (soup a l'oignon, beet salad, escargot), an entree (roast turkey with giblet gravy, prime rib with horseradish cream, honey-baked ham with apple sauce), along with a choice of two sides (mashed potatoes, mashed sweet potatoes, creamed corn, macaroni & cheese, cornbread stuffing, green been casserole), and dessert. Reservations are mandatory. 626 Tenth Ave., 212-837-2795, lepriveny.com

At his Pan-Latin Manhattan restaurant Paloma at Hotel Hendricks, acclaimed chef PJ Calapa debuts a menu inspired by a childhood spent in his grandmother's kitchen in Brownsville, Texas. The new restaurant is an equally loving nod to the cuisines of Central and South America, where classic dishes prove Calapa has a talent for flavorful South of the Border cuisine. This Thanksgiving you'll find an affordable three-course prix fixe: just $50 per person and it comes with a glass of cava. 25 W. 38th St., 646-933-9040,
palomarestaurantnyc.com
Strip House brings soaring steak to a bi-level space near Bryant Park with a siren-red interior accented by vintage black and white photography. For Thanksgiving, you'll find a chef-inspired menu highlighted by all-natural turkey breast and confit turkey leg, served with all of the fixin's, plus a squash and black truffle risotto, and, in true steakhouse style, a slow-roasted prime rib. Strip House's Greenwich Village location will be serving the same Thanksgiving menu as well. Strip House Midtown, 15 W. 44th St., 212-336-5454, striphouse.com/venues/midtown; Strip House Downtown, 13 E. 12th St., 212-328-0000, striphouse.com/venues/downtown
Best Thanksgiving Dinners NYC: Times Square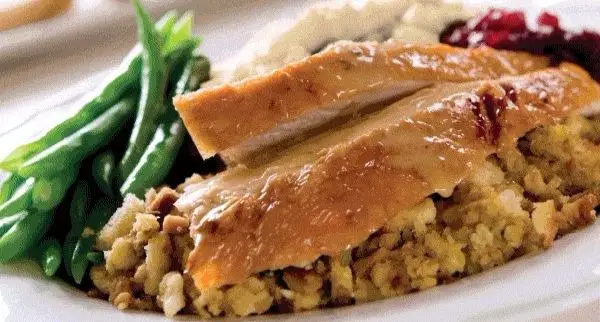 Eclectic décor, lively music, and engaging staff all add to the fun at Times Square's Buca di Beppo. They'll be going all out for Thanksgiving, serving sliced white meat turkey, homestyle gravy, roasted garlic mashed potatoes, spicy Italian sausage stuffing, green beans, cranberry sauce, and, of course, pumpkin pie. This is a terrific resource for Thanksgiving catering as well. Choose from a half pan (serves 10) or a full pan (serves 20) of Thanksgiving Feast classics and/or Italian favorites. Think spicy chicken rigatoni, chicken & sausage ziti, fettuccine Alfredo, mac 'n' cheese, lasagna, chicken limone, and dozens of other tasty choices. Salads, fresh breads, and desserts are all available as well. 1540 Broadway, 212-764-6527, bucadibeppo.com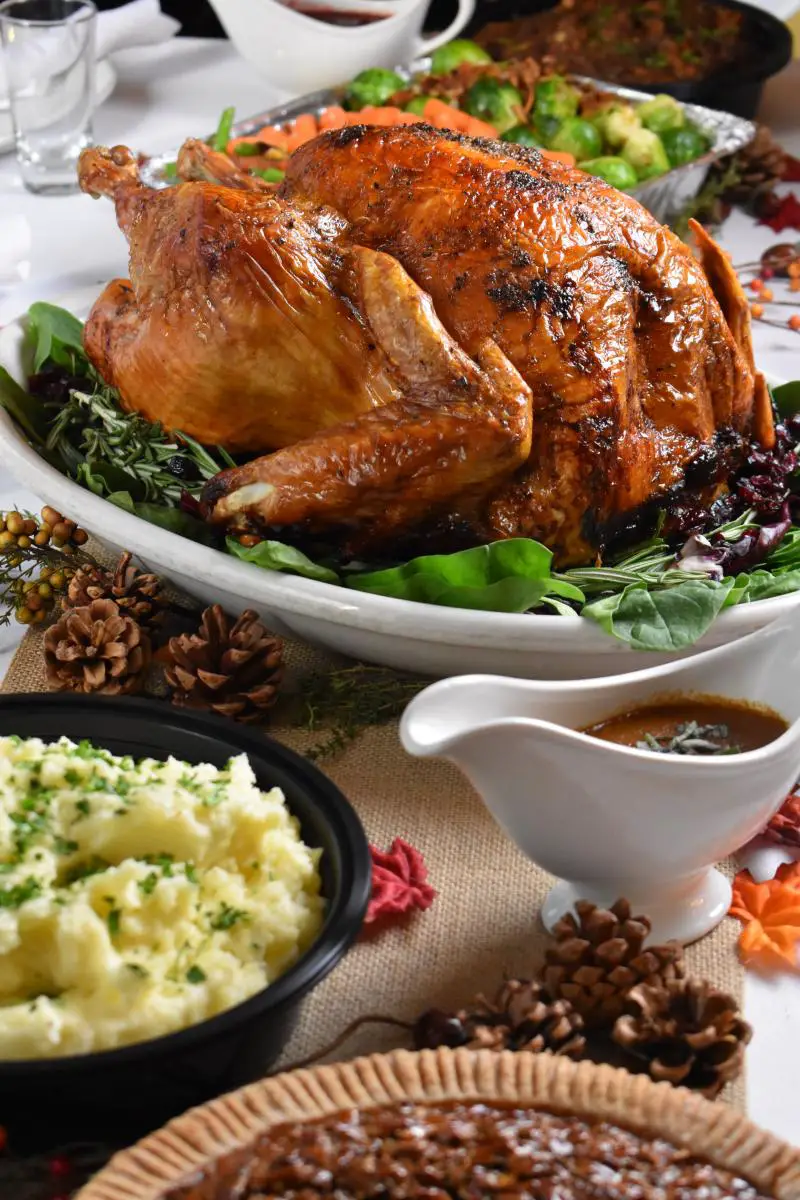 For an authentic Southern Italian feast in Times Square, Carmine's can't be beat. Gather the crew for a traditional family-style Thanksgiving centered on an 18 lb. roast turkey that comes with all the trimmings. Those fixin's? Think Brussels sprouts with caramelized onions and applewood-smoked bacon, string beans, baby carrots with fresh dill, sweet potatoes with marshmallows and maple syrup, mashed potatoes with giblet gravy, and apple or pumpkin pie to finish. 200 W. 44th St., 212-221-3800, carminesnyc.com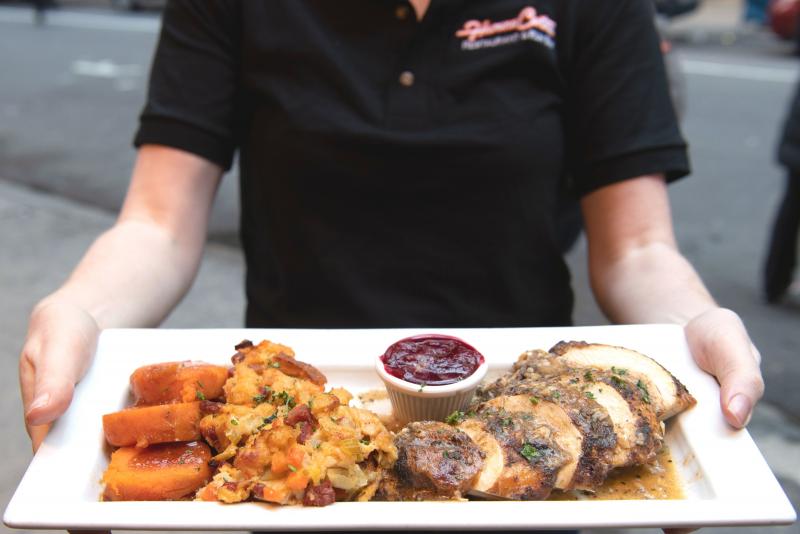 Get a taste of Cuba in Times Square as Havana Central celebrates Thanksgiving just blocks from the parade route. In addition to the regular menu of classic Cuban tastes, get an island slant on the holiday with Havana Central's $59 prix fixe. Look for calabaza (pumpkin) soup, Cuban-seasoned turkey breast with cranberry-orange salsita, and a pumpkin bread pudding for dessert. There's even your choice of welcome drink, cranberry sangria or a classic mojito. The meal will be lively: live Latin music plays from 5 to 9pm. Doors open at 11:30am, with the last reservation at 8pm (and reservations are highly recommended). 151 W. 46th St., 212-398-7441, havanacentral.com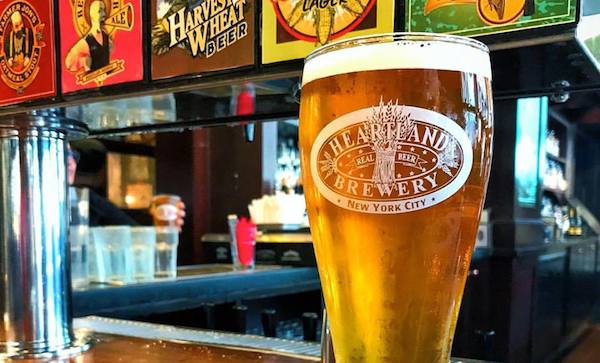 Heartland Brewery will be giving thanks this year with a special modestly priced prix fixe ($50, $26 for kids 12 and under) with a four-course menu. Meals start with homemade butternut squash soup and a crisp red leaf lettuce salad. Next, dig into a platter of fresh roasted turkey with sage stuffing, candied sweet potatoes, and green beans. Finish with a slice of pumpkin pie or New York cheesecake. Coffee and tea are included, reservations recommended. A great place to spend Thanksgiving with friends and family in NYC! At Times Square and Empire State Building locations, as well as spinoff HB Burger. While you're there, order a pint of seasonal favorite Smiling Pumpkin Ale. It's brewed with New York State pumpkins, cinnamon, fresh ginger, and a pinch of cloves. On tap now through Thanksgiving while supplies last. Heartland Brewery & Chophouse, 127 W. 43rd St., 646-366-0235; Heartland Brewery and Rotisserie Empire State Building, 350 Fifth Ave., 212-563-3433; HB Burger, 127 W. 43rd St., 212-575-5848; heartlandbrewery.com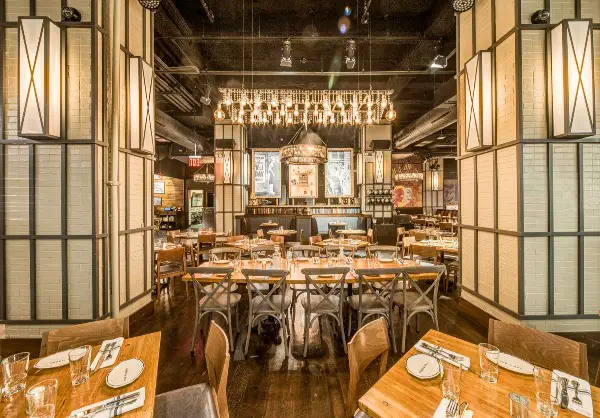 Upper West Side favorite The Ribbon has arrived in Time Square in an elegant setting that pays homage to old New York. Join them for creative cooking and a great craft cocktail program. Like the original location, The Ribbon Times Square will be laying out a serious Thanksgiving feast. Look for mains of Arctic char or a classic turkey, the latter served with stuffing, cranberry sauce, roasted sweet potato, mashed potatoes, gravy, and Brussels sprouts. Appetizer options include stuffed butternut squash and pear-blue cheese-candied pecans salad. At dessert there's pecan pie with maple ice cream and pumpkin bread pudding. 220 W. 44th St., 212-944-2474, theribbonnyc.com/thanksgiving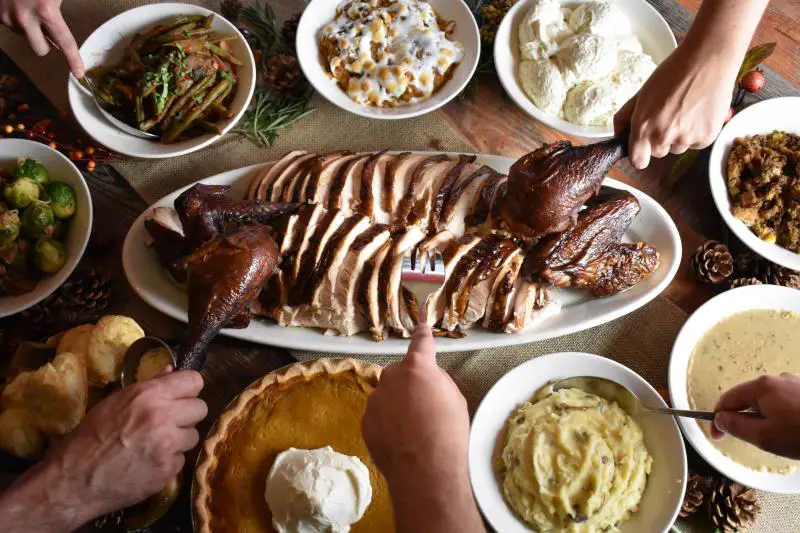 Virgil's Real Barbecue brings authentic tastes to Times Square. This Thanksgiving they're pulling out all the stops with a family-style spread for 6-8 guests. An 18-lb. smoked turkey with giblet gravy meets an array of sides: mashed potatoes; cornbread, sausage, & pecan stuffing; marshmallow-topped sweet potatoes, homemade cranberry sauce, Creole green beans, buttermilk biscuits, and candied Brussels sprouts. Apple or pumpkin pie are available for dessert. 152 W. 44th St., 212-921-9494, virgilsbbq.com
Best Thanksgiving Dinners NYC: Greenwich Village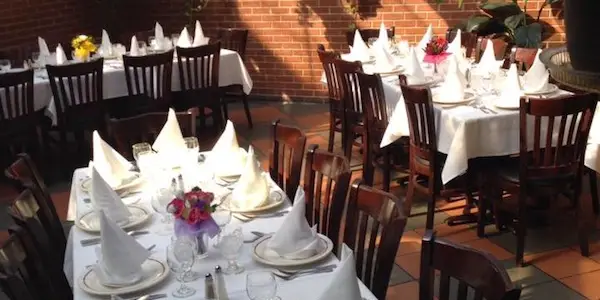 Family-run Greenwich Village favorite Villa Mosconi has been serving authentic Italian meals to New Yorkers for over four decades, and for those wanting to enjoy some Northern Italian cuisine, it is a must. For Thanksgiving, enjoy an a la carte menu that includes classics like roast turkey with cranberry and stuffing and tortoni—Italian ice cream—among the desserts. (There are also many Italian temptations, including homemade manicotti or cannelloni, veal scaloppine alla Marsala, eggplant or chicken parm, and hot antipasto to start.) Three sittings: 12:30pm, 2pm, or 5pm. 69 MacDougal St., 212-673-0390, villamosconi.com
Best Thanksgiving Dinners NYC: Chelsea/NoMad/Flatiron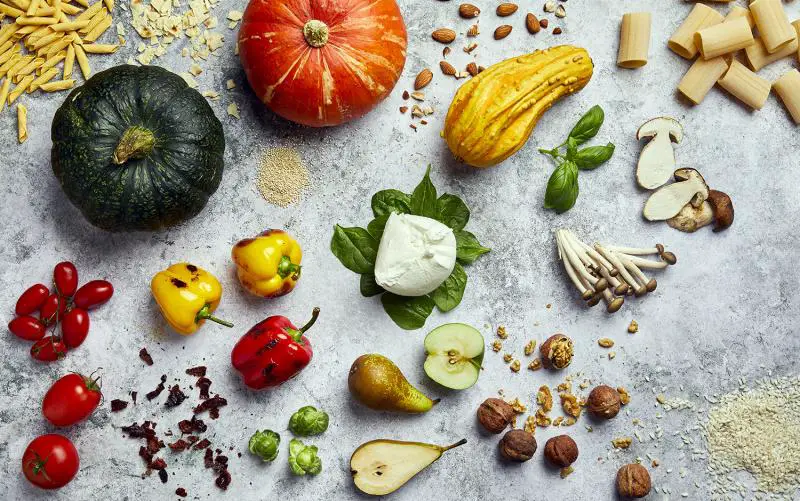 Flatiron favorite Obicà puts quality seasonal ingredients first with their range of shareable Italian dishes. Their signature ingredient is mozzarella, served in four varieties imported from the Campania region of Italy. If you're looking for delivery or take-away this Thanksgiving, you'll find a fresh, flavorful, seasonal approach at Obicà Mozzarella Bar, Pizza e Cucina (note that the restaurant will be closed on Thanksgiving, but they will be offering catering services on Wednesday the 27th). A special Thanksgiving take away menu includes classic Mozzarella Bar platters or a hard cheese board; follow that up with Italian salads, pumpkin soup, or lasagna. For mains, look for roasted salmon, filet mignon with a porcini dimi-glaze, and a traditional whole-roasted turkey served with cranberry and orange sauce. Orders must be placed by Thursday, November 21st; pick ups are Wednesday the 27th, and delivery to your home or hotel is available as well. 928 Broadway, 212-777-2754, obica.com

Famed chef, artist, and innovator David Burke will be serving up a full Thanksgiving menu at Woodpecker by David Burke. From noon to 8pm you can enjoy a three-course prix fixe ($65 per person; $35 for kids under 12) which begins with appetizers like steak tartare, roasted oysters, or roasted beet salad, followed by wood-fired entrees including turkey, pork chop, salmon, and branzino; there's also the pasta option of fusilli and lamb meatballs. Burke's famous Clothesline Bacon, above, is available as an appetizer add-on for $22. As for the youngin' version, look for kid-friendly dishes like cheeseburgers, pasta, and wood-fired turkey. 30 W. 30th St., 646-398-7664, woodpeckerbydb.com
Best Thanksgiving Dinners NYC: Financial District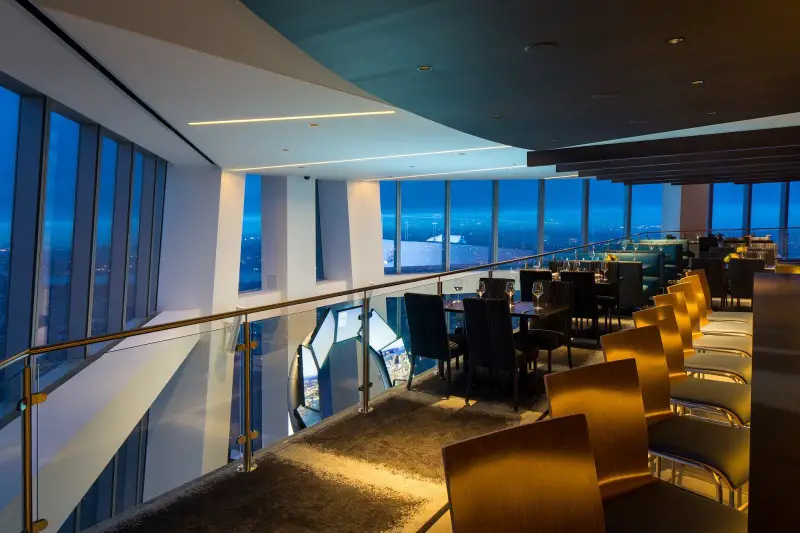 To have Thanksgiving at the highest dining room in the hemisphere, point yourself toward ONE Dine, the restaurant atop One World Observatory. The prix fixe special starts off with "Breaking Bread Together," featuring house-baked buttermilk & sharp cheddar biscuits, served with maple butter. There's a choice of welcome drinks (mimosa, Bloody Mary, bellini, Prosecco), pastrami-cured salmon & deviled eggs, starters like soup or salad, and entrees like a free-range turkey dinner with all the fixin's. You'll want to save room for the dessert display, which includes pumpkin cheesecake, bourbon caramel bread pudding, apple pie, and "grandma's chocolate mousse." $150, children's menu available at $75 for kids 12 and under; 11:30am-9pm, with the last seating at 7:30pm. (A ticket to One World Observatory is required for access to ONE Dine. ) 285 Fulton St., 844-696-1776, oneworldobservatory.com
Best Thanksgiving Dinners NYC: Upper East Side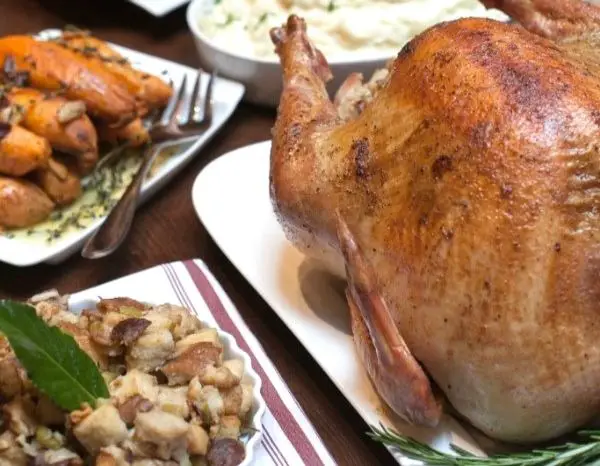 David Burke Tavern is a modern American restaurant by award-winning celebrity chef David Burke. A stately townhouse setting showcases Burke's creative, contemporary approach to classic fare—often with showstopping presentations. Thanksgiving dinner at the tavern is already fully booked, but you can still enjoy Burke's skills with a Thanksgiving Grab & Gobble (To-Go). Orders can be placed until Friday, November 22; pickup is from noon-5pm on Wednesday, November 27 and 11am–5pm on Thanksgiving Day. Choose from a half or full turkey, plus tempting sides like sausage stuffing, maple-whipped sweet potatoes, cranberry-orange-ginger relish, Brussels & bacon, green bean almondine, and rosemary and marble potatoes with pearl onion. There are desserts as well! Take your pick from cheesecake lollipops, and apple, pumpkin, or pecan pie. 135 E. 62nd St., 212-988-9021, davidburketavern.com
Best Thanksgiving Dinners NYC: Upper West Side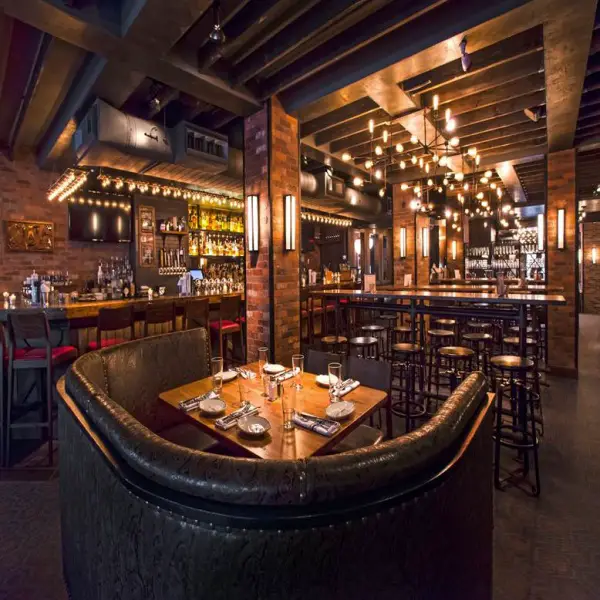 American cuisine with French influences, pairing classic preparations and local ingredients, is on the menu at Upper West Side charmer The Ribbon. For Thanksgiving, look for the likes of Arctic char with orange-braised endive or a classic turkey, with stuffing, cranberry sauce, roasted sweet potato, mashed potatoes, gravy, and Brussels sprouts. Come dessert, opt for a classic like pecan pie with maple ice cream, pumpkin bread pudding, or something a little more outside the box: apple doughnuts with bourbon caramel. Reservations can be made online or by phone. 20 W. 72nd St., 212-787-5656, theribbonnyc.com/thanksgiving
---
Best Thanksgiving Dinners NYC: On the Water

Bring Thanksgiving dining to the next level with family and friends together aboard Spirit of New York's Thanksgiving Day Sunset Cruise. The cruise departs from Chelsea Piers at 2:30pm for two and a half hours out on the water; prices start at $119.90. The buffet menu includes salads, sides like mac 'n' cheese or a mashed potato bar, entrees like hickory-smoked ham, flounder, or roasted tom turkey, and a bounty of desserts: pumpkin pie, caramel apple bread pudding, lemon pound cake & strawberries, vanilla bean mousse & raspberry sauce, red velvet & chocolate chip brownies, and seasonal fruit. Visit spiritofnewyork.com for additional information and reservations.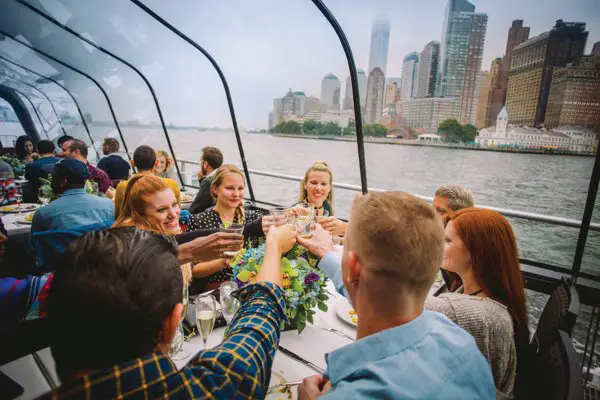 For an elegant, all-glass, European-inspired Thanksgiving experience, board Bateaux New York. Look for a lunch cruise, a dinner cruise, and additional runs over the weekend. At dinner, the music will be live band entertainment, providing a soundtrack to a plated 3-course dinner and a cruise that lasts from 7 to 10pm. Bateaux New York leaves from Pier 61 at Chelsea Piers. For reservations, call 866-817-3463 or visit bateauxnewyork.com.
You'll take in unparalleled skyline views from the water aboard one of Hornblower's breathtaking sightseeing cruises. For Thanksgiving, choose from three dinner cruises: the Admiral's, the Nautical, or the Premier. Look for great food, dancing and DJs, photo ops, and incredible views. hornblower.com