New York knows how to do Thanksgiving. The Macy's Thanksgiving Day Parade is our biggest claim to fame, but close behind come the amazing Thanksgiving dinners served in our hotels and restaurants. Whether you're looking for a traditional bird with all the fixin's, or something a little more haute, dining in or getting to go, we've got a curated list of the best prix fixe dinners and more for Thanksgiving 2021 in New York City.
A CLASSIC FAMILY FEAST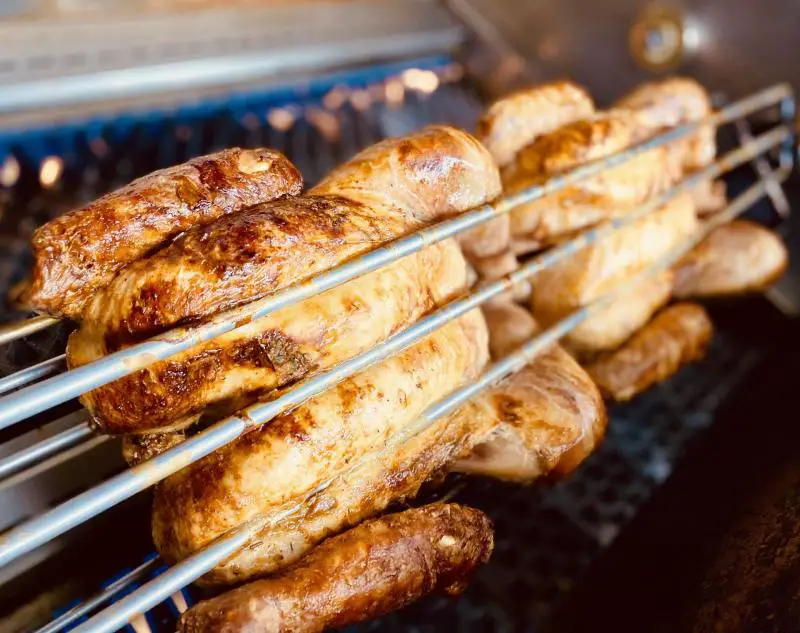 Bacall's Family Steakhouse brings '40s glamour and big portion Jewish/Romanian fare to Times Square. Newly opened, the menu is inspired by the restaurant's muse, starlet Lauren Bacall, and her Jewish-Romanian upbringing in New York City. This holiday, celebrate with a classic family feast at Bacall's with all your Thanksgiving favorites including succulent spit-roasted turkey, traditional stuffing, mashed potatoes, cranberry sauce, roasted sweet potato, Brussels sprouts, and gravy. (Save room to indulge with pumpkin bread pudding and pecan pie.)
Bacall's signature dinner menu is also available. You'll find favorite starters like kreplach, chopped chicken liver, latkes, and matzoh balls. Family platters include house-smoked brisket, seared salmon, a Lower East Side veal chop, duck confit, and stuffed trout. You can get a pre-theatre selection of lighter fare or go all out with "The Show Stopper" (Betty's Roumanian Steak Platter, stuffed cabbage, and roasted vegetables) or the dry-aged tomahawk for four pictured above. The hallmark of the bar program will be a premier Vodcã Bar. The Vodcã Blast offering will include bottles of top-shelf vodka served tableside encased in an ice block with a choice of mixers or shot glasses. Dani Luv, famed troubadour of the former Sammy's Roumanian Steakhouse on the Lower East Side for over 20 years, will now be performing at Bacall's. Look for laughs and sing-a-longs nightly starting at 7:45pm. The restaurant holds down a roomy space at 220 W. 44th St. and is open Thursdays to Sundays 4-11pm, brunch service Saturdays and Sundays from 11:30am-3pm. For reservations call 212-944-2474.
THANKSGIVING AT THE RIBBON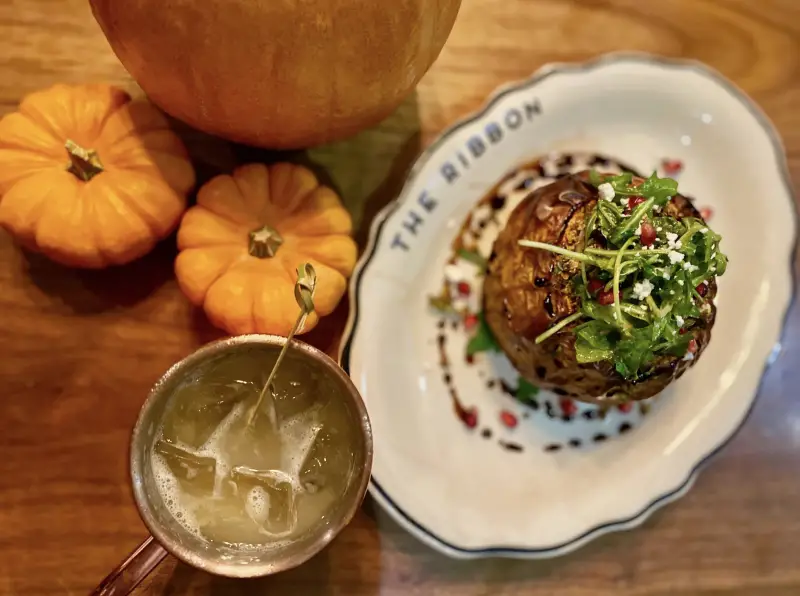 The Ribbon on the Upper West Side presents a quintessential New York dining experience, with craft cocktails, an extensive wine list, and mastery of American classics (with some French influence as well). This year you can get a Thanksgiving package to go here, or dine in with The Ribbon's Thanksgiving Day feast. Start up with stuffed butternut squash, a wedge salad, or fall soup with truffle oil. Mains include rotisserie turkey with all the trimmings, pan-seared salmon, and a NY Strip Steak with bone marrow butter and truffle-parmesan fries. Your dessert dilemma? Pumpkin bread pudding or pecan pie.​
THANKSGIVING ON THE WATER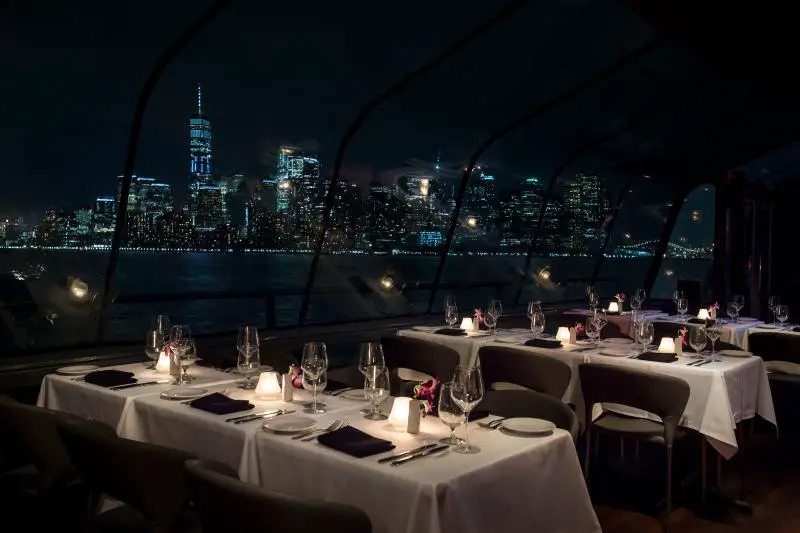 For an unforgettable Thanksgiving experience, join City Cruises for East River and Hudson experiences. Stunning views await from the glass-enclosed deck of the European-inspired Bateaux. You'll get a plated meal in a festive atmosphere, decked out with holiday decor. Or opt for the Spirit of New York, which offers a buffet dinner on Thursday afternoon. Departures from Chelsea Piers.
THANKSGIVING AT THE TOP OF THE WORLD
Image courtesy of One World Observatory.
One Dine, the restaurant at One World Observatory, will be offering festive culinary offerings for Thanksgiving—set against unparalleled views. In addition to its seasonally inspired fall menu, diners on Thursday, November 25th through Saturday, November 27th can opt for an autumn arugula salad, pumpkin cheesecake, and a turkey sandwich trimmed out with cranberry chutney and classic stuffing, served on country bread. To complement the dishes, new cocktails like a carrot whiskey sour and a "5th Avenue" with cinnamon whiskey, Baileys Irish Cream, vanilla, and Disaronno will be offered. For Thanksgiving, One Dine is open 1-9pm (final seating 6pm); Friday and Saturday hours are 1-10pm, final seating at 8:30pm.
THANKSGIVING AT THE RUSSIAN TEA ROOM
What was founded 90 years ago as a place for the Russian cultural and intellectual elite to meet and play has become a New York cultural institution of its own. Today, the Russian Tea Room draws on its rich heritage, theatrical design, classic food—and, of course, its legendary reputation as a gilded playground for the international elite—to draw a new generation. For Thanksgiving 2021 you can find a prix fixe with appetizers like traditional Tea Room red borscht, duck blinchik, squash soup, and salad; followed up with roasted turkey breast, boeuf à la Stroganoff, chicken Kiev, pastry-wrapped salmon, or roasted pork. Pumpkin tart, chocolate mousse cake, apple tartet, and traditional cheesecake feature as desserts.
A TASTE OF THE TROPICS IN TIMES SQUARE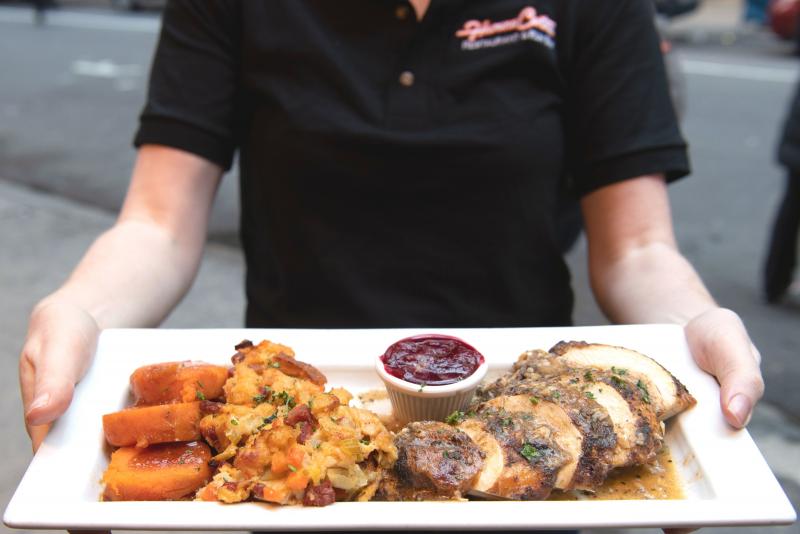 Get a taste of Cuba in Times Square as Havana Central celebrates Thanksgiving just blocks from the parade route. In addition to the regular menu of classic Cuban tastes, get an island slant on the holiday with Havana Central's $59 prix fixe. Chorizo stuffing and cranberry-orange salsita provide the sides for your choice of herb-roasted turkey breast, roast pork, or braised beef. Veggie sides and pumpkin bread pudding for dessert are included. There's even your choice of welcome drink, cranberry sangria or a classic mojito.
THANKSGIVING AT CASA DEL TORO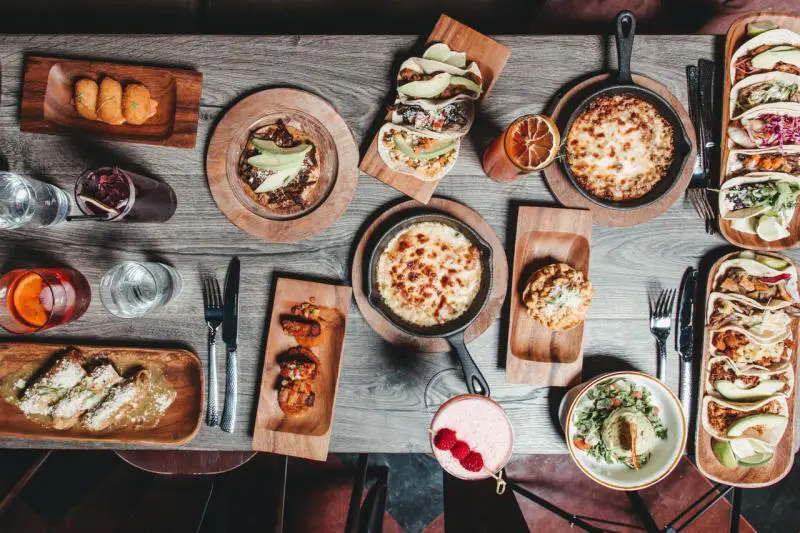 Hell's Kitchen fave Casa del Toro serves up authentic Mexican food and drink. For a different slant on Thanksgiving, they'll be serving up their a la carte favorites in addition to holiday specials which add a layer of French accent to American classics. A prix fixe menu highlights entrees like honey-baked ham, turkey with giblet gravy, duck, and slow-roasted pork. Every two prix fixe orders get a free bottle of wine.
FRENCH-INFLUENCED THANKSGIVING
This Thanksgiving, French bistro Le Privé is serving a three-course prix fixe menu highlighted by classic American Thanksgiving dishes (with some contemporary takes on French favorites as well). The full menu is here and the prix fixe is $69. Among your options: escargot, French onion soup, slow-roasted pork with apples and onion jus, turkey with giblet gravy, mac 'n' cheese, Brussels sprouts and bacon, and mashed potatoes. For dessert you'll have a sweet finish with creme au chocolat or beignets.
A CLASSIC NEW YORK THANKSGIVING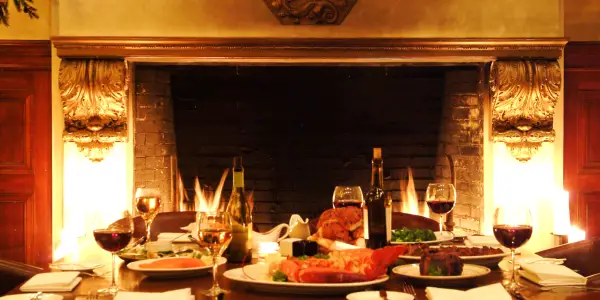 Peter Luger alumni Benjamin Prelvukaj and Chef Arturo McLeod have combined over 30 years of experience to create Benjamin Steakhouse, conveniently located near Grand Central Terminal in the century-old Chemist Club Building. Along with its usual refined Old World service and charm, Benjamin Steakhouse will be offering a Thanksgiving prix fixe. The main entree is traditional Thanksgiving turkey with stuffing, roasted yams, potatoes au gratin, and cranberry relish. For appetizer, you can choose between pumpkin soup, an autumn salad, crab cake, or shrimp cocktail; dessert is pumpkin pie with vanilla ice cream. $74.95 per person (not including alcohol, tax, or tip).
A STEAKHOUSE THANKSGIVING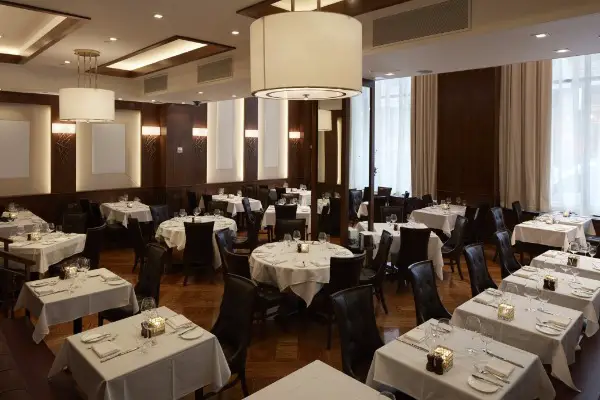 The 2019 Concierge Choice Awards winner for Best Restaurant Experience is Benjamin Steakhouse's spinoff Benjamin Steakhouse Prime. This midtown hot spot combines modern elegance with traditional steakhouse classics, picking up signature standouts from seafood legend The Sea Fire Grill, another sister property (below). This Thanksgiving look for a $75 three-course prix fixe that starts with appetizers like pumpkin soup, burrata, crab cake or autumn salad; followed by a traditional Thanksgiving turkey with all the fixin's, and pumpkin pie a la mode for dessert.
THE SEA FIRE GRILL'S THANKSGIVING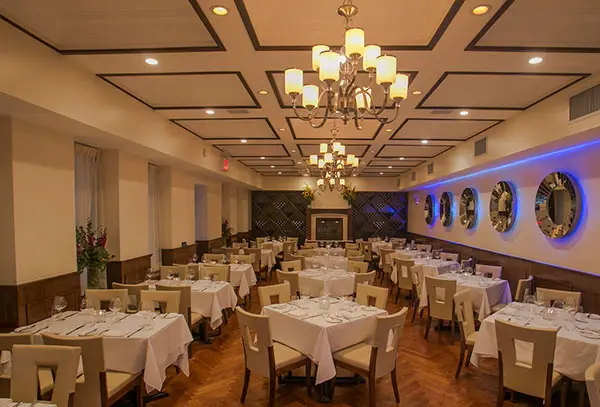 The Sea Fire Grill does for seafood what Benjamin Steakhouse does for beef (hardly a surprise, given the same pros are behind both). For $75 per person, this year's three-course Thanksgiving Day menu includes choice of appetizer (bibb salad, roasted kabocha squash soup, oyster Rockefeller, or beet salad), followed by organic heritage turkey with sourdough stuffing, gravy, cranberry sauce, mashed potatoes, mushrooms, and pearl onions, and finished with tea or coffee and a choice of pumpkin or pecan pie.
FRAUNCES TAVERN CELEBRATIONS
George Washington not only slept here, he also socialized at this ancient downtown tavern. Fraunces Tavern was the site of many of his presidential banquets, as well as his farewell address to his officers on December 4th, 1783. You can celebrate Thanksgiving here on Thursday with a three-course meal structured around with roasted turkey and all the trimmings. Pair it with a hot apple cider (made with applejack brandy, citrus juice blend, ginger, cinnamon, clove, turmeric, maple syrup, and nutmeg).
FOR DESSERT
Looking for the best cannoli in Manhattan? Caffe Palermo, aka the "Cannoli King of Little Italy" is the best place to seek out. They've got some of the best desserts in the city, including a season special pumpkin cannoli cream. Open daily, serving fantastic cheesecakes, tiramisu, and coffee as only Italians can do it—just ask fans like Danny DeVito, Ray Romano, and Ryan Seacrest.
A BONUS THANKSGIVING RECIPE FROM PATSY'S ITALIAN RESTAURANT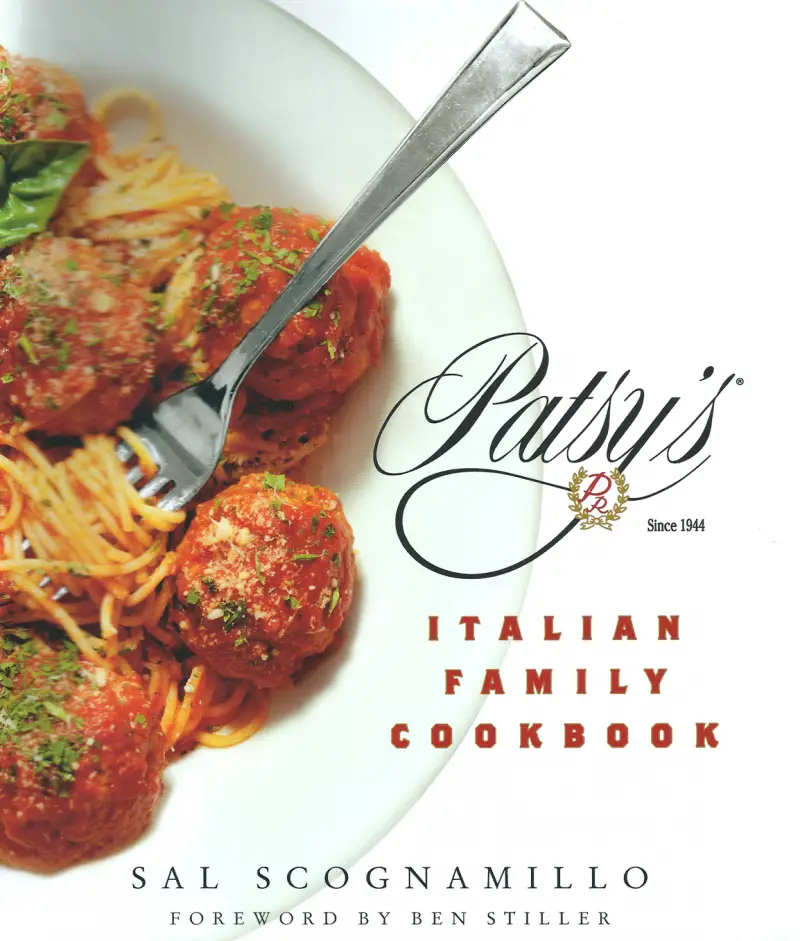 New York restaurants come and go, but Patsy's Italian Restaurant is forever. The famed eatery—which only has one location, right in the heart of Midtown Manhattan—turned 77 this year and is only getting better. Add a little of Patsy's expertise to your meal this year with Chef Sal Scognamillo's recipe for Scognamillo Italian Sausage and Bacon Stuffing. As Sal puts it, "It's not Thanksgiving without our sausage and bacon stuffing, made every year by my dad Joe. It is best to make the stuffing fresh and use it warm, as cold stuffing takes longer to cook inside of the bird. Also, remember that you will not be able to fit all of the stuffing in the bird, and there will always be leftover dressing to bake on the side."
Ingredients:
2 tablespoons olive oil
2 1⁄2 pounds sweet Italian sausages, casing removed
12 ounces bacon, cut into l-inch pieces
One loaf day-old Italian bread (about 1 pound)
1 cup freshly grated Parmigiano-Reggiano cheese
3 large eggs, beaten to blend
1⁄2 cup seedless raisins
1⁄2 cup pinenuts
1⁄4 cup chopped fresh flat-leaf parsley
1 tablespoon finely chopped sage and rosemary
Salt and ground pepper
1 1⁄2 cups chicken stock or reduced-sodium chicken broth, as needed
Directions:
Heat the oil in a large skillet over medium heat. Add the sausage and cook, breaking up the sausage into small pieces with the side of a spoon, until browned and shows no sign of pink, about 8 minutes. Transfer the sausage and any fat to a large bowl.
Add the bacon to the skillet. Cook over medium heat, stirring often,
until browned and crisp, about 8 minutes. Using a slotted spoon, transfer the bacon to the sausage. Discard the bacon fat.
Cut the bread into 3⁄4-inch cubes. Add the bread cubes, grated cheese, raisins, pine nuts, and parsley and stir to combine. Season to taste with salt and pepper. Mix in the eggs and enough of the broth to make a moist, but not wet, mixture.
Use immediately as a turkey stuffing. Any leftover stuffing can be spread in a buttered baking dish, covered with aluminum foil, and refrigerated for up to 8 hours. Just before baking, uncover the dish and drizzle the stuffing with about 1⁄2 cup stock. Cover again and bake in a preheated 350°F oven for 20 minutes. Remove the foil and continue baking until the top is golden brown and slightly crisp, 15 to 20 minutes more. Serve hot.