Thanksgiving Dinner NYC: Where to Eat 2017
November 8, 2017 - by City Guide News Desk
Thanksgiving Dinner NYC: New York knows how to do Thanksgiving. The Macy's Thanksgiving Day Parade is our biggest claim to fame, but close behind come the amazing Thanksgiving dinners served in our hotels and restaurants. Whether you're looking for a traditional bird with all the fixin's, or something a little more haute, we've got the best prix fixe dinners and more for Thanksgiving 2017 in New York City.
Best Thanksgiving Dinners NYC: Midtown East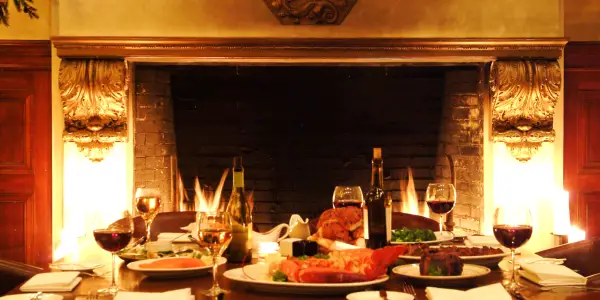 Peter Luger alumni Benjamin Prelvukaj and Chef Arturo McLeod have combined over 30 years of experience to create Benjamin Steakhouse, conveniently located near Grand Central Terminal in the century-old Chemist Club Building. Along with its usual refined Old World service and charm, Benjamin Steakhouse will be offering a Thanksgiving prix fixe on Thursday, November 23rd, in addition to their a la carte menu. The main entree is traditional Thanksgiving turkey with stuffing, roasted yams, potatoes au gratin, and cranberry relish. For appetizer, you can choose between pumpkin soup and an autumn salad; dessert is your pick of pumpkin pie or vanilla ice cream. $74.95 per person (not including alcohol, tax, or tip). 52 E. 41st St., 212-297-9177, benjaminsteakhouse.com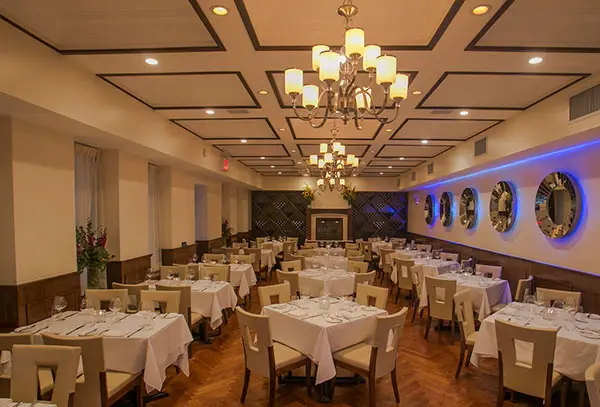 Benjamin Steakhouse sibling The Sea Fire Grill serves a contemporary American seafood menu for an elegant-yet-classic experience. For $75 per person, this year's three-course Thanksgiving Day menu includes choice of appetizer (bibb salad, roasted kabocha squash soup, polenta with shrimp and scallops), followed by organic heritage turkey with sourdough stuffing, cranberry sauce, mashed potatoes, mushrooms, and pearl onions, and finished with a choice of pumpkin or pecan pie. 158 E. 48th St., 212-935-3785, theseafiregrill.com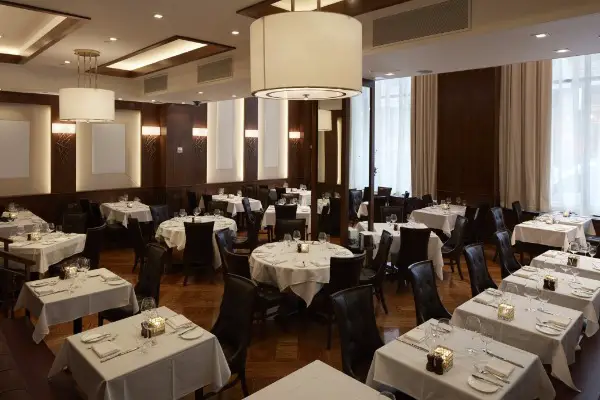 Benjamin Steakhouse, the 2016 Concierge Choice Awards winner for steak, has spun off New York's newest steakhouse destination, Benjamin Steakhouse Prime, which just happens to be the 2017 Concierge Choice Awards winner for Best New Restaurant. This Thanksgiving look for a $75 three-course prix fixe that starts with appetizers like pumpkin soup, burrata, or autumn salad; followed by a traditional Thanksgiving turkey with all the fixin's, and pumpkin or apple pie (both a la mode) for dessert. 23 E. 40th St., 212-338-0818, benjaminsteakhouse.com

Ben and Jack's Steakhouse will be offering a special Thanksgiving three-course menu ($69.95 per person). Start off with a choice of salad or roasted pumpkin soup, followed by a traditional turkey dinner with all the fixin's (stuffing,mashed potatoes, green beans, and cranberry relish). The dilemma comes at dessert: pumpkin or pecan pie? Served with tea and coffee, tax and tip not included. 219 E. 44th St., 212-682-5678; 255 Fifth Ave., 212-532-7600, benandjackssteakhouse.com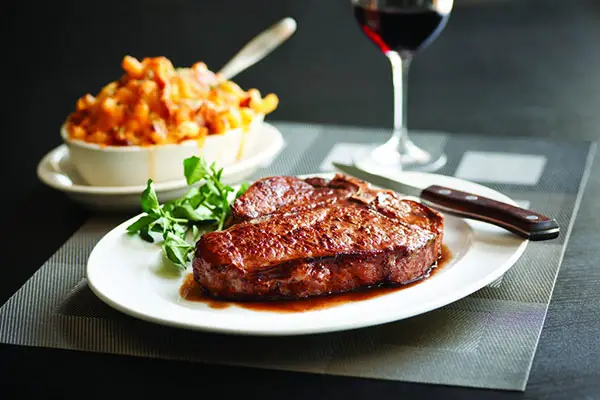 Famous for USDA prime-aged beef, fresh seafood, fine wine, and elegant desserts, Morton's The Steakhouse is the ideal place for a memorable dinner. Case in point? Thanksgiving 2017, when the Morton's on Fifth Avenue in midtown will be open from 1-9pm. Who needs turkey when you can get a perfect steak? 551 Fifth Ave., 212-972-3315; also visit their downtown location (open 1-9pm on Thanksgiving) near the 9/11 Memorial at 136 Washington St., 212-608-0171, mortons.com
Sophisticated midtown destination Royal 35 Steakhouse is New York's newest spot for steak. Signature items include sizzling steaks dry aged in-house using pink Himalayan salt, along with an extensive raw bar and seafood selection. Thanksgiving this year sees originality and elegance: look for a $75 (not counting tax and tip) prix fixe with appetizers like maple roasted pumpkin soup and oysters Rockefeller, mains like prime rib-eye and roasted red hen turkey, brioche stuffing among the trimmings, and pecan or pumpkin pie for dessert. 1 E. 35th St., 212-804-7276, royal35steakhouse.com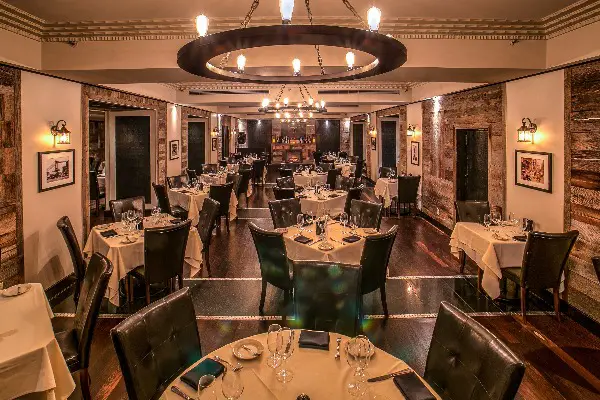 Angus Club Steakhouse is a classic American destination with a touch of luxury. For Thanksgiving, look for an upscale take on favorites, with a $65 prix fixe special (not including tax or tip). The main event is a traditional turkey, served with sweet potato casserole, potato gratin, string beans, and cranberry sauce. Start with your choice of frisee salad with beet and goat cheese or pumpkin soup and finish with pumpkin pie a la mode. 135 E. 55th St., 212-588-1585, angusclubsteakhouse.com
Marc Forgione's modern steakhouse American Cut serves classic fare with sophisticated accents. For Thanksgiving, you'll find many options on the $75 prix fixe menu. Lobster bisque and squash soup are among the amuse; venison chops, Catskill trout, or turkey with chestnut and sausage stuffing are the mains; and Brussels sprouts with maple glaze and Bosc pear are among the sides. Do save room for dessert: a Crackerjack sundae with caramel popcorn, peanut brittle, and popcorn ice cream is among the options. 109 E. 56th St., 212-388-5277, ldvhospitality.com

Best Thanksgiving Dinners NYC: Midtown West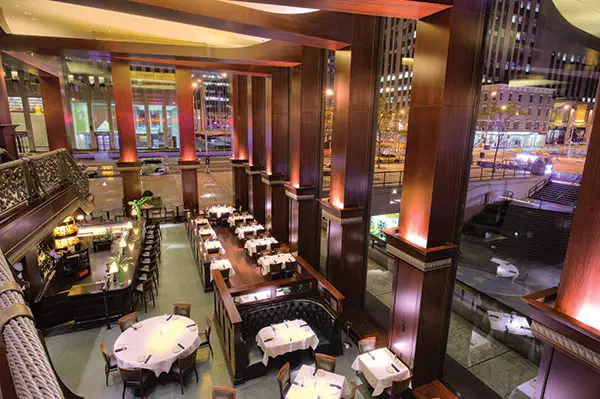 Del Frisco's Double Eagle Steak House, near Radio City Music Hall in Rockefeller Center, redefines fine dining in the heart of New York City. From noon to 9pm on Thanksgiving they'll be offering a special prix fixe dinner. The main event is a slow-roasted turkey breast with sweet onion apple-sausage stuffing. For your trimmings, look for sweet potatoes or chateau potatoes, green beans, pan gravy, and cranberry relish. Save room for dessert: it's a choice of pumpkin cheesecake and pecan pie a la mode. $95, not including tax, tip, and drinks. 1221 Avenue of the Americas (entrance on 49th St.), 212-575-5129, delfriscos.com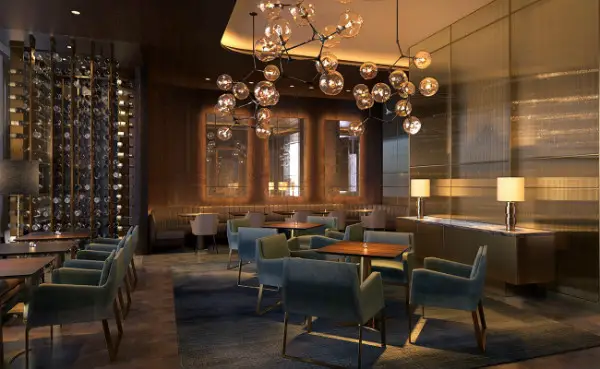 Bevy is one of NYC's freshest dining destinations, bringing New American creativity to a sophisticated midtown space. They'll be pulling out all the stops for Thanksgiving this year, offering the choice of a 3-course prix fixe ($85) or 4-course ($98) with wine pairings available as well ($45/$55). Courses include "Roots, Shoots & Leaves" to start, with "Husks & Stalks," "Fins & Shells," "Fowls & Cuts" and "Sweet Curds & Whey" to follow. You'll find elevated takes on turkey, stuffing, squash soup, and pumpkin pie among the options. Served 12:30-8pm. (There's also a "family style" Thanksgiving option at $125 per person.) Inside the Park Hyatt New York, 153 W. 57th St., 212-897-2188, bevynyc.com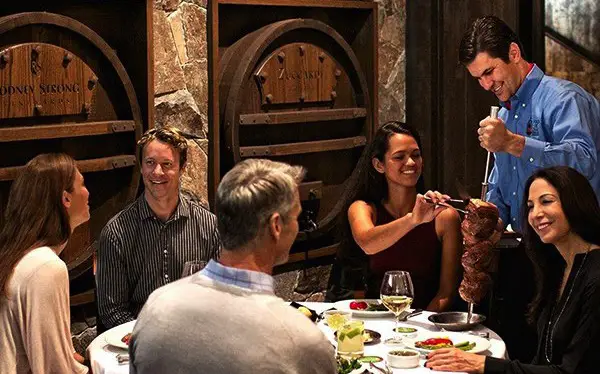 Special Thanksgiving menu items are included as part of the regular full churrasco dinner price at Fogo de Chão Brazilian Steakhouse on Thanksgiving Day. In addition to the full selection of fire-roasted meat carved tableside, you'll find roasted turkey breast with au jus, the Market Table and Feijoada (a Brazilian stew) Bar, traditional Brazilian sides, homemade cranberry relish, Brazilian sausage with apple dressing, and sweet potato casserole. Children under six free, and children 7-12 are half price. 11am to 9pm. 40 W. 53rd St., 212-969-9980, fogodechao.com
Bobby Van's Steakhouse Central Park South will be plating a three-course special prix fixe for Thanksgiving 2017. Start off with your choice of an autumn salad, baby kale bressaola, or butternut squash soup with crème fraiche; mains include a traditional turkey dinner, slow-roasted prime rib, and oven-roasted bronzini; and dessert tempts with apple pie and pumpkin gelato, New York cheesecake, or chocolate mousse cake. 40 Central Park S., 212-369-4000, bobbyvans.com
Best Thanksgiving Dinners NYC: SoHo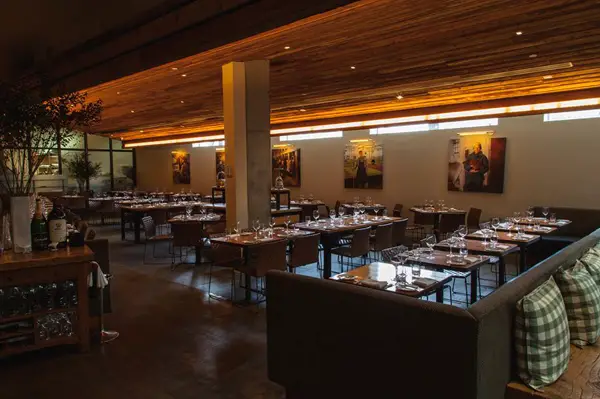 David Burke Kitchen is offering a special $79 3-course prix fixe Thanksgiving Day, including traditional roast turkey (organic) as well as entree alternatives like prime rib, roasted salmon, and maple-glazed country ham. Starters run from potato leek soup with caviar to baked oysters to turkey meatballs with a truffled chestnut emulsion. The decadent dessert choices include monkey bread, pumpkin crème caramel, and the irresistible mashup piecaken (pumpkin pie, pecan pie, and apple upside-down cake). 23 Grand St., 212-201-9119, davidburkekitchen.com
Best Thanksgiving Dinners NYC: Greenwich Village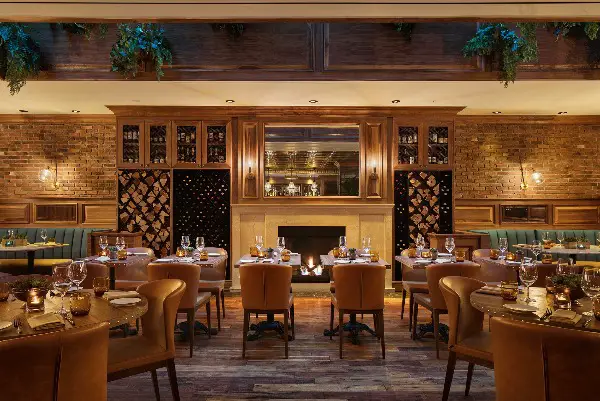 Hidden inside Walker Hotel Greenwich Village is Society Cafe, a new market-to-table restaurant by rising-star chef Christopher Zabita. Relying on the farmers of the nearby Union Square Green Market, Chef Zabita creates an evolving, seasonal menu that is sustainable and locally sourced. Thanksgiving will be an a la carte affair, with lots of creativity on display. Look for grilled Portuguese octopus among the appetizers, housemade pastas like black pepper cavatelli, coq au vin ravioli, and butternut squash tortellini with toasted hazelnut, sage, and black truffle. Mains include lamb loin, Long Island duck with a cherry jus, hanger steak, yellowfin tuna, and, of course, roast turkey. 52 W. 13th St., 212-300-4525, societycafenyc.com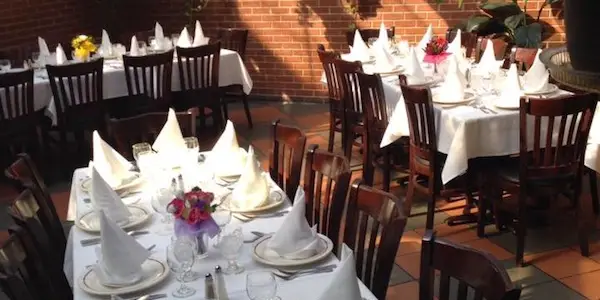 Family-run Greenwich Village favorite Villa Mosconi has been serving authentic Italian meals to New Yorkers for over four decades, and for those wanting to enjoy some Northern Italian cuisine, it is a must. For Thanksgiving, enjoy an a la carte menu that includes classics like roast turkey with cranberry and stuffing and pumpkin pie for dessert. (There are also many Italian temptations, including homemade manicotti or cannelloni, veal scaloppine alla Marsala, eggplant or chicken parm, and hot antipasto to start.) Three sittings: 12:30pm, 2pm, or 5pm. 69 MacDougal St., 212-673-0390, villamosconi.com
Best Thanksgiving Dinners NYC: Little Italy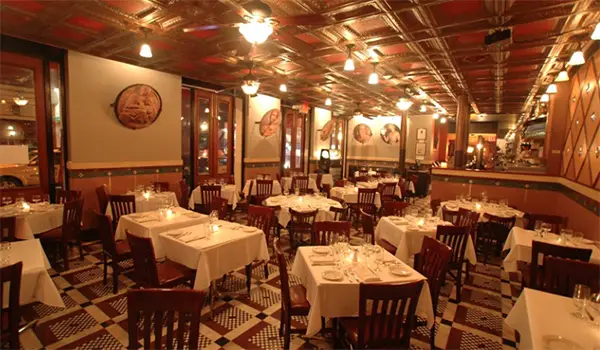 Nestled in Little Italy, Grotto Azzurra serves filling, authentic cuisine. For Thanksgiving 2017 you'll find a mix of Italian and classic American on the prix fixe menu, which is available for a very affordable $38.95 per person (items are also available a la carte). Start off with risotto salmon, salad, or pumpkin ravioli. Turkey with sausage-bread stuffing is joined by filet of sole Caprese and pork Fiorentina on the entree options. Course three brings tiramisu or the house's classic preparation of pumpkin cake. 177 Mulberry St., 212-925-8775, bluegrotta.com
Best Thanksgiving Dinners NYC: Times Square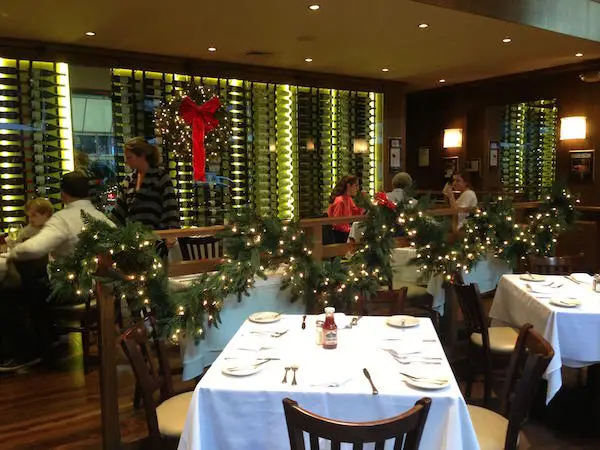 New York legend Bobby Van's Grill pulls out all the stops for Thanksgiving. Their moderately priced prix fixe ($69.95, not including drinks, tax, or tip) features a choice of appetizer (butternut squash, red beet salad, stuffed mushrooms). Entrees include a traditional Thanksgiving turkey dinner with mashed potatoes, sauteed stringbeans, and brown gravy; Atlantic salmon with sauteed spinach; and filet au poivre, with mashed potatoes and sauteed stringbeans. Save room for dessert: options include pumpkin cheesecake, chocolate mousse cake, and carrot cake. Centrally located in the heart of the Theatre District. Make your reservations now! 120 W. 45th St., 212-575-2599, bobbyvans.com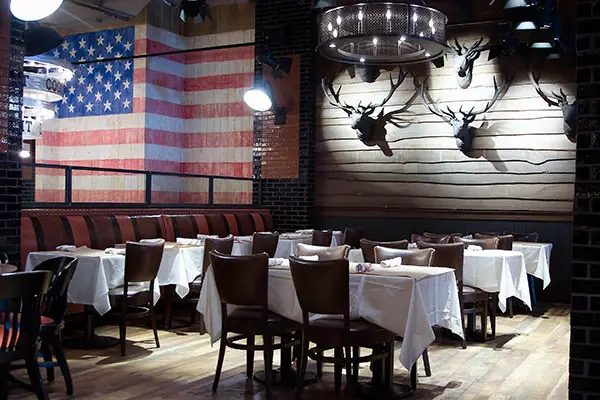 Guy Fieri, best known as the host of Diners, Drive-ins and Dives on the Food Network—is an in-your-face kind of dude. So is his Times Square restaurant, Guy's American Kitchen and Bar, a three-floor, 500-seat everyman colossus. This Thanksgiving, take advantage of a special three-course prix fixe menu for $44.50 (kids 12 and under $19.50). Start with butternut squash soup or baby spinach salad, move on to classic roast turkey breast with sausage stuffing, and sided up with root veggies and ginger-orange cranberry sauce. Dessert drops pumpkin cheesecake with candied pumpkin seeds and homemade whipped cream. Coffee and tea included, reservations recommended. 220 W. 44th St., 646-532-4897, guysamerican.com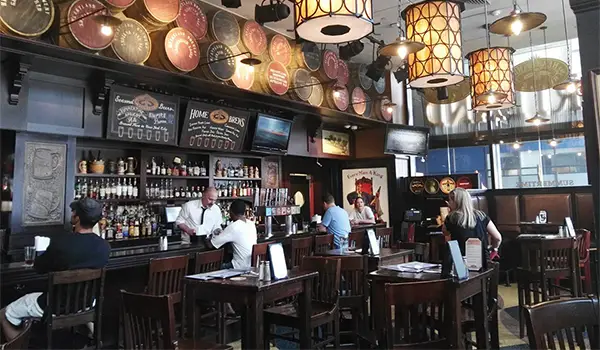 Heartland Brewery will be giving thanks this year with a special modestly priced prix fixe ($39.50, $19.50 for kids 12 and under) with a four-course menu. Meals start with homemade butternut squash soup and a crisp red leaf lettuce salad. Next, dig into a platter of fresh roasted turkey with sage stuffing, candied sweet potatoes, and green beans. Finish with a slice of pumpkin pie or New York cheesecake. Coffee and tea are included, reservations recommended. A great place to spend Thanksgiving with friends and family in NYC! At Times Square, Empire State Building, and Midtown West locations. Heartland Brewery & Chophouse, 127 W. 43rd St., 646-366-0235; also Heartland Brewery Midtown West, 625 Eighth Ave., 646-214-1000, and Heartland Brewery and Rotisserie Empire State Building, 350 Fifth Ave., 212-563-3433; heartlandbrewery.com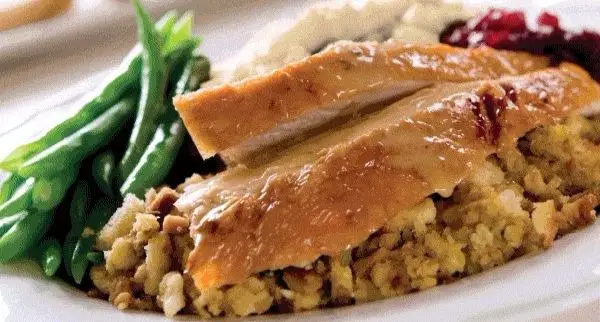 Eclectic décor, lively music, and engaging staff all add to the fun at Times Square's Buca di Beppo. They'll be going all out for Thanksgiving, serving sliced white meat turkey, homestyle gravy, roasted garlic mashed potatoes, spicy Italian sausage stuffing, a green bean blend, cranberry sauce, and, of course, pumpkin pie. 1540 Broadway, 212-764-6527, bucadibeppo.com
Best Thanksgiving Dinners NYC: Hell's Kitchen
Farm-to-table favorite The Marshal will be offering a 3-course dinner ($65; $30 for children) featuring options like wood-oven-roasted free range turkey with all the fixings or short ribs with local wine and herbs. The restaurant is centrally located near Times Square in Hell's Kitchen. Seatings are at 1, 3, 5, and 7pm. 628 Tenth Ave., 212-582-6300, the-marshal.com
Best Thanksgiving Dinners NYC: On the Water

Bring Thanksgiving dining to the next level with family and friends together aboard Spirit of New York's Thanksgiving Cruise. Cruises depart from Chelsea Piers at 1:30 or 3pm; prices are $59.90 for adults and $35.95 kids (3-12). The buffet menu includes salads, sides like mac 'n' cheese or a mashed potato bar, entrees like hickory-smoked ham, cod, or roasted turkey, and a bounty of desserts: pumpkin pie, caramel apple bread pudding, lemon pound cake & strawberries, vanilla bean mousse & raspberry sauce, red velvet & chocolate chip brownie, and seasonal fruit. Visit spiritofnewyork.com for additional information and reservations.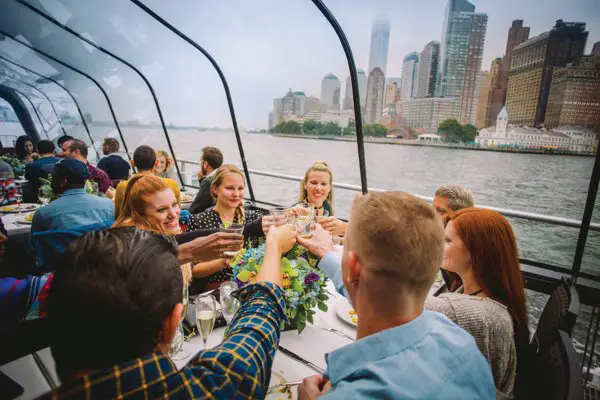 For an elegant, all-glass, European-inspired Thanksgiving experience, board Bateaux New York. Choose from two sittings, lunch and dinner, each showing off incredible skyline and harbor views. From 2 to 4pm enjoy the plated lunch cruise with live DJ entertainment ($99.90 per person, $59.95 per child 3-12). At dinner, the music shifts to live band entertainment, cruising from 7 to 10pm ($199.90 per person, $64.90 per child 3-12). Bateaux New York leaves from Pier 61 at Chelsea Piers. For reservations, call 866-817-3463 or visit bateauxnewyork.com.
Looking for Free Group Planning Services?
Get free advice on planning your group's trip to New York.
RESTAURANTS

Brings together the character of Hell's Kitchen past with th...

THEATER

In a heartbeat, 38 planes with 6,579 passengers were strand...

SHOPPING

The sweetest experience in Times Square!...

SIGHTSEEING

A state-of-the-art Coney Island amusement park that's home t...