New York knows how to do Thanksgiving. The Macy's Thanksgiving Day Parade is our biggest claim to fame, but close behind come the amazing Thanksgiving dinners served in our hotels and restaurants. Even in the time of COVID you can still get a great Thanksgiving meal in NYC. Whether you're looking for a traditional bird with all the fixin's, or something a little more haute, dining in or getting to go, we've got the best prix fixe dinners and more for Thanksgiving 2020 in New York City.
Best Thanksgiving Dinners NYC: Midtown East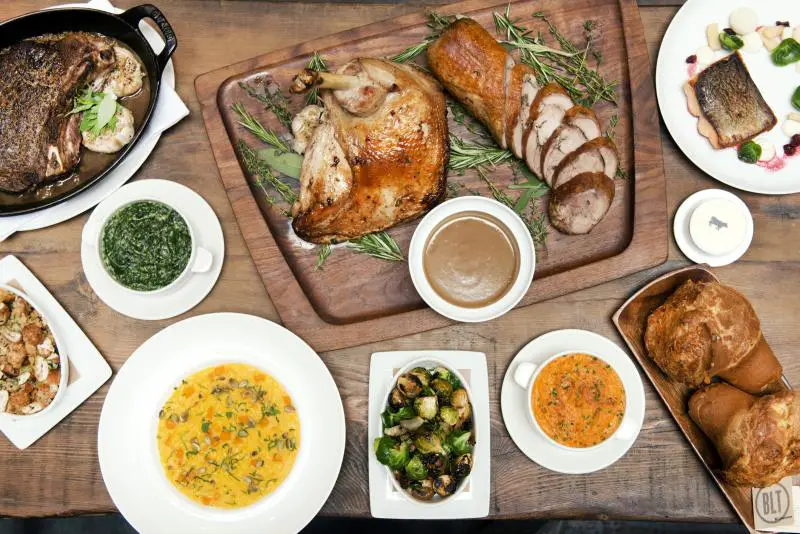 BLT Steak is a New York take on the great American steakhouse, combining bistro ambiance with quality steakhouse fare. In addition a wide array of USDA Prime and 100% naturally raised Black Angus steaks, available on a la carte dinner menus, this Thanksgiving you can also enjoy a turkey special from noon to 8pm. The special is available at both BLT Steak and BLT Prime New York. You can expect a traditional roasted turkey with sausage stuffing, green beans, cranberry relish, and gravy, plus a choice of mashed potatoes, sweet potato mash, or creamed spinach. The price is a very moderate $40. BLT Steak, 106 E. 57th St., 212-752-7470; BLT Prime New York, 1032 Lexington Ave., 212-995-8500, bltrestaurants.com
Famous for USDA prime-aged beef, fresh seafood, fine wine, and elegant desserts, Morton's The Steakhouse is the ideal place for a memorable dinner. Case in point? Thanksgiving 2020, when the Morton's on Fifth Avenue in midtown will be open starting at noon until 9pm. Who needs turkey when you can get a perfect steak? Or start a new tradition: Steak & Lobster Oscar, available for a limited time only. In addition, Morton's will offer a Duckhorn Vineyards wine package for $159 available for dine-in or to-go that features one bottle of each: Goldeneye Pinot Noir, Duckhorn Napa Cabernet Sauvignon, Decoy Brut Cuvee, and a bonus bottle of sparkling wine. 551 Fifth Ave., 212-972-3315; also visit their downtown location noon-9pm, near the 9/11 Memorial at 136 Washington St., 212-608-0171, mortons.com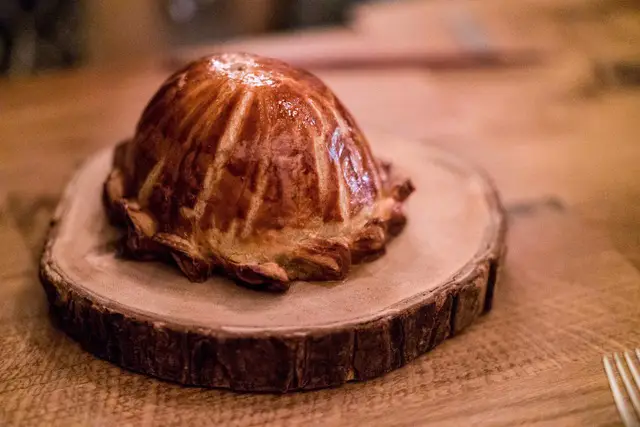 Progressive, innovative Japanese spot MIFUNE New York is getting in the holiday spirit with Thanksgiving Eve and Day prix fixe menus. For the centerpiece, look to the annual signature organic turkey truffle foie gras pie with foie gras gravy, from Chef Yuu Shimano (previously of Guy Savoy's eponymous three Michelin-starred restaurant in Paris) and Chef Tomohiro Urata (previously of three Michelin-starred La Maison Troisgros in Roanne, France). Among the sides, you'll find porcini mushroom cream soup with black truffle, Alaskan king crab and caviar with tosazu gelée, pan-seared scallop and black truffle with lotus root purée and Pedro Ximénez foam, grilled New York fluke with yuzu croûte and bonito-kombu beurre blanc, Japanese Wagyu A5 Rank and Japanese uni sushi. The meal finishes up with a gâteau Opéra with kabocha pumpkin custard cream and fruits rouge sorbet. The prix fixe is 7 courses, priced at $150 per person, with an optional $70 wine or sake pairing. The restaurant will have two seatings at 5:30pm and 8pm with limited indoor seating and 4 semi-private outdoor bubble tents, which can seat up to 6 people per table. Guests can make reservations at MifuneReservation@gmail.com. 245 E. 44th St., 212-986-2800, mifune-restaurant.com
For a modern Asian accent this Thanksgiving, look to Hortus NYC. Executive Chef Youjin Jung will be serving a $70 prix fixe for Thanksgiving. One highlight, pictured above, is the HORTUS Royal Platter with chilled lobster tail, tuna tataki, and shrimp cocktail. There are also truffle noodles with assorted mushrooms and Thai bird chili, pumpkin soup, an autumn salad, sea bass, and duck with spicy braised mu (Korean radish) orange, and duck jus among the options. For dessert, look to matcha tiramisu and monaka ice cream available in black sesame, green tea, or vanilla. Guests can also accompany their meal with a $40 wine pairing. Reservations can be made indoors and on their heated outdoor patio by calling the restaurant or via OpenTable. 271 Fifth Ave., 646-858-3784, hortusnyc.com
Best Thanksgiving Dinners NYC: Midtown West

Del Frisco's Double Eagle Steakhouse New York, near Radio City Music Hall in Rockefeller Center, redefines fine dining in the heart of New York City. Del Frisco's will offer in-house prix fixe feasts for Thanksgiving, in addition to family meal packs to go. For the former, look for slow-roasted turkey breast with apple-sausage stuffing and a variety of trimmings, plus a choice between two appetizers and two desserts (not an easy one there, it's pumpkin cheesecake or pecan pie a la mode). The prix fixe price starts at $49. The family meal pack to go serves 2-4 at $175 or 4-6 at $250 and comes with butternut squash soup, a harvest salad, slow-roasted turkey breast, brown gravy, mashed sweet potatoes, chateau potatoes, apple-sausage stuffing, thin green beans, cranberry relish, pecan pie, and pumpkin cheesecake. 1221 Avenue of the Americas (entrance on 49th St.), 212-575-5129, delfriscos.com
Pictured: Pumpkin Spice Warm Butter Cake, photo credit Mastro's Restaurants.
Mastro's Steakhouse
in midtown is offering three take-home Thanksgiving dinner kits for four. Each kit includes raw 28-day, wet-aged Cyro-vac sealed steaks and Mastro's Secret House Steak Rub, cooking instructions, salad, ready-to-bake side dish, and Mastro's Pumpkin Butter Cake.
Just want sides? Order The "Indulge" kit, which couples your favorite Mastro's side dishes, to accompany your Thanksgiving feast. Kits must be ordered in advance. Place your order now through November 23 and pick up between noon and 4pm on Thanksgiving Eve, November 25th.
1285 Sixth Ave., 212-459-1222,

mastrosrestaurants.com/event/thanksgiving
This Thanksgiving, French bistro Le Privé is serving a three-course prix fixe menu highlighted by classic American Thanksgiving dishes (with some contemporary takes on French favorites as well). The full menu is here and the prix fixe is $65. Among your options, escargot, short rib Bourguignon, slow-roasted pork with apples and onion jus, turkey with giblet gravy, mac 'n' cheese, Brussels sprouts and bacon, and mashed potatoes. For dessert you'll have the dilemma of choosing between creme brûlée, creme au chocolat, and beignets. 626 Tenth Ave., 212-837-2795, lepriveny.com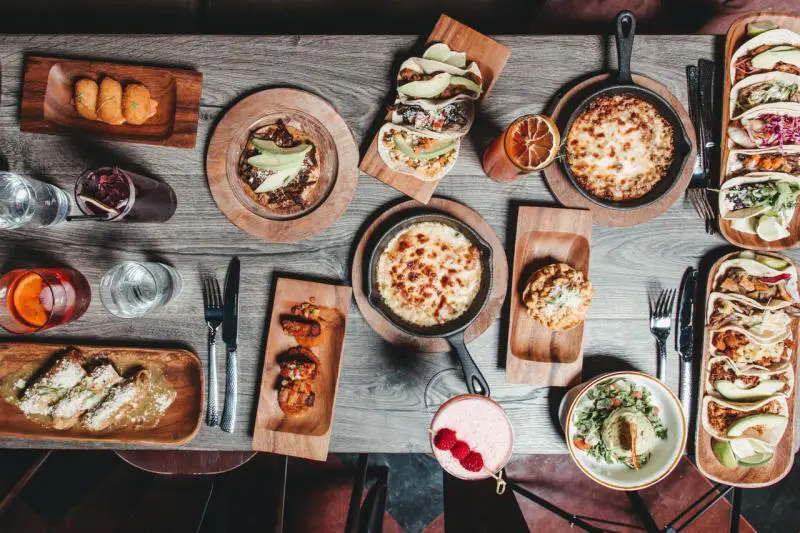 New in Hell's Kitchen, Casa del Toro serves up authentic Mexican food and drink. For a different slant on Thanksgiving, they'll be serving up their a la carte favorites in addition to holiday specials. Look for chile-rubbed turkey (pavo) tlayuda with sweet potato, Brussels sprouts, queso cotija, and pepitas. There's also chorizo y arroz "stuffing," hot Mexican chocolate crema, and an apple chimichanga (cooked apple stuffed in a flour tortilla and fried) for dessert. 626B 10th Ave., 212-586-0811, casadeltorony.com
Strip House brings soaring steak to a bi-level space near Bryant Park with a siren-red interior accented by vintage black and white photography. For Thanksgiving, you'll find a chef-inspired menu highlighted by all-natural turkey breast and confit turkey leg, served with a cranberry-orange compote and country gravy. On the side look for chestnut-marjoram stuffing, a green bean casserole, and mashed potatoes. Desserts offer the choice of a fall spiced pumpkin pie with whipped cream and an apple and pear tart tatin with creme Anglaise. The prix fixe is $58 adults and $29 kids 10 and under (there's a supplementary charge for the desserts). In addition, you can opt for a to-go package for 4, with the same outlay as the in-house meal. Flying solo this year? Strip House also has a "Home Alone" Thanksgiving on a Hoagie, ready for your take out pleasure. (Strip House's Greenwich Village location will be serving the same Thanksgiving menu as well.) Hours for midtown are 2-9pm, and 1-9pm downtown. Strip House will also offer a Duckhorn Vineyards package for $159 available for dine-in or takeout that includes one bottle of each: Goldeneye Pinot Noir, Duckhorn Napa Cabernet Sauvignon, Decoy Brut Cuvee, and a bonus bottle of sparkling wine. Strip House Midtown, 15 W. 44th St., 212-336-5454, striphouse.com/venues/midtown; Strip House Downtown, 13 E. 12th St., 212-328-0000, striphouse.com/venues/downtown
Best Thanksgiving Dinners NYC: Downtown

Bill's Bar & Burger shows it can handle more than patties with a special Thanksgiving meal at its downtown location. For just $25, look for an oven-roasted turkey with gravy, homemade stuffing, cranberry sauce, garlic mashed potatoes, and roasted Brussels sprouts. Spring for another $10 to sample a Bill's milkshake, specifically the oh-so-seasonal Pumpkin Pie Shake. 85 West St., 212-567-2300, billsbarandburger.com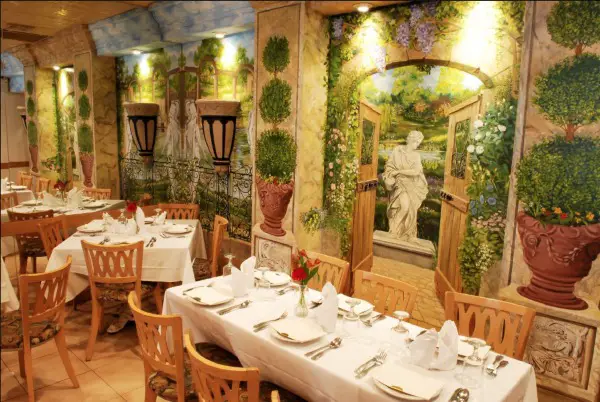 Il Cortile opened its doors in September 1975 and has been a Little Italy institution ever since. Il Cortile (meaning "the courtyard" in Italian) serves delicious, high-quality Italian food in a convivial space. For Thanksgiving, they'll be offering their a la carte menu in addition to daily specials, which naturally include a traditional Thanksgiving meal with all the fixin's. Think turkey, stuffing, sweet potato topped with mini marshmallows, and homemade cranberry sauce. In COVID times, reservations are limited to 10 at a table. Guests who wish to dine indoors but are hesitant to dine with other guests can enjoy a private seating area. The Garden Room is glass enclosed but will have the skylight windows open for more ventilation, providing an outdoor feel with a bit of warmth. Outdoor seating is available as well. 125 Mulberry St., 212-226-6060, ilcortile.com
Paisley, the upscale Indian restaurant in Tribeca, will be open for Thanksgiving with specials and a la carte options from Michelin-starred Executive Chef Peter Beck. The Thanksgiving special featured will be a Turkey Kabob, and additional menu items include:
Appetizers: Nadir Monji with lotus root, sweet potato, fennel, ginger and spiced lotus chips ;Crab Koli, jumbo lump crab, coconut milk, tomato sauce, crab tikki, Madras curry powder and naan chips.
Main Dishes: Aggari Lobster with mango, bor chili and melon seed sauce; Kerelan, duck breast, black pepper, ginger, garlic and tamarind.
Dessert: Double Ka Meetha, a rich bread pudding with saffron, caramelized apricot and chenna; Chai Chocolate Mousse with Parle-G cookie crumbs, strawberry, blackberry, orange whipped cream, and roasted chai spice.
Paisley is open for indoor and outdoor seating, and reservations can be made through OpenTable. 429 Greenwich St., 212-274-8003, paisleyrestaurantnyc.com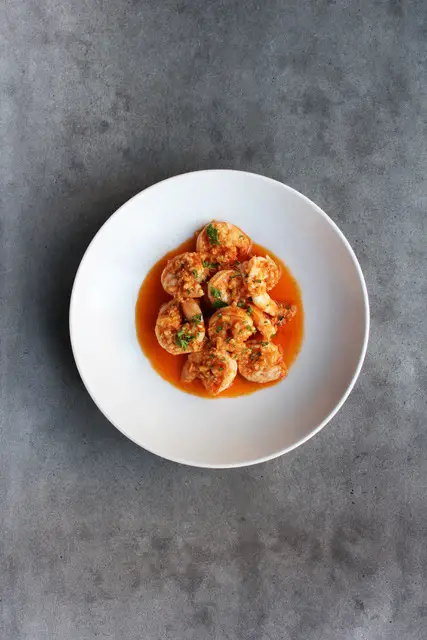 Galicia-native chef/owner Ruben Rodriguez will be featuring a prix-fixe tapas style menu at his East Village Spanish spot Nai Tapas. Menu highlights will include fideua (Catalan-style toasted paella with mussels, scallops, clams, seaweed, tobiko, and aioli); the gambas al ajillo pictured above; a portobello mushroom "carpaccio" with truffle oil; and rabo guisado (tempranillo-braised oxtail and a veal demi-glace). Reservation slots start at 5pm indoors and outdoors. 85 Second Ave., 212-677-1030, naitapas.nyc
Best Thanksgiving Dinners NYC: Upper East Side
David Burke Tavern is a modern American restaurant by award-winning celebrity chef David Burke. A stately townhouse setting showcases Burke's creative, contemporary approach to classic fare—often with showstopping presentations. You can eat at the tavern or take advantage of Burke's skills with a Thanksgiving Grab 'n' Gobble. The to-go package comes with all your sides and desserts in half-turkey (feeds up to 8) or full turkey (feeds 9-12) iterations. Pickup is 11am-5pm on Thanksgiving Day. Eat-in diners can savor a three-course prix fixe with temptations like pastrami salmon, an autumn harvest salad, New England clam chowder, maple whipped sweet potato fries, and, of course, tukey with sausage cornbread dressing, citrus cranberry sauce, an autumn hash, and bourbon giblet gravy. There are desserts as well! Take your pick from cheesecake lollipops, pumpkin brûlée, and apple, pumpkin, or pecan pie. 135 E. 62nd St., 212-988-9021, davidburketavern.com
Best Thanksgiving Dinners NYC: Upper West Side
American cuisine with French influences, pairing classic preparations and local ingredients, is on the menu at Upper West Side charmer The Ribbon. For Thanksgiving, look for the likes of stuffed butternut squash with quinoa, goat cheese, pomegranate, and pecans; Atlantic salmon; rotisserie turkey or ham with traditional stuffing, cranberry sauce, roasted sweet potato. Come dessert, opt for a classic like pecan pie with maple ice cream or pumpkin bread pudding. In addition to on-site dining, delivery is available, in a package for two ($64.95) or four ($129.95). Each package will feature your choice of ham, turkey, or salmon as the main, with everything else included family-style as shown in the menu. 20 W. 72nd St., 212-787-5656, theribbonnyc.com/thanksgiving
---
Best Thanksgiving Dinners NYC: Dessert in Little Italy
Looking for the best cannoli in Manhattan? Caffe Palermo, aka the "Cannoli King of Little Italy" is the best place to seek out. They've got some of the best desserts in the city, including a season special pumpkin cannoli cream. Open daily, serving fantastic cheesecakes, tiramisu, and coffee as only Italians can do it—just ask fans like Danny DeVito, Ray Romano, and Ryan Seacrest. 148 Mulberry St., 212-431-4205, caffepalermo.com
Best Thanksgiving Dinners NYC: A Recipe from Patsy's Italian Restaurant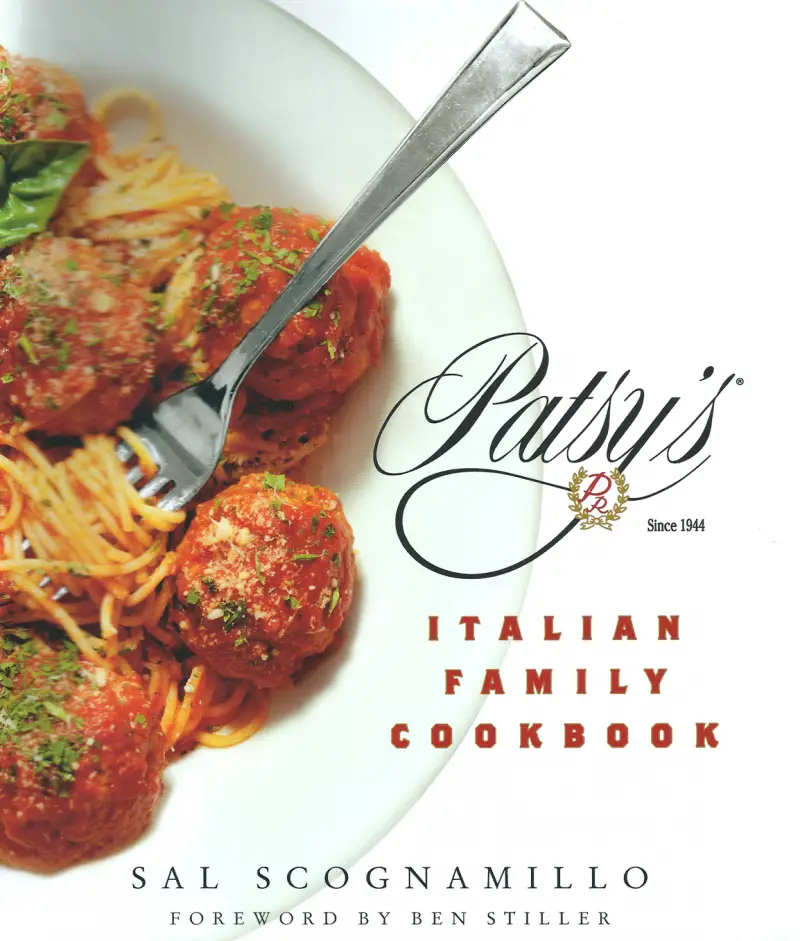 New York restaurants come and go, but Patsy's Italian Restaurant is forever. The famed eatery—which only has one location, right in the heart of Midtown Manhattan—turns 76 this year and is only getting better. Add a little of Patsy's expertise to your meal this year with Chef Sal Scognamillo's recipe for Scognamillo Italian Sausage and Bacon Stuffing. As Sal puts it, "It's not Thanksgiving without our sausage and bacon stuffing, made every year by my dad Joe. It is best to make the stuffing fresh and use it warm, as cold stuffing takes longer to cook inside of the bird. Also, remember that you will not be able to fit all of the stuffing in the bird, and there will always be leftover dressing to bake on the side."
Ingredients:
2 tablespoons olive oil
2 1⁄2 pounds sweet Italian sausages, casing removed
12 ounces bacon, cut into l-inch pieces
One loaf day-old Italian bread (about 1 pound)
1 cup freshly grated Parmigiano-Reggiano cheese
3 large eggs, beaten to blend
1⁄2 cup seedless raisins
1⁄2 cup pinenuts
1⁄4 cup chopped fresh flat-leaf parsley
1 tablespoon finely chopped sage and rosemary
Salt and ground pepper
1 1⁄2 cups chicken stock or reduced-sodium chicken broth, as needed
Directions:
Heat the oil in a large skillet over medium heat. Add the sausage and cook, breaking up the sausage into small pieces with the side of a spoon, until browned and shows no sign of pink, about 8 minutes. Transfer the sausage and any fat to a large bowl.
Add the bacon to the skillet. Cook over medium heat, stirring often,
until browned and crisp, about 8 minutes. Using a slotted spoon, transfer the bacon to the sausage. Discard the bacon fat.
Cut the bread into 3⁄4-inch cubes. Add the bread cubes, grated cheese, raisins, pine nuts, and parsley and stir to combine. Season to taste with salt and pepper. Mix in the eggs and enough of the broth to make a moist, but not wet, mixture.
Use immediately as a turkey stuffing. Any leftover stuffing can be spread in a buttered baking dish, covered with aluminum foil, and refrigerated for up to 8 hours. Just before baking, uncover the dish and drizzle the stuffing with about 1⁄2 cup stock. Cover again and bake in a preheated 350°F oven for 20 minutes. Remove the foil and continue baking until the top is golden brown and slightly crisp, 15 to 20 minutes more. Serve hot.