New York knows how to do Thanksgiving. The Macy's Thanksgiving Day Parade is our biggest claim to fame, but close behind come the amazing Thanksgiving dinners served in our hotels and restaurants. Whether you're looking for a traditional bird with all the fixin's, or something a little more haute, either dining in or getting to go, we've got a curated list of the best prix fixe dinners and more for Thanksgiving 2023 in New York City.
BELL BOOK & CANDLE
Bell Book & Candle in the West Village is serving up a mindfully sourced Thanksgiving dinner this door. The feast begins with the option of a pear & blue cheese salad with mixed greens, toasted pecans, raisins, and housemade balsamic dressing or a butternut squash soup topped with fried sage and sage oil. The star is the heritage turkey sourced from Lancaster, Pennsylvania, served with pan gravy and accompanied by sides like sourdough sage stuffing, chive mashed potatoes, Brussels sprouts with bacon, maple-roasted sweet potatoes with candied pecans, and Executive Chef John Mooney's special cranberry sauce. Wrap it all up with Chicago-style apple pie, lovingly prepared and served with a dollop of creme fraiche ice cream. The three-course meal is priced at $70 for adults and $40 for children. 141 W.  10th St., 212-414-2355, bbandcnyc.com 
BEN & JACK'S STEAKHOUSE
The upscale Ben & Jack's Steakhouse will be offering a three-course Thanksgiving pre-fixe menu for $89.95, including choice of appetizer-burrata, Caesar salad, arugula salad, roasted pumpkin soup; an entree of traditional turkey with all the fixings, and choice of dessert, pumpkin pie, cheesecake, or chocolate mousse. 219 E. 44th St,, 212-686-5678, benandjackssteakhouse.com.
BENJAMIN STEAKHOUSE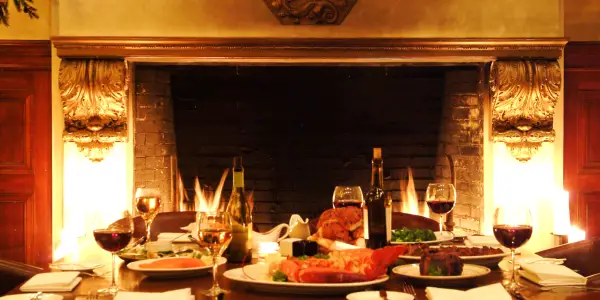 Benjamin Prelvukaj and Chef Arturo McLeod have combined over 30 years of experience to create Benjamin Steakhouse, conveniently located near Grand Central Terminal in the century-old Chemist Club Building. Along with its usual refined Old World service and charm, Benjamin Steakhouse will be offering a Thanksgiving prix fixe. Start with appetizers like Pumpkin Soup with spicy pumpkin seeds or a Jumbo Lump Crab Cake with red pepper coulis, followed by a sumptuous Organic Traditional Thanksgiving Turkey entrée paired with roasted yams and potatoes au gratin. Top off the evening with classic desserts, including a velvety Pumpkin Pie or the famed NY Cheesecake. Price starts at $95 per person (not including alcohol, tax, or tip). 52 E. 41st St., 212-297-9177, benjaminsteakhouse.com
BENJAMIN STEAKHOUSE PRIME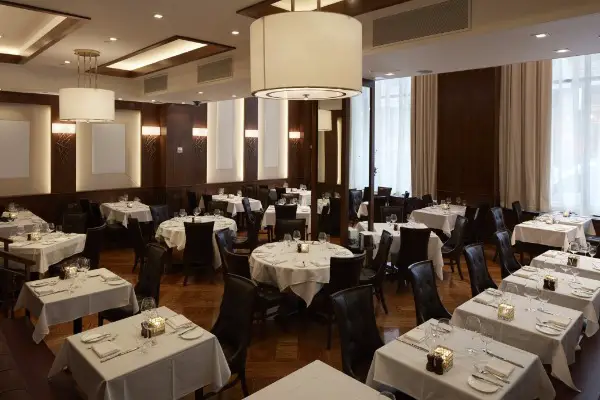 The 2019 Concierge Choice Awards winner for Best Restaurant Experience is Benjamin Steakhouse's spinoff Benjamin Steakhouse Prime. This midtown hot spot combines modern elegance with traditional steakhouse classics, picking up signature standouts from seafood legend The Sea Fire Grill, another sister property (below). This Thanksgiving look for a $95 three-course prix fixe that seamlessly blends tradition with gourmet sophistication. Begin the holiday feast with seasonally curated appetizers like Autumn Salad with organic mesclun greens, frisée, roasted beets, walnuts, and goat cheese toast, Pumpkin Soup adorned with spicy pumpkin seeds or Italian Burrata drizzled with an aged balsamic reduction. For the main course, divulge in Organic Traditional Thanksgiving Turkey complete with stuffing, roasted yams, potatoes au gratin, and cranberry relish; complete the celebratory dinner with dessert choices of Carrot Cake or Pumpkin Pie topped with vanilla ice cream. 23 E. 40th St., 212-338-0818, benjaminsteakhouse.com
BOND 45
Bond 45, a New York Italian Kitchen & Bar, was originally located on 45th Street in the former historic Bond Clothing Store (1948-1977) and is now open in its new home on 46th. This Thanksgiving, they are offering an $85 Traditional Feast with all the trimmings, including a champagne toast, choice of appetizer (butternut squash soup, harvest salad, pumpkin gnocchi) , a main course of free range herb roasted turkey with caramelized mushroom & sage stuffing, maple sweet potato puree, roasted brussels sprouts, giblet gravy; and dessert with a choice of pumpkin pie or pecan pie. 221 W. 46th St., 212-869-4545, bond45ny.com
BROOKLYN DINER 57th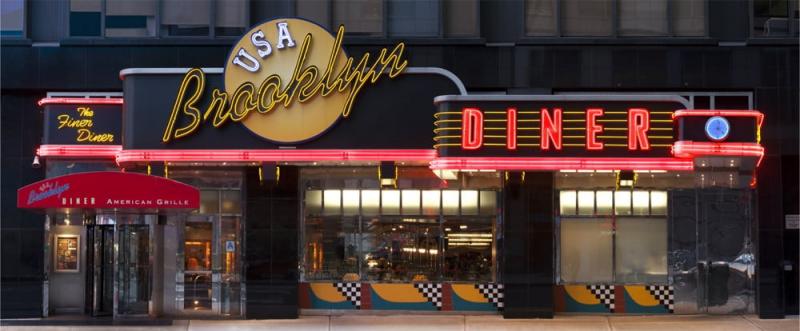 The Brooklyn Diner is doing a Thanksgiving feast with all the trimmings for a modest $48. This includes Free-Range Herb-Roasted Turkey with brioche stuffing, noodle kugel, haricot verts almondine, cranberry chutney, giblet gravy. (dark meat available upon request). For dessert, traditional pecan pie. The a la carte menu is available as well. 212 W. 57th St, 212-977-1957, brooklyndiner.com
CAFE FIORELLO

Across from Lincoln Center, Cafe Fiorello will be celebrating Thanksgiving with a multi-course feast  for $85 (excluding tax & gratuity), beginning at 1:15pm. Look for a Prosecco holiday toast to start off, plus fried artichokes, appetizer choices of seafood risotto, butternut squash soup, pear salad, or potato gnocchi; a free-range herb-roasted turkey with all the fixin's; and dessert choices of dark chocolate mousse, pecan pie, or pumpkin pie. 1900 Broadway, 212-595-5330, cafefiorello.com
THE CONSULATE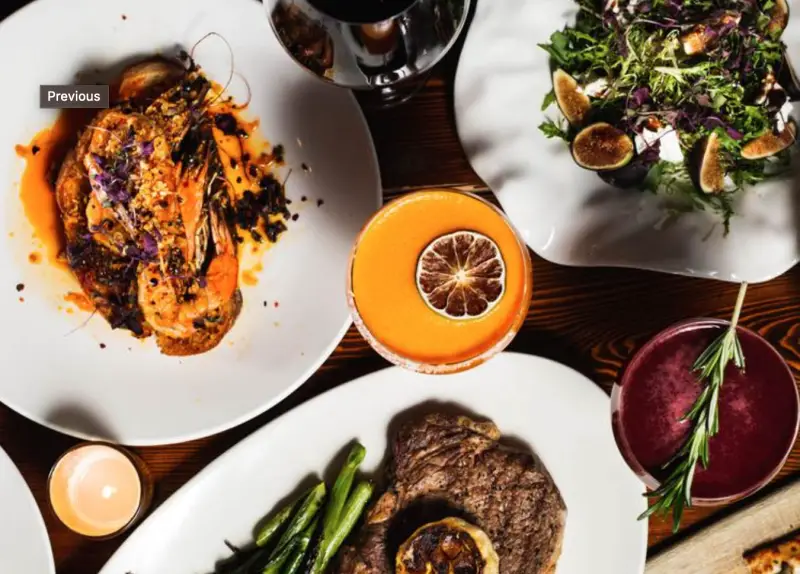 The Consulate, an elegant French-American eatery, is offering a prix fixe Thanksgiving special for $78 that includes choice of appetizer (roasted honey squash soup, stuffed zucchini flowers, delicata squash salad), a main choice of roasted turkey, spaghetti squash ravioli, or grilled rack of lamb, and dessert of apple tart or pumpkin cheesecake. Available at both locations, Midtown West and the Upper West Side. Midtown: 44 W. 56th St., 646-850-1100; Upper West Side: 519 Columbus Ave., 646-781-9288; theconsulate.nyc
DAVID BURKE TAVERN
David Burke Tavern will be offering a special Thanksgiving pre-fixe menu from noon to 8:30pm; three course, $105 pp, two course kid's menu, $45 per child. First course includes choice of appetizer-autumn harvest salad, tuna crudo, pastrami salmon, New England Clam Chowder, Pomegrante BB Quail, Lobster Dumplings; second course, choice of  turkey with all the fixings, fire roasted filet mignon or salmon, pork chops, roasted branzino, pumpkin lasagna; and third course dessert, choice of pumpkin brullée, pecan pie, busch de noel. 135 E. 62nd St., 212-988-9021, davidburketavern.com
DEL FRISCO's DOUBLE EAGLE STEAKHOUSE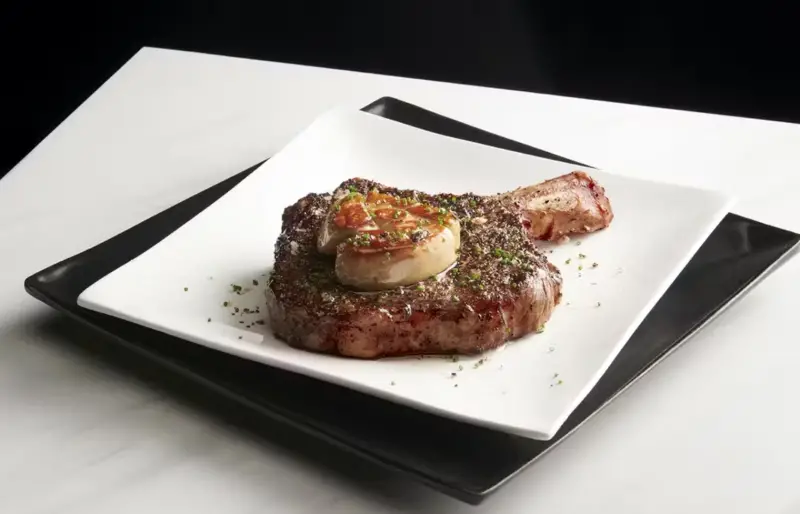 Del Frisco's Double Eagle Steakhouse features floor-to-ceiling windows with breathtaking views of Sixth Avenue and nearby Rockefeller Center. This Thanksgiving, indulge in Prime Cowgirl and Foie Gras-14 oz. Cowgirl Ribeye, Seared Foie Gras, Black Garlic Salt. Toast the holiday with this year's featured cocktail, Santa's Sleigh Ride: Jack Daniel's, Jack Daniel's Tennessee Honey, Fresh Orange Juice, Mulled Wine. (The regular dinner menu will also be available.) This special menu will be available Nov. 23-26. 1221 Ave. of the Americas (entrance on 49th St.), 212-575-5129, delfriscos.com
ELLEN'S STARDUST DINER
The iconic eatery Ellen's Stardust Diner in Times Square, features singing waiters (also known as "Stardusters"), many of whom have been on Off-Broadway, Broadway and even American Idol. Open 365 days a year from 7am to midnight including Thanksgiving, Hanukkah, Christmas, and Christmas Eve, Ellen's Stardust Diner looks forward to welcoming families, New Yorkers, and diners from all over the world this holiday season. This Thanksgiving, Ellen's will feature a classic turkey dinner along with its usual à la carte menu. 1650 Broadway, 212-956-5151, ellensstardustdiner.com
GOTHAM HALL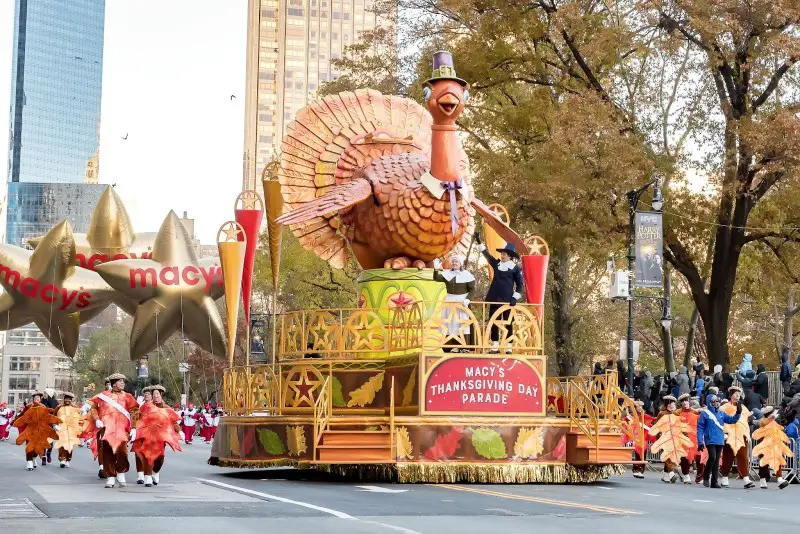 Mix it up this year and head out for Thanksgiving Brunch. Gotham Hall near Herald Square is serving on Thanksgiving morning, with an added twist—great views of the parade! You'll find an all-inclusive viewing event and gourmet brunch buffet, open bar, and access to an outdoor viewing area with breathtaking views (street-level as the parade travels down Sixth Avenue, past 36th Street). Great for groups and includes family-friendly entertainment like face painters, a balloon artist, and a magician. On the menu are options like brioche French toast, eggs Benedict, smoked salmon, and fresh fruit platters. To complement you'll find brunch cocktails and freshly squeezed juices. Tickets start at $399 and Premium Seating Options are limited, so visit Gotham Hall Thanksgiving Viewing Party Tickets to secure your experience today. 1356 Broadway, 212-244-4300, thanksgivingnyc.com
HAVANA CENTRAL TIMES SQUARE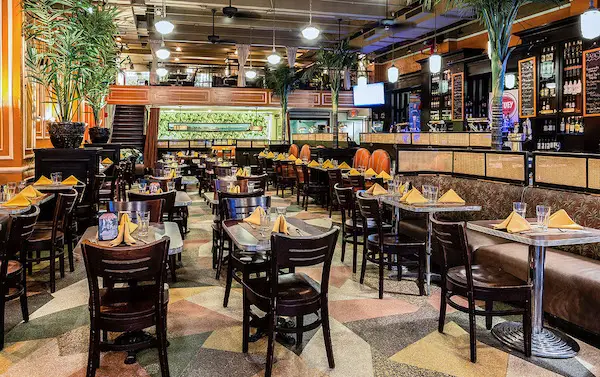 Join family and friends for a hearty Cuban Thanksgiving Feast at Havana Central in Times Square, from 11am-10pm. The pre-fixe meal for $65 includes a Welcome Drink (Cranberry Mojito or Cranberry Sangria), choice of Appetizer (Empanadas, Wings, Avocado Salad or Chicken Soup), choice of Thanksgiving Platter complete with chorizo stuffing, candied yams and cranberry salsita (Cuban Roasted Turkey, Pernil, Ropa Vieja), choice of Side (Garlic Kale, Garlic Broccoli, Street Corn, Rice & Beans) and Dessert featuring Pumpkin Flan. 151 W. 46th Street, 212-398-7440, havanacentral.com.
HILL COUNTRY THANKSGIVING DINE IN/TO GO
 
Hill Country is serving a Texas-sized feast on Thanksgiving Day, with 90 minute seatings starting at 12pm, 2pm, 4pm, and 6pm, at its New York City flagship. For $95, Feast on pit-smoked turkey, their signature barbecue, and all the traditional Thanksgiving fixin's including sweet potato bourbon smash, green bean casserole, classic stuffing, and dessert. 
Want to put out a mouthwatering Thanksgiving spread for family and friends but short on time? Let Hill Country cater your feast! For a smaller gathering, the Texas Turkey Box feeds 4-6, and includes 1 Turkey Breast, 1 Half Pan Mac n' Cheese, 1 Half Pan Texas Toast Stuffing Cranberry Sauce, 1 Loaf Cornbread with Honey Butter; choice of Apple Pie, Pumpkin Pie, or Pecan Pie. For gatherings of 8-10 people, the Thanksgiving Feast includes 1 Whole Turkey, 1 Half Pan Mac n' Cheese, 1 Half Pan Texas Toast Stuffing, 1 Half Pan Buttermilk Mashed Potatoes, 1 Half Pan Green Bean Casserole, Cranberry Sauce, 1 Loaf Cornbread with Honey Butter, choice of Apple Pie, Pumpkin Pie, or Pecan Pie. Pickup is available November 22nd and 23rd. 30 W. 26th St., 212-255-4544, hillcountry.com
KOKOMO'S FRIENDSGIVING
Kokomo Caribbean Restaurant, located in Williamsburg, Brooklyn, is hosting their annual "Friendsgiving" brunch on Friday, November 24th, and they are also promoting their "everything rum" menu for the entire month! Kokomo is an immersive Caribbean experience restaurant featuring a multi-sensory dining experience with its art, architecture, lavish cocktails, and Caribbean inspired cuisine. 65 Kent Ave., 347-799-1312, kokomonyc.com
NERAI
Nerai, a chic Upper East Side Greek restaurant, is offering a thoughtfully curated 3-course prix fixe menu at $90 per person, with reimagined holiday classics and a $40 children's menu (under 12). There is also a special to-go Thanksgiving dinner for $70, that includes Greek salad, with tomato salad with feta, cucumber, onions, olives, tomato; butter turkey, moussaka, roasted turkey, or sliced turkey breast, braised turkey leg moussaka & cranberry sauce, tsoureki stuffing, Greek tsoureki bread, rosemary, oregano, sweet potato, rye breadcrumbs, and for dessert, pumpkin cheesecake, with candied pecans, cranberry compote. 55 E. 54th St., 212-759-5554, nerainyc.com
REDEYE GRILL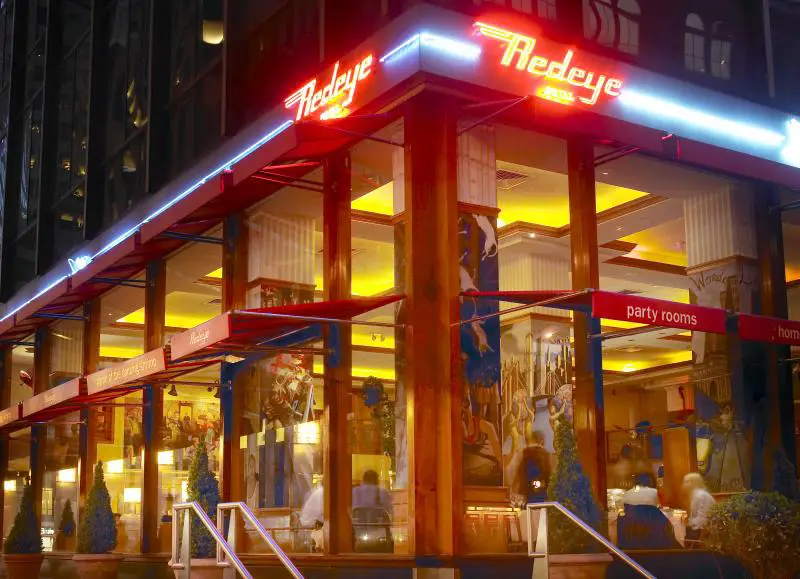 In the heart of Midtown West, the Redeye Grill hosts a classic American brasserie scene, with polished nickel and leather, warm tones, and original Red Grooms artwork. This year they will be offering a traditional Thanksgiving feast with all the trimmings for $89 (excluding tax & gratuity). Choose from an appetizer (shrimp scampi, butternut squash soup, harvest salad, main entree of free-range roasted turkey and all the fixings, and for dessert, a choice of pumpkin cheesecake or pecan pie.)  A full a la carte menu is also available. 890 Seventh Ave., 212-541-9000, redeyegrill.com
THE SEA FIRE GRILL
Step into the luxurious ambiance of  The Sea Fire Grill this Thanksgiving. For $95 per person, this year's three-course Thanksgiving Day menu includes refined appetizers like Duck Confit Bibb Salad with pears, caramelized walnuts, grapes, and red wine vinaigrette, Oyster Rockefeller with spinach, parmesan, and pernod or Roasted Kabocha Squash Soup with pumpkin seeds, fried sage, and pumpkin oil. For the main course, dive into an exquisite Organic Heritage Turkey complemented by herb sourdough stuffing, cranberry and citrus sauce, giblet gravy, mashed potatoes, mushrooms, and pearl onions. For the sweet finale, choose between a classic Pumpkin Pie with whipped cream or a delectable Pecan Pie with vanilla ice cream. 158 E. 48th St., 212-935-3785, theseafiregrill.com
TRATTORIA DELL'ARTE
Located across the street from Carnegie Hall, and close to Lincoln Center, Columbus Circle, City Center 55th Street Theater, Trattoria Dell'Arte is the perfect place for pre and post-concert or theater dining. This Thanksgiving, they are serving an $85 pre fixe menu, including a champagne toast, choice of appetizers, a main course of free range herb-roasted turkey with caramelized mushroom & thyme stuffing, garlic-oil spinach, giblet gravy, and a dessert choice of tiramisu, cranberry pecan pie, or traditional pumpkin pie. 900 Seventh Ave., 212-245-9800, trattoriadellarte.com
VERONIKA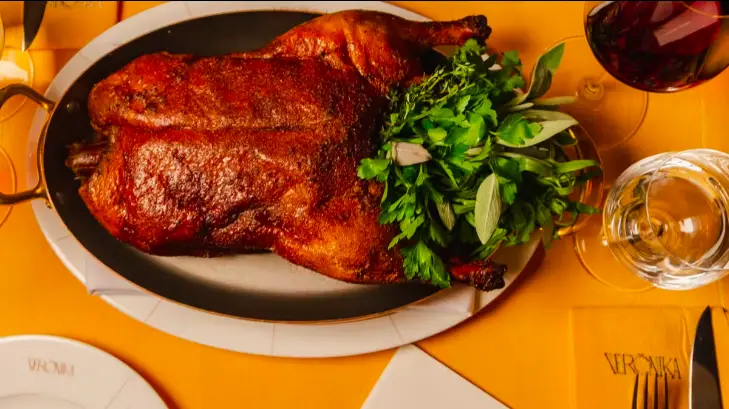 This Thanksgiving, indulge and come together for a feast at Veronika, a luxurious experience hidden within Fotografiska New York. Enjoy a prix fixe menu with delectable choices and vegetarian options, $160 per person ($65 per person for children under 12) . Vegetarian options available. Book your table on their reservations page, or reach out to their team via phone or email. 281 Park Ave. S., Second Floor, 646-993-6993, veronikanyc.com
THANKSGIVING ON THE WATER

For an unforgettable Thanksgiving experience, join City Cruises for East River and Hudson experiences. Spirit of New York, offers a buffet dinner on Thursday afternoon. Departures from Chelsea Piers. Chelsea Piers, Pier 61, near W. 23rd St. on the Hudson, citycruises.com/newyork