It's all the coffee you can handle, and then some. The new Starbucks Reserve Roastery in the Meatpacking District is much more than a typical Starbucks cafe. Opened in December 2018, this three-level coffee emporium is outfitted with two coffee bars, a cocktail bar, a bakery, and a retail shop. Located near The High Line, Chelsea Market, and the Whitney Museum, the Roastery is the perfect place to relax during a day of sightseeing and shopping. From reserve coffees to the freshest coffee beans on the block, Starbucks proves why it's a coffee chain that's here to stay. Get the full coffee experience with Starbucks reserve coffee at any of its reserve locations across NYC. Here's a breakdown of caffeine heaven at the Starbucks Reserve Roastery.
The Coffee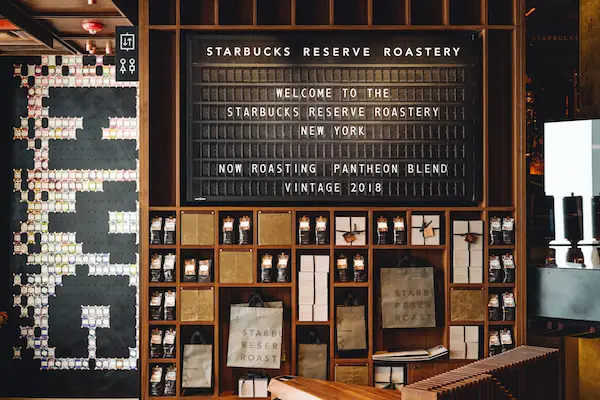 Coffee geeks, rejoice! You can choose seven brewing techniques, available at two coffee bars inside, for your ideal cup of Starbucks coffee at the Roastery. Options include pour-over, Chemex, French press, siphon, espresso, Clover, and cold brew.
More standard brewing methods are available at the Main Bar near the entrance. You can grab a classic latte or a special new recipe like the Cardamom Long Black, made with espresso, cardamom syrup, and a cardamom-sugar rim. Other delectable offerings include whiskey barrel-aged cold brew, a Sipping Ganache made with melted dark chocolate, and a Nitro Hopped Apricot Cold Brew made with apricot molasses.


Intricate brewing techniques like siphoning are available at the Experience Bar down a flight of stairs to the left of the main entrance. There are also several distinctive flights of coffee served here—with or without perfectly-paired chocolate truffles.
There's also a Scooping Bar at the Roastery, where you can grab a bag of beans roasted on site. Flavors rotate according to seasonality and availability.
The Cocktails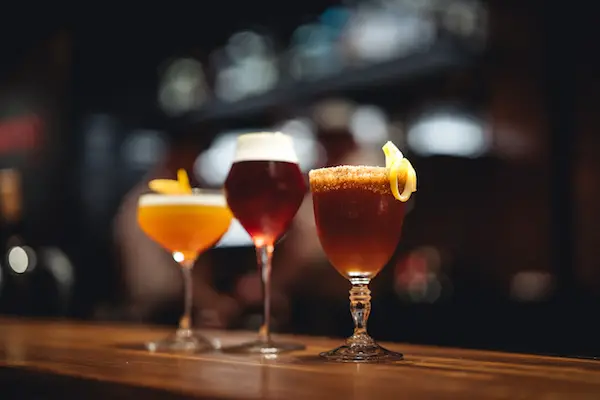 The cocktail bar, located on the mezzanine of Starbucks Reserve Roastery, is called Arriviamo: Italian for "we have arrived." The coffee roasted on premises is used to flavor unique caffeinated cocktails, while other cocktail recipes are made with Teavana teas. Mixologist Julia Momose created this exciting menu of alcoholic beverages and mocktails, which include the Black & White Manhattan with Starbucks coffee, bourbon, amaro, and vermouth. The fruity Triomphe cocktail contains Teavana Darjeeling de Triomphe Tea, gin, riesling, aquavit, Passionfruit LaCroix, and orange saffron bitters. Beer, wine, and traditional cocktails are also available at Arriviamo.
The Eats
Princi Bakery has a counter inside the Roastery, offering up delicious baked goods from croissants to pizzas. This Milanese import, begun by Rocco Princi, also serves lunch options like salads, soups, and sandwiches. If you need dessert (and you do), there are cookies and tiramisu behind the counter as well. True to the Roastery's way, baked goods are baked on premises, making the smell of the place even more irresistible.
At the coffee bars, you can also order coffee-ice cream combinations like the Shakerato Affogato, Cold Brew Malt, and a Cold Brew Float. These recipes are made with local Blue Marble ice cream.
The Design
This 23,000-square-foot plant contains not only retail space but also an operating coffee roastery. In fact, it's the largest one in Manhattan! The Master Roasters working in the roastery prepare small batches of single-origin beans and unique Starbucks Reserve blends. The centerpiece of the roasting area is a 30-foot copper cask that holds newly roasted beans. The beans roasted in-house are served to customers at the bars in the Roastery as well as sold in Starbucks stores worldwide.
The designers of the Roastery interior drew from New York City itself to create the distinct variegated ceiling of squares and rectangles, plus the pipes throughout the space, which carry the fresh-roasted beans you can hear pitter-pattering through. There's plenty of walnut seating at all three bars inside, plus a working fireplace. Starbucks' ever-present siren can be found on a 10-foot copper wall relief sculpture designed by Brooklyn-based sculptor Max Steiner.
Get inspired on the cellar level with a large terrarium filled with Costa Rican plant life. This feature gestures to Alsacia, the Starbucks coffee farms in the Central American nation, and even contains a few coffee plants.
The Starbucks Reserve Roastery New York is located at 61 Ninth Ave. Call 212-691-0531 or visit starbucksreserve.com for more information.
---
You can also check out an article on coffee roasters
here.