For many people, Thanksgiving is about family and pie (mostly pie). But the food and the company aren't the only parts of the holiday that hold meaning for a lot of people—for many, the Macy's Thanksgiving Day Parade is woven into the very fabric of the day. Planning on making an in-person trek to see it on Manhattan's West Side? Here's what you need to know.
The Day Before | Macy's Balloon Inflation, Is It Worth It?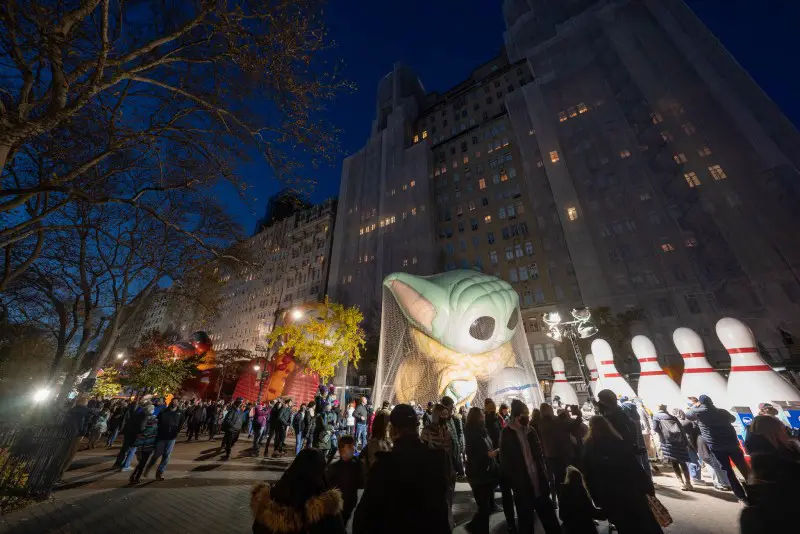 Anthony Quintano/Flickr
The real fun actually starts the day before, when savvy New Yorkers and travelers alike make a beeline not to Macy's, but to the Upper West Side. Head to West 72nd Street and Columbus Avenue (you'll have to join a line) between noon and 6pm; try to get there on the early side if possible. (Note: items like large coolers, alcohol, and chairs are prohibited.) Once you've been screened, you will enter the inflation viewing area (i.e., where the balloons are being blown up) at Central Park West and West 72nd. The area edges the American Museum of Natural History and lets out on Central Park West and West 81st Street. Watching the balloons being blown up is as much a tradition as the parade itself. Is it worth it? Absolutely—it's incredibly awe-inspiring to watch the giant balloons go from puddles of plastic to dazzling oversized balloons, and it's fun to get a preview of what's to come the next day. Watching the balloons being blown up somehow manages to simultaneously feel incredibly "behind the scenes" and exclusive, while also instilling a sense of community.
Parade Fun Facts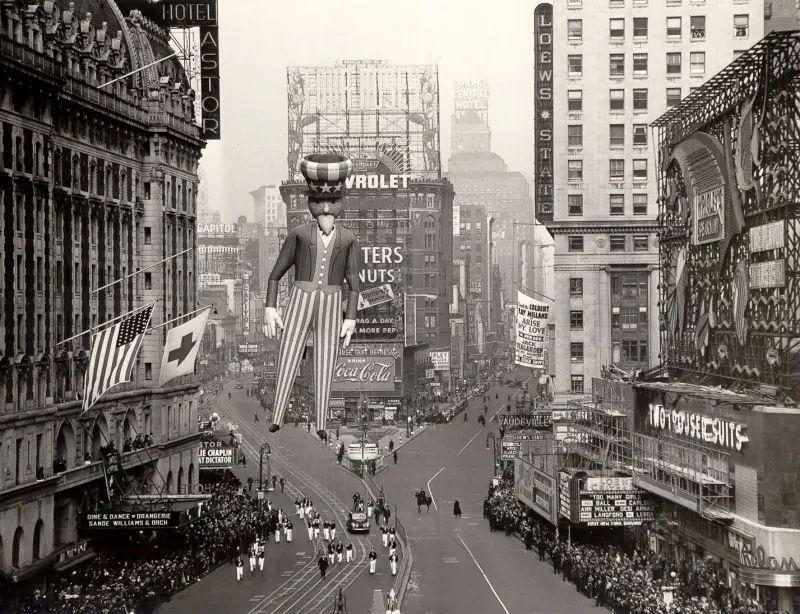 Image: Macy's Inc.
The parade harks back to 1924 and is the second-oldest Thanksgiving parade in the U.S., tied with the one in Detroit, but four years younger than the one in Philly. Lasting around three hours (although note the time change for 2023—this year's will be a half hour longer and will start at 8:30am Instead of 9am as it usually does); the parade ends at noon.
A Minion floats during the 2022 parade. Image: Brecht Bug/Flickr.
The 97th year of the parade will feature balloon favorites including Sponge-Bob Square Pants and Diary of a Wimpy Kid, Chase from Paw Patrol, and Stuart the Minion, as well as new entries Beagle Scout Snoopy, and the 50-foot-tall Monkey D. Luffy (the leader of the Straw Hat Crew from the cult favorite One Piece series and graphic novel), as well as Blue Cat & Chugs from Cool Cats, the first NFT character turned into a parade balloon.
What else can you expect to see? Twenty-eight floats, including a Rocking Horse, Lobster and Moose (you read that correctly), as well as new additions such as Warner Bros. Pictures' The Deliciously Delectable World of Wonka float. Fun fact: it has 592,000 pieces of prop candy.
Also on deck: hosts (and perennial favorites) Savannah Guthrie, Hoda Kotb, and Al Roker will preside over the festivities. None other than Cher is set to headline the entertainment, with Grammy-winner Jon Batiste, Brandy, Bell Biv Devoe, Chicago, Pentatonix, and Katharine McPhee joining in the fun. In addition, cast members from Broadway shows & Juliet, Shucked, Back to the Future: The Musical, and Spamalot will perform, along with some of the Muppets from Sesame Street. Look out as well for U.S. Olympic Silver Medalist and gymnast Jordan Chiles; and Miss America 2023 Grace Stanke. Along the parade route, Josh Gad and Andrew Rannells from Broadway's Gutenberg! The Musical will be special live correspondents.
How (and Where) to Watch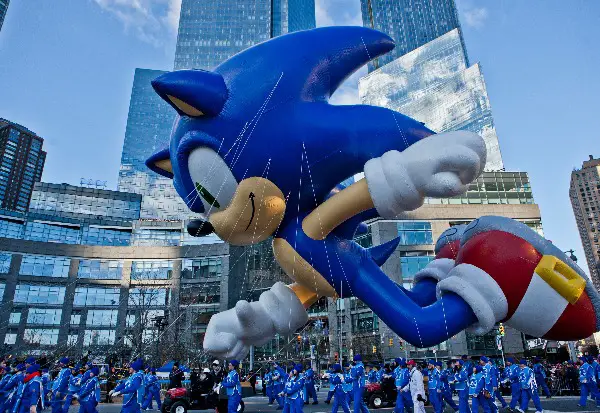 Image: Anthony Quintano/Flickr
For the best in-person views, you'll have to pick your spot and get there early. This year, the parade starts at 8:30am on 77th Street and Central Park West, then makes its way through the two-and-a-half-mile route to Columbus Circle, Central Park South, and then through midtown before finally arriving—where else—at Macy's Herald Square on 34th Street.
Where will you get the best view? Prime vantage points can be had near the beginning of the route—anywhere from West 75th to West 61st Streets. A little further down, you can generally find good views between West 69th and West 38th Streets. And when we say get there early, we mean get there early—6am is absolutely not too early, believe it or not. Note: some streets may be closed off for filming equipment. It's of course fun to be there when the parade reaches its end, at the area right around Macy's itself. But be warned: that part of the city, not surprisingly, tends to be incredibly crowded, and it's difficult to find a good vantage point.
And if you really want to plan ahead, you can always book a hotel room that overlooks the parade route for next year. Don't feel like getting out of your pajamas? The parade is also televised on NBC and Peacock.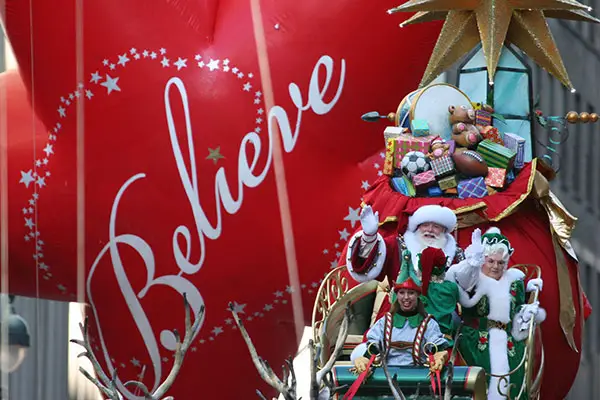 And be prepared: before you've even sat down to your turkey and pumpkin pie, visions of sugar plums will be dancing in many people's heads, since the parade ends with Santa in his sleigh—which "officially" starts off the holiday season.
Looking for a great Thanksgiving dinner in NYC? We've got the top picks here.