Open Streets
Looking for things to do in NYC? Get our free email with 8 can't-miss city events every week
Sign-up Here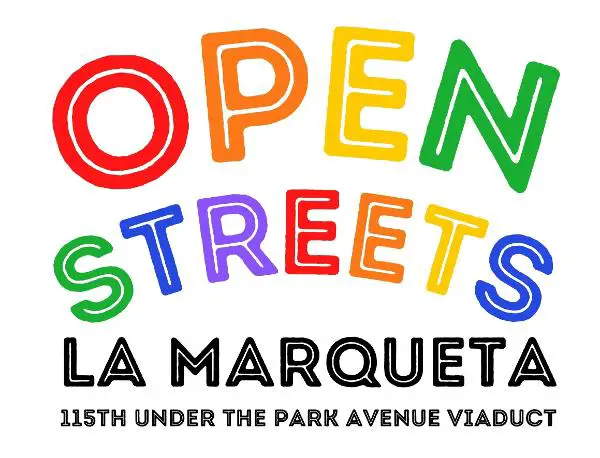 JOIN US FOR WEEKLY OUTDOOR DINING, LIVE MUSIC & FAMILY FUN ON SUNDAYS … PLUS A HOT SALSA SCENE ON SATURDAYS! East Harlem / El Barrio, NY – This summer, head Uptown with the family for a diversity of dining options -- plus a welcoming schedule of weekend fun -- at the Open Streets in El Barrio.
Every weekend through Labor Day, the Open Streets at La Marqueta are programmed with street furniture for outdoor dining, games and sidewalk chalk, plus water play when the temps are high. Each street also features a daily schedule of Storytime in partnership with Harlem4Kids, Craft Time with local artisans and Live Music featuring sounds ranging from jazz to Latin to funk and more.
ABOUT THE OPEN STREETS AT LA MARQUETA:
La Marqueta is part of New York City's public market system, and for decades was packed with hundreds of vendors and the destination for nearly everyone Uptown do their shopping. In the decades since, it's become home to a commercial kitchen, garden center and emerging small businesses — plus Salsa Saturdays that attract salsa veterans and the best dance bands from across the five boroughs all summer long.
The Open Street at La Marqueta is located at 115th Street under the Park Avenue Viaduct. Activities run each Sunday: Storytime with Harlem4Kids – 11 a.m. Craft Time with local artisans – Noon
Live Music – Noon-2 p.m.
La Marqueta vendors offering brunch and lunch options include Amuse Bouche (French bistro), Cocotazo (Puerto Rican farm-to-table) and Lizzy's Treats (Desserts). You can also pick up a plant or two at Urban Garden Center, a part of the La Marqueta complex that's also under the viaduct.
Additional activities include the Cocotazo Community Table on Sunday, July 16, the Amuse Bouche Community Table on Sunday, August 20, and a show by the Bindlestiff Family Cirkus on Sunday, August 13.
Venue: La Marqueta
115th Street & Park Ave Map
212-457-1254