08/02/17 through 12/31/20
Music Box Theatre
508-948-5627
02-08-2017 12:00:00
31-12-2020 12:00:00
America/New_York
Dear Evan Hansen
DEAR EVAN HANSEN MUSICAL PRODUCTION REVIEW Dear Evan Hansen has surpassed Josh Groban as Broadway's biggest new hit. With $1.1 million in its pockets, this musical is creating a huge buzz that is drawing ardent fans across the board. Its average ticket price of $141 remains one of the highest box office rates in its niche. This amazing hit was originally in book form and the creativity of Steven Levenson led to its seamless transition to a wave-making high school musical. Benj Pasek and Justin Paul wrote the musicals for Dear Evan Hansen. It is on track to be one of the most successful pieces of musical theater ever to originate in Washington. The plot is centered on the peculiar problem of communicating in a time where technology has made it easier to reach out to people. Evan Hansen is a friendless high school student who achieves Internet fame due to a misunderstanding he perpetuates in regards to his supposed closeness to another troubled classmate who committed suicide. The twists in the story line help to accentuate the challenges that the younger generation face in today's world. The gripping effects of the story and the raw show of emotions make this story one of the most amazing productions to ever grace Broadway. Parents can gain more insight and understanding into their children. Children can watch and learn how challenging it is for their parents to understand them at times. Grandparents, well, they will get to view this communications conundrum from all angles and certainly gain a good chuckle along the way. This record-setting, sold-out musical has been attracting positive reviews from leading names in the industry and beyond. Peter Marks of the Washington post calls it ''A heart-piercing trip to the place that musical theater can sometimes take us to.'' He believes that this musical, which was first performed on November 14, 2016, holds the ace in every range. On the other hand, Charles Isherwood of the New York Times proclaims "This is a superb musical with great heart and humor.'' When you leave a musical with one or two great songs running through your head, it can be said to be a success. However, leaving a musical with about 10 great songs running through your head is pretty much unheard of. The power of Dear Evan Hansen has set a new height that may not be surpassed by any production for many years. This is a performance that anyone serious about the arts absolutely must see and a performance certain to draw in permanently that first time attendee to a Broadway performance. http://www.cityguideny.com/eventinfo.cfm?id=243356
Music Box Theatre
Music Box Theatre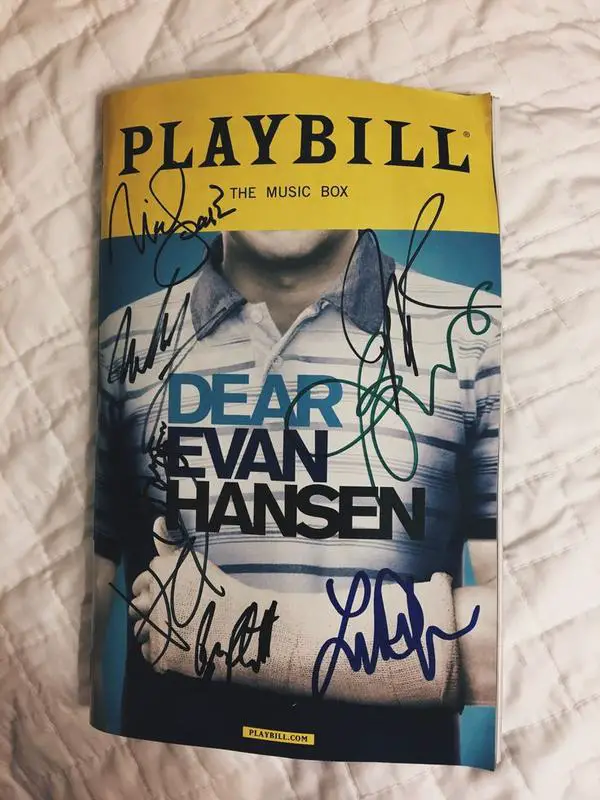 DEAR EVAN HANSEN MUSICAL PRODUCTION REVIEW
Dear Evan Hansen has surpassed Josh Groban as Broadway's biggest new hit. With $1.1 million in its pockets, this musical is creating a huge buzz that is drawing ardent fans across the board. Its average ticket price of $141 remains one of the highest box office rates in its niche. This amazing hit was originally in book form and the creativity of Steven Levenson led to its seamless transition to a wave-making high school musical. Benj Pasek and Justin Paul wrote the musicals for Dear Evan Hansen. It is on track to be one of the most successful pieces of musical theater ever to originate in Washington.
The plot is centered on the peculiar problem of communicating in a time where technology has made it easier to reach out to people. Evan Hansen is a friendless high school student who achieves Internet fame due to a misunderstanding he perpetuates in regards to his supposed closeness to another troubled classmate who committed suicide. The twists in the story line help to accentuate the challenges that the younger generation face in today's world. The gripping effects of the story and the raw show of emotions make this story one of the most amazing productions to ever grace Broadway. Parents can gain more insight and understanding into their children. Children can watch and learn how challenging it is for their parents to understand them at times. Grandparents, well, they will get to view this communications conundrum from all angles and certainly gain a good chuckle along the way.
This record-setting, sold-out musical has been attracting positive reviews from leading names in the industry and beyond. Peter Marks of the Washington post calls it ''A heart-piercing trip to the place that musical theater can sometimes take us to.'' He believes that this musical, which was first performed on November 14, 2016, holds the ace in every range. On the other hand, Charles Isherwood of the New York Times proclaims "This is a superb musical with great heart and humor.''
When you leave a musical with one or two great songs running through your head, it can be said to be a success. However, leaving a musical with about 10 great songs running through your head is pretty much unheard of. The power of Dear Evan Hansen has set a new height that may not be surpassed by any production for many years. This is a performance that anyone serious about the arts absolutely must see and a performance certain to draw in permanently that first time attendee to a Broadway performance.
Upcoming Events at Music Box Theatre