Where to Dine on Thanksgiving 2013 in New York City
November 20, 2013 - by CG News Desk
Are you visiting NYC over the holidays and looking for an incredible Thanksgiving dinner at one of the best restaurants in the world? Here's where you'll find turkey, all the sides, and so much more. Click on the restaurant name for location, phone numbers, and more.
---
Abboccato Ristorante will be serving Thanksgiving dinner from 4 to 9pm, with a 4-course prix-fixe menu available for $55 ($85 with Italian wine pairings) highlighted by Tacchino: Braised Boneless Free Range Turkey, Chestnut, Sausage Stuffing, Potato Puree, and Cranberry Chutney. The a la carte dinner menu will also be available. Click here for the full menu; click here for reservations.
---
B.B. King Blues Club and Grill will be hosting a special edition of their weekly Beatles tribute, Strawberry Fields, with a Thanksgiving prix-fixe menu ($49; children, $25) that features a choice of roasted organic free range turkey, grilled Columbia River steelhead salmon, Black Angus filet mignon, and more. For tickets and more information, click here.
---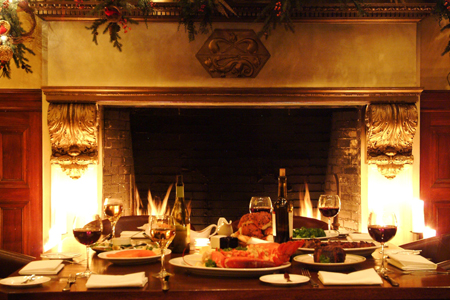 Benjamin Steakhouse will be offering a traditional Thanksgiving prix fixe in addition to their a la carte menu. The main entree is, of course, traditional Thanksgiving turkey with stuffing, roasted yam, potatoes au gratin, and cranberry relish. Please call ahead for reservations (212-297-9177) or click here to reserve online. $64.95 per person (not including tax & gratuity). Click here for the full menu.
---
Established in 1969, Bobby Van's now boasts 8 locations throughout the Northeast with five in Manhattan, including one on 50th Street, serving only the finest USDA dry-aged prime beef, select seafood, and lobsters starting at 3lbs. Their three-course Thanksgiving menu ($69.95/person) includes choice of traditional turkey dinner, broiled filet of sole, or slow-roasted prime rib. Click here for the full menu.
---
Restaurant Row's B. Smith's offers excellent American cuisine with southern influences courtesy of the popular TV host, and they will be offering a Thanksgiving dinner ($55) that includes choice of: Gerb Roasted Turkey; Sauteed Local Flounder; Pan Roast Duck Breast; and Herb Roast Beef. Click here to see the full menu.
---
"Milan meets Manhattan" at Casa Lever, which will be presenting a $95 four-course prix-fixe menu for Thanksgiving. The special menu includes Stuffed Turkey Breast, Slow Cooked Wild Boar Shoulder, Scottish Salmon, and Branzino. An additional wine pairing is also available for $75. To see the full menu, click here.
---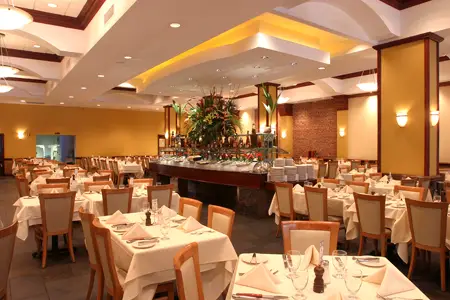 You can also celebrate Thanksgiving in Brazil without having to leave New York. Churrascaria Plataforma will carve the turkey right at your table, while offering all the traditional fixings in addition to the parade of neverending meats prepared Brazilian-style, including fish, sushi, poultry, pork, and more. Reservations are highly recommended; call 212-245-0505 or click here. Saude!
---
In upscale setting reminiscent of old-style European circus tents, Circo on West 55th Street will offer a special 3-course Thanksgiving Tasting Menu ($68/person) from 1-9pm that's highlighted by Tacchino Della Tradizione: Mrs. Maccioni's boneless turkey breast with stuffing, sweet potato purée, green beans, cranberry sauce, gravy. (A $22 Children's Tasting Menu is also available for those 10 & under.) Click here for the full menu. Call 212-265-3636 for reservations, or click here.
---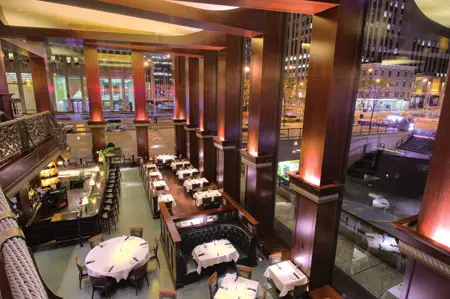 Del Frisco's Double Eagle Steak House, located near Radio City Music Hall in Rockefeller Center, midtown Manhattan will offer an $85 pre-fixe turkey dinner from noon to 9pm. Click here for the full menu. Reservations are recommended; call 212-575-5129 or click here.
---
In addition to their regular dinner menu, Garage Restaurant & Cafe in Greenwich Village will be offering a special prix-fixe holiday menu featuring Thanksgiving-inspired dishes and traditional fare for $59.95 per person (click here to see the full menu, which includes Roasted Young Turkey, Herb Crusted Pork Tenderloin, Salmon Filet Wellington, and more). There will also be three live jazz performances throughout the day: the Larry Newcomb Trio (1-5:30pm); the Joe Sucato Quartet (6-10pm); and the Justin Lees Trio (10:30pm-2:30am). They will also offer their Live Jazz Brunch (usually reserved for weekends) from 11am-4pm on Friday the 29th.
---
Guy Fieri's Times Square restaurant, Guy's American Kitchen and Bar, will be offering a $39.95 prix-fixe Thanksgiving dinner with all the sides, with a main course of a Roasted Turkey with sausage-and-sage stuffing and sweet mashed potatoes. $14.95 for kids 12 and under. Click here for the full menu; click here for reservations.
---
Heartland Brewery's multiple locations -- including in Times Square, 127 W. 43rd St., 646-366-0235 -- will be offering a four-course meal on Thanksgiving Day. Courses include a homemade butternut squash soup with toasted almonds and chive oil, a red leaf lettuce salad with sun-dried cranberries and Granny Smith apples, fresh roasted turkey and sage stuffing with candied sweet potatoes and green beans, and pumpkin pie or New York cheesecake for dessert. The price is $29.50; $14.95 for kids 12 & under. Resevations are recommended. For more info, visit www.heartlandbrewery.com.
---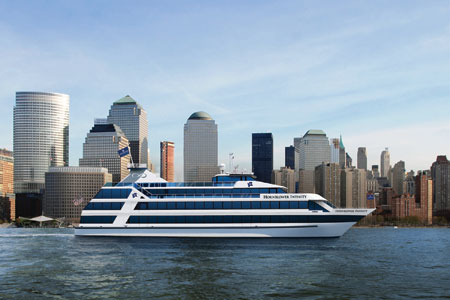 Hornblower Cruises' special three-hour holiday cruise includes a traditional Thanksgiving buffet dinner, football on flatscreen TVs, a boarding glass of sparkling wine, wine and cocktails available for purchase, and live DJ entertainment. $99/person. Boarding: 3pm; departure: 4pm. Click here for tickets and more information.
---
Thanksgiving meets Hanukkah as Kutsher's Tribeca offers a special 4-course "Thanksgivukkah" menu ($65; $48, ages 10 & under) on November 28th & 29th from noon to 10pm. The feast includes Pumpkin Shlishkas, Turkey or Brisket, and much more. Click here to view the full menu; click here for reservations.
---
For Thanksgiving, Le Cirque will offer a wonderful three-course prix-fixe menu ($115/person). Main-course options that include (among many other choices): Roasted Organic Turkey; Filet Mignon; Paupiette of Black Bass "Le Cirque"; and Venison Saddle. Click here to view the full menu; click here for reservations.
---
New York City's beloved Greek restaurant Molyvos will be serving a 3-course prix-fixe Thanksgiving Day menu from 1-9pm, featuring Butternut Squash Soup, Roasted Organic Turkey, and Apple Walnut Pie. The price is $48 per person; $75 if paired with select Greek wines. Click here for the full menu; here for reservations.
---
Morton's The Steakhouse on Fifth Ave. will be open for Thanksgiving from 1-10pm. For reservations, click here.
---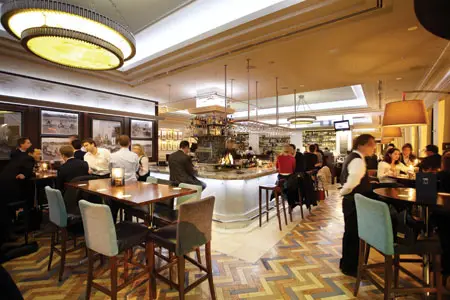 Oceana will be serving a three-course prix-fixe dinner ($59; under 12, $29.50) on Thanksgiving Day from noon-9pm. Entrée options include "Cape Cod Turkey" (roast cod, crabmeat stuffing, sautéed spinach), Apple-Crusted Grouper, and much more. Click here to view the full menu; click here for reservations.
---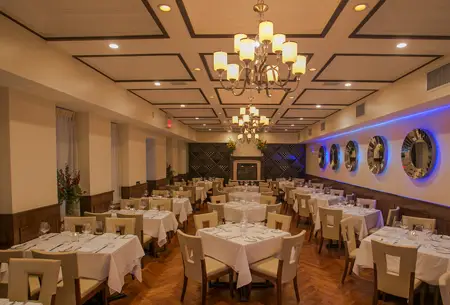 For $65 per person, The Sea Fire Grill's 3-course Thanksgiving Day menu includes East Coast Oysters, Roasted Butternut Squash Soup, and Herb Roasted Heritage Turkey with Brioche Stuffing, Brussels Sprouts, Yams, Green Beans, and Classic Gravy. Click here for the full menu; call 212-935-3785 or click here for reservations.
---
Sirio Ristorante, located in the Pierre, a Taj Hotel New York near Central Park, will offer a three-course Thanksgiving meal ($95/person; 11:30am-11pm) offering choice of starter or pasta, main course, and dessert. Entrée options include stuffed turkey thigh & roasted breast, sautéed pork chop, herb-crusted venison loin, NY strip steak, and Mediterranean branzino. Click here to view the full menu. Call 212-940-8195 or click here for reservations.
---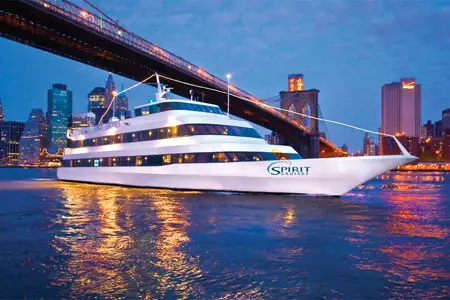 Avoid the hassles of cooking and cleaning up after Thanksgiving dinner by joining Spirit Cruises for their Thanksgiving Late Lunch Cruise on November 28th, the Dinner Cruise with a Karaoke Option on the 29th, and Lunch and a Dinner Cruise on the 30th. Entrees include sage-rubbed turkey breast with turkey gravy and pasta primavera. For more information and reservations, click here.
---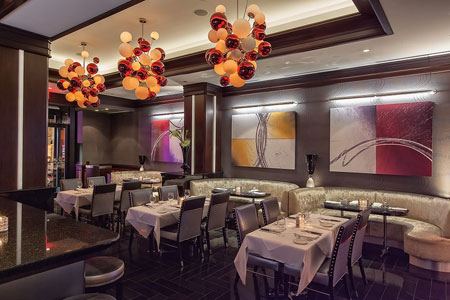 Located near Union Square, Vic & Anthony's serves up prime cuts of filet mignon, prime strip, porterhouse for two, Kobe beef, and an extensive seafood menu. For Thanksgiving Day, they will be offering a three-course dinner for $65/person; entrée options include Filet Mignon, Fresh Turkey Breast, and Salmon Filet. Click here for the full menu, or here for reservations.
---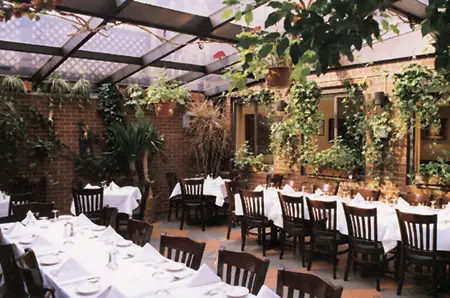 Villa Mosconi in Greenwich Village is offering a Thanksgiving menu that includes choice of: Roast Turkey with Stuffing and Cranberry Sauce; Boneless Chicken alla Parmigiana; Broiled Salmon; Veal Scaloppine alla Marsala; Broiled Sirloin Steak. Call 212-673-0390 for reservations or click here. 69 MacDougal St., 212-673-0390; villamosconi.com
Reader Feedback