The most stimulating museum in New York! This unconventional institution presents the history, evolution, and cultural significance of human sexuality.
Museum of Sex Current Exhibitions
OBJECTXXX: Selected Artifacts from the Museum of Sex Archive—A newly renovated gallery presents an intriguing array of artifacts from the museum's 20,000-item-strong collection.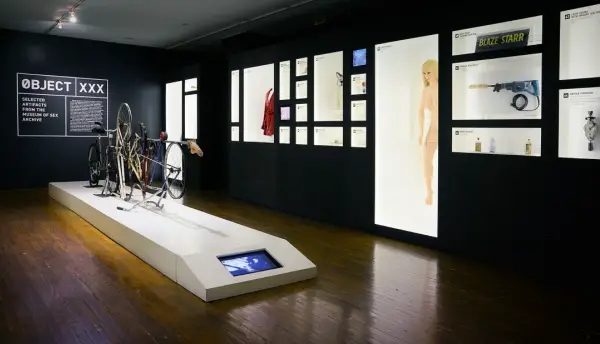 The Sex Lives of Animals—An unusual and graphic display of what they won't show you on Animal Planet.
Splendor in the Grass: Kinesthetic Camping Ground—The museum's second annual Kinesthesia Art Commission translates a campground environment into an adult playground.
Hardcore: A Century & A Half of Obscene Imagery—An 1855 New York City Brothel Guide and a collection of erotic artifacts hidden for nearly a century in the brickwork of a recently renovated Brooklyn brownstone are among the highlights of this historical exhibition.
Jump for Joy—Increase your body awareness while enjoying an interactive exhibit originally created for the Museum of Sex exhibition Funland: Pleasures & Perils of the Erotic Fairground.
Sun.-Thurs., 10am-9pm; Fri.-Sat., 11am-11pm. Adults: $18.50 + tax; seniors/students: $16.50 + tax.  
Museum of Sex Video