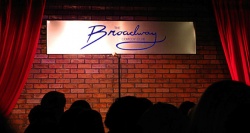 Inside Scoop: Broadway Comedy Club
The Broadway Comedy Club now has two beautiful showrooms and a quaint cafe, located just steps away from The Late Show with Stephen Colbert in New York's midtown. Club owner Al Martin is responsible for launching the careers of many top comedians working today. Martin's first venture in the comedy club business was in 1988 when he established the New York Comedy Club out of a need to help and showcase talented comedians. An accomplished comedian himself, Al was a National Headliner with numerous television credits such as The Joan Rivers Show, Geraldo and Evening At The Improv. Although performing was a love for Martin he found his niche as a comedy club owner. He soon found himself helping his fellow comedians that he had once worked beside. Sarah Silverman, Lisa Lampanelli, Brett Butler, Tracy Morgan and Wanda Sykes are just a few comedians who have graced his stages over the years. In 1997, New York Comedy Club became the first comedy club with two showrooms. Al was one of the first club owners to embrace diversity in the comedy world by establishing the first Latino Comedy Night at New York Comedy Club. He's also facilitated and welcomed to his stage shows featuring gay, urban and Asian communities and in 2014 sold the New York Comedy.
In 2000, Martin opened New York Comedy Club in Boca Raton, which he ran successfully until late 2006. With the success of two clubs, Al decided to expand his brand and in 2003 opened Broadway Comedy Club, located in the heart of Times Square. In the Summer of 2012, Martin expanded his comedy ventures into Greenwich Village, in New York City with the opening of Greenwich Village Comedy Club.
Jokes are clean and in good taste, however, keep in mind the material is adult content and not appropriate for children under 16 years of age.
Broadway Comedy Club Photos
Broadway Comedy Club Video