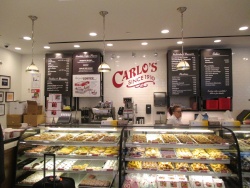 Welcome to Carlo's Bakery, the only place in Manhattan to experience the authentic, old world taste of New Jersey's legendary Carlo's Bakery - home of the Cake Boss himself, master baker and renowned cake decorator, Buddy Valastro.
Conveniently located in the heart of Times Square, Carlo's Bakery offers a mouthwatering assortment of authentic Cake Boss confections prepared daily. Open 7am-midnight.
Carlo's is a family owned bakery featured on the TLC hit show Cake Boss. Carlo's, originally opened by Carlo Guastaffero in 1910, was acquired by Bartolo Valastro Sr. in 1964. Since the untimely passing of Bartolo Sr. in 1994, matriarch Mary Valastro and her children Grace, Maddalena, Mary, Lisa and master baker Bartolo Jr. "Buddy" Valastro have expanded the business with the help of their spouses.
Because of the Valastro family's dedication to quality and excellence, Carlo's has received national recognition. Master Baker Bartolo Jr. "Buddy" has been featured in numerous publications, such as Modern Bride, and The Knot. Buddy's cake design was voted by the Today's Show viewers as best cake in America. He has also appeared in many other media outlets, including multiple appearances on the Food Network, for his intricate sugar art designs specialty cakes and wedding cakes that look just as good as they taste.
Find Carlo's Bakery on Facebook.
Video
Reviews