Inside Scoop: Heartland Brewery and Rotisserie Empire State Building
New York City's most famous landmark, the Empire State Building, now houses New York's number one brewery, a two-story 450-seat Heartland equipped with two large bars and four giant flat-screen TV's.
Heartland has consistently brewed New York's freshest craft beers, including six classic brews and a wide range of seasonal ones. Brewers at Heartland assemble a variety of distinctly American ingredients to create their beer recipes. Heartland's beers taste different than beers from Germany and Britain because they are made from indigenous ingredients such as Wisconsin malt, hops from Washington and Oregon, and American yeast. All beers are served at their freshest within one to two weeks of brewing.
It did not take long for the Heartland's brewing techniques to be recognized. Heartland's Farmer Jon's Oatmeal Stout won a bronze medal at the prestigious Annual Great American Beer Festival in Colorado in 1995 and a gold medal in 1997.
The restaurant's well-prepared food and carefully designed, homey setting won accolades as well. Heartland was named Best Brewpub by New York magazine in 1996 and 1997. Since then, Heartland has grown into the largest group of brewpubs in the region.
Heartland Brewery and Rotisserie Empire State Building serves lunch and dinner, with a breakfast buffet special available Monday through Friday from 8am to 10am.
Heartland Brewery and Rotisserie Empire State Building Photos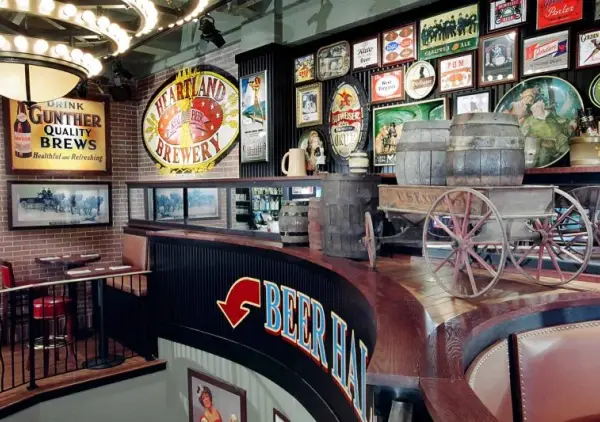 Other location: 127 W. 43rd St., 646-366-0235. *New to the family is HB Burger, also at 127 W. 43rd St.
Heartland Brewery and Rotisserie Empire State Building Testimonials
"When touring, it is often difficult finding a restaurant that has good food near a "Landmark". Heartland Brewery solves that dilemma in NYC. We enjoyed a very nice lunch at the base of the Empire State Building in the Heartland Brewery. The service is good, the food is satisfying and they offer full bar options as well as their fine beers."-Ray S, Huntington, NY, TripAdvisor
"Good selection of beers. Grab a seat at the window overlooking 5th and order the beer selection. Watch the world go by. Food was fine for this type of establishment. The crab cakes were tasty." -Garlen W, UK, TripAdvisor
Follow Heartland Brewery on Facebook and Twitter.