Patsy's Italian Restaurant
236 W. 56th St.
212-247-3491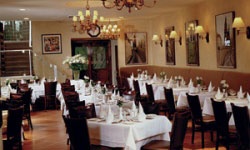 Considered one of the greatest attractions in the Theatre District, renowned for its celebrity clientele (Frank Sinatra's favorite), this landmark has been family-run since 1944. Highly rated authentic Neapolitan is heavenly, including succulent Veal Chops Siciliano, spicy Lobster Fra Diavolo, savory Calamari stuffed with seafood, etc. A "must go" New York favorite!
***
This white tablecloth restaurant of simple elegance and warmth, operated by the Scognamillo family for 69 years, was made famous long ago by Frank Sinatra (whose family still comes here). But what makes it a lasting institution in New York is not the celebrities (though there are many). It's the food. And the friendliness! This is where you come for some "down home" southern Italian fare; where they really know how to make red sauce—from marinara to pizzaiola.
According to Chef Sal Scognamillo (who often cooks on TV), many guests love things that are "stuffed," such as the Veal Rollatini Marsala or the Trio of Ravioli, each separately filled with lobster, spinach, and mushrooms. A very big hit is the stuffed artichoke filled with a mixture of garlic, bread crumbs, Gaeta olives, capers, and anchovies and baked in a shallow water bath to keep the artichokes moist. After a brief pass under the broiler to crisp the top, they are served with a few spoons of the pan juices. (This recipe can be found in Patsy's Cookbook: Classic Italian Recipes from a New York City Landmark Restaurant.)
The veal meatballs are truly unforgettable. Chef Sal recreated his grandfather Patsy's original recipe and they are more tender and flavorful than traditional ones made with beef and pork. They are served in a simple tomato and basil sauce with spaghetti. Patsy's red sauce became so popular that it is now available commercially. (And by the way, Patsy's Restaurant has nothing to do with the pizza chain of a similar name.)
Lunch and dinner daily, noon to 9:30pm, 10:30pm Friday and Saturday. -- Marian Betancourt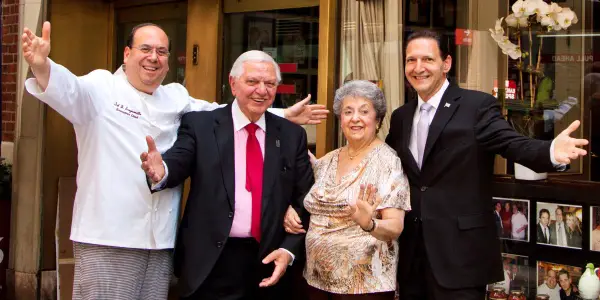 Looking for Group Booking ?
Got a group headed to New York? City Guide provides free expert planning assistance and buying services-just complete the quick form below.