When it comes to the struggling U.S. economy and storm-tossed country, many can identify with the phrase, "It's the Hard-Knock Life." And while now may not be as bleak a period as the Great Depression, the rocky times are fraught with one too many gloomy parallels to dark events of the 1930s. Fortunately, these parallels are turned gently upside down in Broadway's splendid revival of Annie.
Played by Lilla Crawford, last seen on Broadway in Billy Elliot, the title role is more that just spunk personified; she's the total package of compassion, idealism, and yearning—the latter for a reunion with her parents, who left her at an orphanage with the note: Please take good care of our little darling. Her name is Annie...We will be back to get her soon. We have left half of a silver locket around her neck and kept the other half so that when we come back for her you will know that she's our baby.
And while the above trappings can—and have—been played out with saccharine regularity in countless community theatre and school productions, I am pleased to report that Miss Crawford and her costars, under director James Lapine and choreographer Andy Blankenbuehler, manage to bring a non-cloying freshness to this inspired, gleeful production.
As Lapine explained in a clip on the show's website, "I was interested in [doing Annie] because I haven't done anything like this before. I've only done one play revival, and never really done a musical revival before [so] it was sort of on my bucket list… and it taps into what I like, which is kids. I've worked with kids a lot and I enjoy that—and great music."
Blankenbuehler, on the other hand, said that his involvement with the project began a year or two ago during a conversation with his agent. "He said, 'What do you want to do in your career if you could do anything,' and I said, 'I want to do a period piece that feels contemporary,' and Annie rolled into my lap that way."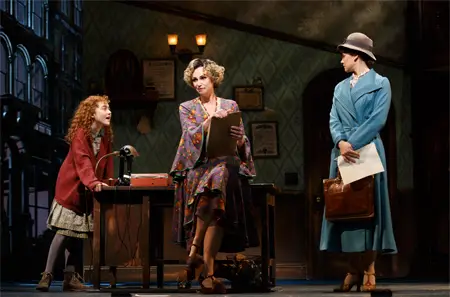 And judging by the end result, the two were perfectly matched creatively, with direction and dance numbers flowing together seamlessly.
Even though the show is set in 1933 New York—where tenement apartments with their urban clotheslines cut into the Manhattan skyline and Hooverville settlements offer cold comfort camaraderie to the dejected and displaced—Annie remains true to its mission: to reign as the most optimistic, uplifting show in town.
Granted, the iconic score by Charles Strouse (music) and Martin Charnin (lyrics) is a pip-and-a-half, with songs that grab you and won't let go (take it from someone who walked into the theater with a steady loop of "Tomorrow" playing in their head). But that signature song isn't the only tune you'll be humming, as the roster of musical numbers also includes "Maybe," "Easy Street," and the fabulous "You're Never Fully Dressed Without a Smile" (sung first on Bert Healy's glitzy "Oxydent Hour of Smiles" radio show and latter by the kids in the orphanage run by the tipsily exploitative Miss Hannigan (hilariously embodied by Glee's Jane Lynch through July 14).
The musical, with a dandy book by Thomas Meehan (The Producers; Hairspray) showcases everyone from FDR (Merwin Foard) to Miss Hannigan's lowlife cohorts: brother Rooster (Clarke Thorell) and his girlfriend Lily (J. Elaine Marcos). And of course, the high life comes into play once Annie meets up with her billionaire savior, Oliver "Daddy" Warbucks (a stellar Anthony Warlow), and his secretary, Grace Farrell (the lovely Brynn O'Malley).
Suffice to say that thanks to these pros—and a first-rate design team, including a couple of Tony winners—this rags-to-riches musical is a must-see, arriving as it does with everything from politics to disguises to the F.B.I. (J. Edgar Hoover, to be exact) to a glorious 11th-hour comeuppance for the villains and a merry "happily ever after" for everybody else.
"I think that when people think of Broadway theatre they think of shows like Annie," concludes Blankenbuehler, "and I think it's great for new audiences, as well as old audiences, to come back to the theatre and understand, 'Oh, this is why they do Broadway musicals!'"
Annie is playing at the Palace Theatre, 47th St. & Broadway. For tickets, call 877-250-2929 or click here.