We've compiled a list of NYC best bars with games, from pinball to shuffleboard. Because a little playful competition never hurt anybody.
Play All of the Games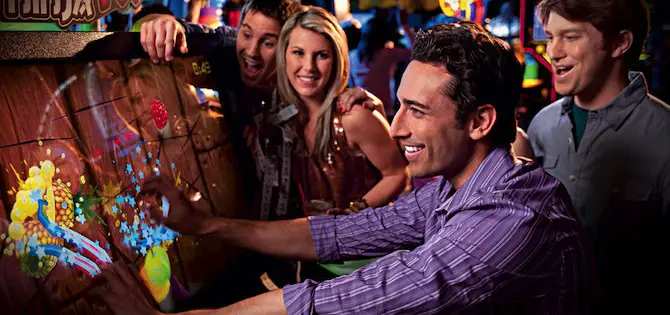 High scores are waiting to be broken at Dave & Buster's in Times Square.
Ace Bar 
531 E. 5th St., (between Ave. A & B), Manhattan
212- 979-8476 
This east village hipster haunt is packed to the gills with enough games to make your hands go numb. Give in and order that PBR you know you've been wanting and peruse the collection of vintage lunch boxes lining the walls. Once you've worked up a buzz, land a bulls eye on the dartboards, try your hand at skeeball, keep pinballs in play, hit the pockets in pool, practice your shot with Big Buck Hunter, and DJ the heck out of the crowd on one of the best jukeboxes in New York. 


Barcade
388 Union Ave., Brooklyn
718-302-6464
barcadebrooklyn.com
148 W. 24th St.
212-390-8455
barcadenewyork.com
6 St. Marks Place, Manhattan
212-388-0522
barcadestmarks.com
Barcade is what it looks like when you die and go to videogame heaven, so there's no excuse to not grab a drink and a joystick at one of their three locations across New York City. Each Barcade outpost offers a robust, rotating list of beers on tap, including local city brews, and upwards of 50 games for you to get your hands on (we see you, Ms. Pac-Man). If you need a little grub with your gaming, the Chelsea and St. Marks spots dish out a menu by Chef Lee Knoepel, with standout plates like the Buffalo Bleu Quesadilla, Philly Cheesesteak Egg Rolls, and Oyster Po' Boy Tacos.
Fat Cat
75 Christopher St. (at Seventh Ave.), Manhattan
212-675-6056
Chalk up your pool cue, paddle up for ping pong, let your inner Bobby Fischer shine on the chess board, and show off your smarts with Scrabble. Wash down your win – or loss – with a selection of craft brews, or old faithful PBR. Part low-key jazz hall, part gamer's paradise, Fat Cat in the West Village is your night out's one stop shop.  
Play Ping Pong
SPiN: a sleek subterranean den of ping pong.
SPiN
48 E. 23rd St. (between Madison and Sixth Ave.), Manhattan
212-982-8802
Reserve ping pong tables ahead of time to go paddle-to-paddle against your best mate, or, start your own league. SPiN, co-owned by actress Susan Sarandon, isn't just for ping pong fans and enthusiasts either. With a full kitchen turning out boozy milkshakes and savory treats, plus glow pong and rotating DJs to keep the beat, a night out at SPiN is so much more than your grandpa's table tennis. Memberships available.
Play Pinball
Skylark Bar
477 5th Ave., Brooklyn
347-227-8196
Bust out the bellbottoms hiding in the back of your closet and crash on vintage floral print couches and crushed velvet chairs at Skylark Bar. Become a pinball wizard on one of the bar's two restored pinball machines, nosh on soft pretzels, and throw back shot specials like the Cheech & Chong: Tecate and a shot of Espolón tequila for a cool seven bucks. 
Play Skeeball
Crocodile Lounge
325 E 14th St., (between First and Second Aves.), Manhattan
212- 477-7747
On the 14th Street stretch, Crocodile Lounge stands apart with two things everyone loves: carbs and games. Impress your friends when you sock it to one of the two skeeball alleys in the back of the bar, and chow down on a free personal pizza made in-house when your purchase any adult beverage. Christmas lights and old school cash registers amp up the dive bar charm.
Full Circle
318 Grand St., Brooklyn
347-725-4588
Ever heard of Brewskee-Ball? Step into Brooklyn's Full Circle Bar, and you're in the beer-infused sport's national home turf. Toss some beers down the hatch and aim for that golden 40-point pocket on one of the several skeeball setups throughout the joint. Mooch much? Full Circle Bar offers patrons free skeeball play and hot dogs on Sundays and Thursdays. If you've got liquid courage, you can even join the official Brewskee-Ball league.
Play Shuffleboard
"Don't send a dead biscuit to the kitchen" —words to live by at the Royal Palms Shuffleboard Club

The Royal Palms Shuffleboard Club
514 Union St. (between 3rd Ave. & Nevins St.), Brooklyn
347-223-4410
Transport yourself to a balmy, beachy oasis for an authentic shuffleboard experience right in…Brooklyn's up-and-coming Gowanus neighborhood? Yep. Courts rent out for $40 per hour for shuffleboard mavens on a first come, first served basis. If you're looking to shuffle in with a large crew, limited reservations are accepted for parties of ten or more people. Once you've dominated the court, feed that appetite you've worked up with a rotation of gourmet food trucks serving up lobster rolls and gooey grilled cheese.