In a major annual event for New York tourism, Davler Media honored the 2018 winners for the Concierge Choice Awards at a gala ceremony on October 1st at Tribeca Rooftop. City Guide, New York City's tourism magazine and digital media company, hosted the New York hospitality industry's most prestigious awards gala. A specially themed evening celebrated the rise of Brooklyn tourism—Brooklyn Borough President Eric L. Adams and his predecessor, Marty Markowitz, were in attendance—in the 12th annual year of the awards.
Rick Lyon and Jennifer Barnhart of Avenue Q join David Miller, CEO of Davler Media, at the 2018 Concierge Choice Awards.
Entertainment and the hosting of the event came from Broadway. The night's emcees were Rick Lyon, best known for creating the puppets for the Tony Award-winning music Avenue Q, and Jennifer Barnhart, an original cast member who starred in the production for its first six years. Also present was BeBe Winans, the six-time Grammy Award-winning gospel and r&b artist, who previewed his original musical Born for This, coming to New York this fall.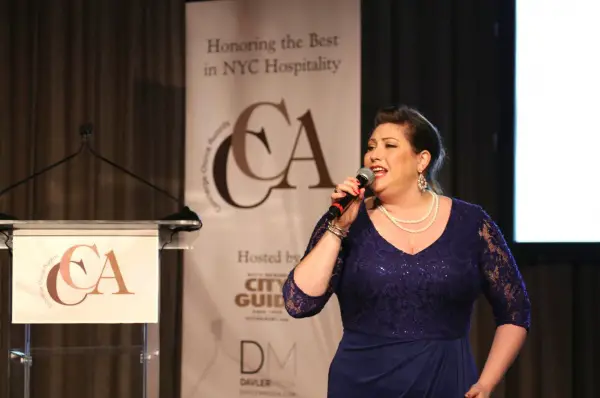 Carly Sakolove channels Ethel Merman in anticipation of her role in new musical The Book of Merman.
Musical entertainment was provided by Carly Sakolove, who channeled Ethel Merman in the song "They'll Be Back," which will be featured in the upcoming musical comedy The Book of Merman. Sakolove was accompanied by the play's musical director, Aaron Benham.
Davler CEO David Miller spoke about the strength of the New York tourism industry, with over 60 million visitors expected in the city this year. He noted the surging interest in Brooklyn and City Guide's expansion into that segment of Big Apple travel planning. Past winners of the CCAs were on hand, teaming up with representatives of the concierge community to announce the winners and present the awards. A particularly moving acceptance speech came from Dr. Jan Linhart, winner in the Health & Beauty category, who noted the strong immigrant presence among the New York concierges and recounted his own arrival as an immigrant, and how winning a CCA reflected a culmination of his own American Dream.
A final award of the night was dedicated to Michael "Buzzy" O'Keeffe, owner and operator of the Michelin-starred River Café. A short film introduced by Brooklyn Borough President Eric L. Adams recounted O'Keeffe's vision and persistence in building his restaurant in a place all the experts said was impossible to use.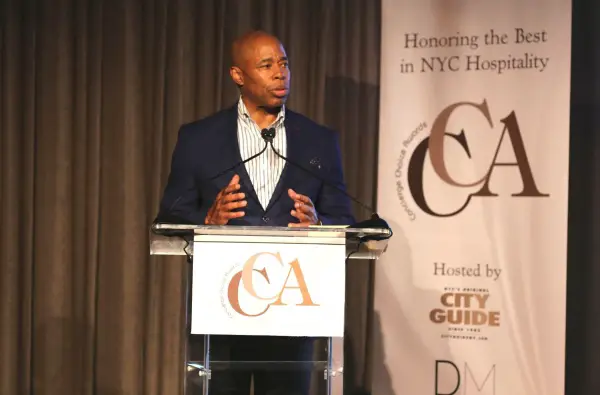 Brooklyn Borough President Eric L. Adams.
Established in 2007, the Concierge Choice Awards (CCA) reflects the knowledge and experience of New York City's independent concierge. The category selection and voting are open to more than 1,000 NYC concierges, who vote for businesses who provide superior services to their guests.
Guests enjoy sunset during the cocktail hour at Tribeca rooftop.


"No one knows better than the approximately one-thousand NYC concierge which tourist attractions, restaurants, retailers, and sightseeing vendors provide superior service for their guests," says David L. Miller, publisher of City Guide and CEO of Davler Media. "These awards put the spotlight on the passion and dedication of the people who power New York City's $40-billion-a-year tourism economy."
Davler Media, publisher of City Guide magazine, has hosted the awards dinner every year. The evening also goes to support good causes, as a portion of the proceeds were donated to the Les Chefs d'Or Foundation and 9/11 Health Watch.
The CCA Finalists and Winners (marked in red) for 2018 are listed below.
Tourist Attraction
With many fantastic New York City venues, which one creates the best overall experience that guests return to the concierges gushing about the most?
Brooklyn Museum; Intrepid Sea, Air & Space Museum; One World Observatory; Tenement Museum; Whitney Museum of American Art
Tour
What tour service creates the best experience including information, convenience, and fun?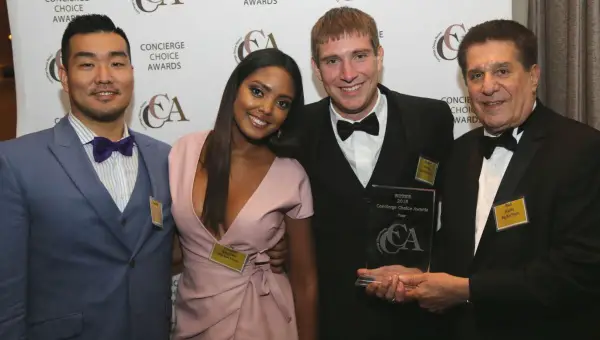 Big Bus; CitySightseeing New York; Entertainment Cruises/Spirit Cruises & Bateaux; The Levys' Unique New York!; Manhattan by Sail
Steakhouse
What's the best steakhouse in New York City?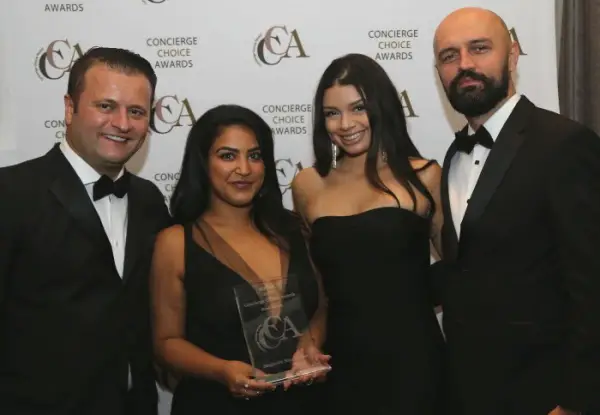 Benjamin Steakhouse; Bobby Van's; Keens Steakhouse; Smith & Wollensky; Strip House
New Venue
Showing the vibrancy of tourism in New York City, more attractions and venues have opened in the same year than ever before.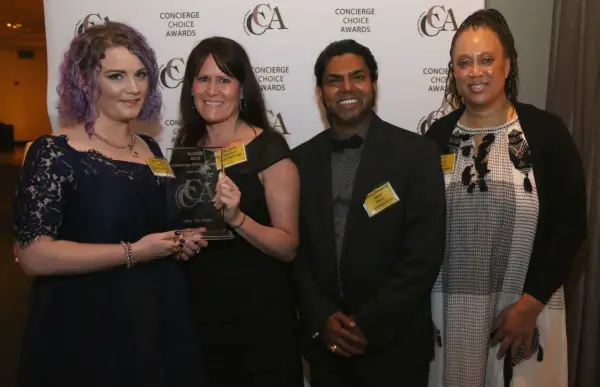 Brooklyn Steel; National Geographic Encounter: Ocean Odyssey; NFL Experience; Opry City Stage; SPYSCAPE; VR World NYC
Specialty Retailer
The distinctive store that offers guests a combination of unique products and great shopping experiences. These retailers leave shoppers with lasting memories of New York City shopping.
B&H Photo Video; Century 21; Jack's Place; M&M'S World; Tiffany & Co.
Family Friendly Experience
Destinations that make traveling with children a superior experience are important contributors to the NYC hospitality industry.
American Museum of Natural History; Bronx Zoo; Ellen's Stardust Diner; Gulliver's Gate; The New York Botanical Garden; The Rink at Rockefeller Center
New Restaurant
The best new epicurean arrival on the NYC dining scene; based on cuisine, service, ambience, who is the best new addition?
4 Charles Prime Rib; American Cut Steakhouse Midtown; Don Angie; Le Coq Rico; Lilia
Health & Beauty
Salons, spas, fitness, medical, and more that offer guests the best overall experience.
Allure Day Spa & Hair Salon; Federico Salon & Spa; Guerlain Spa; Linhart Dentistry; Scott J. Aveda Salon Soho
Rooftop Bar
1 Rooftop Garden & Bar; Bar SixtyFive; Mr. Purple; Refinery Rooftop; The Top of the Standard
Entertainment Service
The ticket service who can find the best seats, provide the most efficient service, and help guests procure that hard-to-find ticket.


New York Entertainment; Oscar's Resources; Prominent Tickets; Star Tickets; Wall Street Entertainment
Hotel Restaurants
Not just a place to lay your head, hotels provide some of the best dining experiences. Which one stands out?

Ai Fiore at Langham Place Hotel on Fifth Ave.; Augustine at The Beekman Hotel; Blue Fin at W New York—Times Square; Cipriani at Sherry Netherland Hotel; The NoMad Restaurant at The NoMad Hotel
Nightlife Experience
Who owns the night in NYC?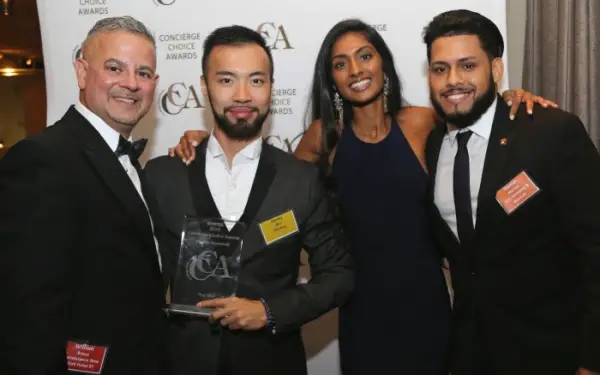 48 Lounge; Feinstein's/54 Below; LAVO; The Metropolitan Opera, The Box
Restaurant Experience
The best overall dining experience in a city that is one the world's eating meccas. Based on the feedback from millions of guests, concierges are the qualified to make this judgment.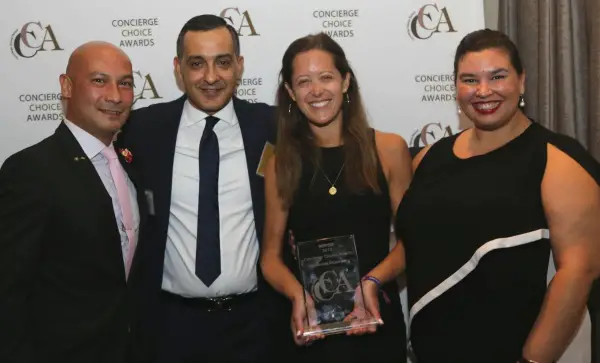 Daniel; Gramercy Tavern; Hunt & Fish Club; Le Bernardin; The Polo Bar
Transportation Service
Many services make it easy to get around NYC by land, sea, or air; which one offers the greatest experience and value?


EmpireCLS Worldwide Chauffeured Services; Go Airlink NYC; Hampton Jitney; Helicopter Flight Services; Wings Air Helicopters
---
About Davler Media Group
Davler Media Group specializes in creating print and online media that help NYC-area residents and visitors make superior choices about how to spend their time and money. Davler's media offers targeted guides, listings, directories, and award-winning editorial content that is both timely and comprehensive.
NYMetroParents' print magazines (Big Apple Parent, Brooklyn Parent, Long Island Parent —Nassau edition, Long Island Parent—Suffolk edition, Queens Parent, Rockland Parent, Staten Island Parent, and Westchester Parent) and its online media NYMetroParents.com reach approximately 1 million parents each month.
Mitzvah Market is the largest and most authoritative resource dedicated to providing invaluable information to families planning bar and bat mitzvahs through a website, magazine and five event showcases during the year.
Metrosource is a regional media brand synonymous with style, which has been proudly serving the modern metropolitan LGBTQ community for over 25 years.
Mommybites provides new and expectant parents with a community in which to grow, develop, share, and learn.
Thought Gallery provides a unique resource to help discover and schedule smart things to do in New York City.
City Guide, the leading publication serving the NYC visitor market, publishes more than 3,100,000 copies annually and CityGuideNY.com serves millions of page views for New Yorkers and New York visitors alike. In tandem with this year's celebration of Brooklyn at the CCAs, this November City Guide will be launching a dedicated Brooklyn tourism section to both its print and digital publishing.
For more information, log onto Davlermedia.com.