New York's remarkable, and so is your love. It's a match made in heaven. So when it's time to take that perfect engagement photograph, you're in the right place. We've got our ten favorite spots in NYC for framing that perfect snapshot to remember your engagement. This stage passes quickly, so make sure you document it in a way that will stand the test time.
1. On the Brooklyn Bridge
Bridges are romantic, and everybody knows it. And there's no more romantic bridge anywhere than the original span connecting Manhattan and Brooklyn. There's no escaping its 19th-century beauty no matter what part of it you're standing on. Photographers can also have a lot of fun with the bridge's lines and architecture when they're shooting you.
2. Washington Street in Dumbo
If you like the idea of using a bridge in your photos, but don't want have to deal with the wind (because that's inevitable at those heights), then Washington Street in Dumbo is your next best bet. The famed street frames the Manhattan bridge between its iconic buildings, and to top it all off? It's a cobblestone street.


3. The Middle of a West Village Street
The West Village is what most of America pictures when they think of living in New York (oh, if only that were the case!), and with its undeniable charm it makes for the perfect engagement photo set. Tree-lined streets, rows of brownstones, and canopies of blooming trees make this neighborhood an excellent backdrop for love.
4. In Front of One of NYC's Famous Murals

Murals are eye-catching not only in real life, but also in photographs. If you have a favorite piece of graffiti in the city, why not use it as an engagement photo location? It's unique, personal, and it has a special meaning to you and your fiancé. And it's very New York.
5. In Front of (or on) the Wonder Wheel at Coney Island 
Coney Island is full of color, which always makes for a great picture. The iconic Wonder Wheel is an excellent backdrop for engagement photos if you're feeling the beachy Brooklyn vibes it gives off. Have a little fun with your engagement theme! 
6. Anywhere in Central Park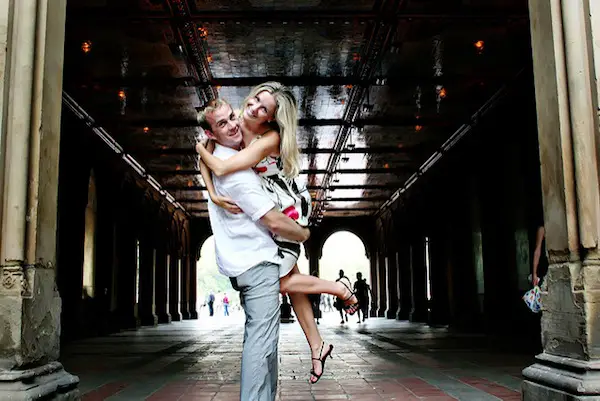 Central Park is the "go-to" of New York City engagement photo locations, and with good reason. No matter where you are in the park, it seems that there is also the perfect set up for a couples photo. Bridges, benches, archways, you name it…. Central Park's got it.
7. Riding the Subway 
It may seem a little odd at first, but there's something utterly romantic about the thousands of souls who take New York City's infamous yet beloved transit on a daily basis. There are two ways to go with this approach: a full car or an empty one. If you're taking engagement photos you've got to be extreme about the surroundings, right?
8. On the Edge of Bushwick Inlet Park
It's not NYC without a concrete jungle skyline in the background, and you can get the perfect one at Bushwick Inlet Park in Williamsburg. The park has a beautiful beach flair at its edge, and its giant coastal rocks scream romance. Do it.
9. In the Middle of Times Square

We can't think of an engagement photo that says "I found my someone" more than one taken in the middle of a hustling and bustling Times Square. The billboards, storefronts, and hoards of tourists are key in this approach, truly making the couple representative of finding love in a crazy and chaotic world.
10. Inside Grand Central's Main Concourse
Grand Central's aesthetic makes us think of time passing and history being made. What about those two things doesn't perfectly represent an engaged couple? From the teal ceiling to the beloved windows, it doesn't get much more romantic than this timeless corner of NYC.
---
When you're ready for the next phase of planning, check out City Guide's Where To Get Married in NYC for the best places in the city to celebrate your big day.