Ground-level parks are a thing of the past. New York City's public park, the High Line, was built 30 feet off the ground on a stretch of abandoned freight railway line on the lower west side of Manhattan. These railway tracks, which were built in the 1930s to remove dangerous freight traffic from the streets, are now home to a winding greenway promenade that overlooks the Hudson River.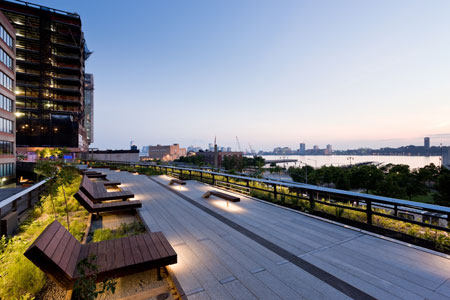 The last train ran along the tracks in 1980, so by 1999 the unmaintained tracks had become an eyesore, overrun with wild plants and grasses, and city officials were ready to tear them down. Two residents of the area, Joshua David and Robert Hammond, teamed up to fight against their demolition, founding a non-profit organization called Friends of the High Line.

"At first we just wanted to save it, but then the idea developed into an effort to better serve the public," says Hammond. "We tossed around all sorts of different ways to transform the tracks, like a light rail and things like that, but it was really the community that showed interest in the park idea."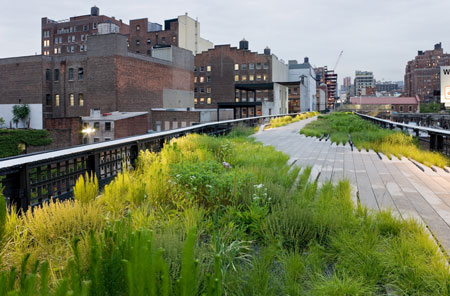 And so began a decade-long effort in creating an elevated urban oasis. Friends of the High Line created partnerships with several branches of city government to get the park financed and approved for construction. One major advocate of the project was Mayor Mike Bloomberg.

"Rather than destroying this valuable piece of our history, we have recycled it into an innovative and exciting park," Bloomberg said at the park's 2009 ribbon-cutting ceremony. "...[D]etractors thought the High Line was an eyesore. Thankfully, there were a handful of people who looked at the High Line and saw also an extraordinary gift to our city's future."

This gift -- designed by James Corner Field Operations with Diller Scofidio + Renfro -- has plenty to offer visitors. There are sundecks, artificial waterways, plazas, and, of course, a huge variety of floral delights. Visitors can roam through grasslands, woodlands, and thickets to experience more than 200 different species of plants that come and go as the seasons change.


"We didn't just want to put up some stairs and a bench and a box of flowers. This park is really special, really different, and really unusual," says Hammond. "New plants and flowers are always in bloom, so every time people come back the High Line will look different."

The most unique architectural feature of the High Line is the 10th Avenue Square, which has rows of amphitheater-like seating where visitors can gaze north on 10th Avenue through large windows.

The High Line has become a staple on every tourist's must-see list, alongside such celebrated parks as Central Park, Washington Square Park, and Bryant Park. Kirsten de Vries, a Dutch student traveling with friends, was delighted with her visit to the park.

"I have never even heard of this place, it's not even in my [tourism] book!" says de Vries. "I'm so glad my friends heard about it, this is a beautiful new park. They should put it in the book so no one will miss it."

Beautiful scenery and breathtaking views of the city aren't the only things the High Line has to offer visitors. Friends of the High Line hosts numerous free or low-cost programs and tours, including programs on art, gardening, design, and history.

The park is open from 7 a.m. to 10 p.m. daily. Entrance points to the park are located at Gansevoort Street, W. 14th Street (elevator access), W. 16th Street (elevator access), W. 18th Street, W. 20th Street, W. 23rd Street, W. 26th Street, W. 28th Street, and W. 30th Street (elevator access). Pets and alcohol (except in authorized areas) are prohibited. For more information, visit www.thehighline.org.