Who ya gonna call? Ghostbusters is back in NYC this summer, and Madame Tussauds New York puts you right in the center of the action. As of July 1, Ghostbusters Experience and Ghostbusters: Dimension will bring the film to life as never before. To begin, you'll descend into a subway and walk through an immersive, haunted section; the second portion is a first-of-its-kind virtual reality experience created by a company called THE VOID, where you will become a Ghostbuster! Suit up in a vest and carry a glowing proton pack. Your suit will vibrate at times as you make your way on an elevator and through the city, battling ghosts, and sometimes even feeling mist on your face.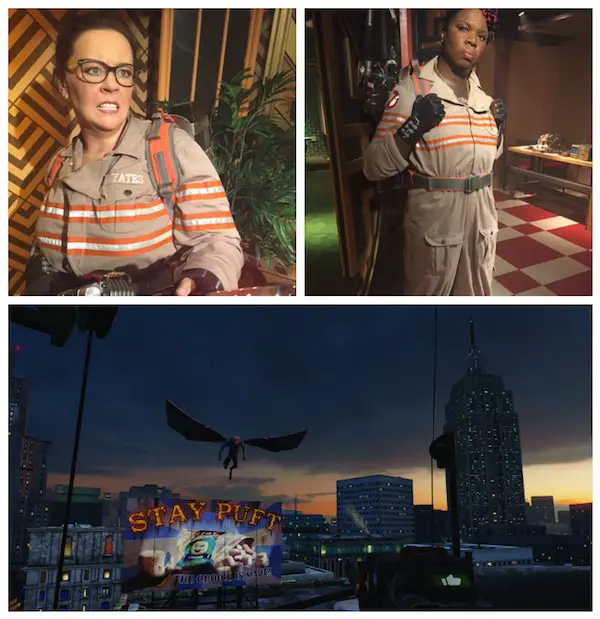 Upper images, Ghostbusters Experience at Madame Tussauds New York. Lower image, a scene from Ghostbusters: Dimension, provided by THE VOID. 
After exploring the iconic Ghostbusters Headquarters, guests get to experience the epic finale first-hand, in which visitors take part in a ghost hunt of their own, saving New York City from a paranormal villain. This supernatural encounter also includes figures of the Ghostbusters crew from the new movie, all of whom are prepared to help visitors wage battle against nefarious paranormal activity.
When you "check in" to Dimension, you will be assigned an avatar. Once you play, you will be able to see your friends (three can participate together at a time). The virtual reality experience is open to anyone 48" tall or higher. The action, while at times intense, is fun, and the violence isn't graphic. 
"The technology is breathtaking, the experience is thrilling, and what better way is there to use VR than to let audiences inhabit the stories they love?" notes Ghostbusters creator Ivan Reitman.
Tickets to the combined Ghostbusters Experience and Dimension at Madame Tussauds are $49.75. 
Madame Tussauds New York is at 234 W. 42nd St., btw. Seventh and Eighth Aves. For more information, visit madametussauds.com.