Triumphant from her Melania Trump appearance on The Tonight Show Starring Jimmy Fallon, Gina Gershon will soon be channeling her dead-on FLOTUS in a new musical lampoon-a-thon, The 1st Annual Trump Family Special, at Off-Broadway's Triad Theatre. As Ren and Stimpy would rhapsodize: "Happy, Happy, Joy, Joy."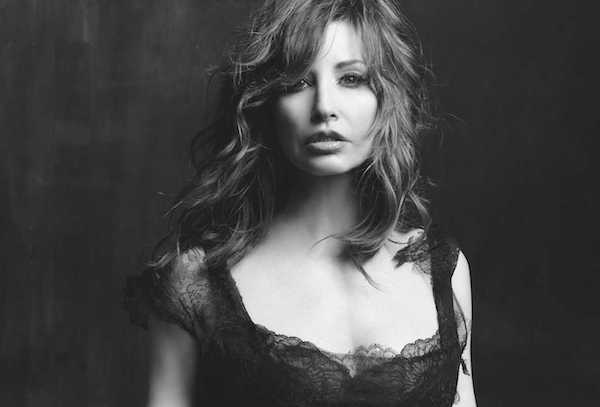 Gershon, who picked up a 2012 Toronto Film Critics Association Best Supporting Actress award for Killer Joe, is no stranger to the New York audiences, having stocked up on Broadway stage cred in revivals of Bye Bye Birdie, the Tony-winning Boeing-Boeing, and Cabaret. Thankfully, her musical skills will be on display in this timely spoof reminiscent of those glitzy TV specials that reunited sitcom family folk (i.e., The Brady Bunch; The Partridge Family) for variety show banter, fringed-out bellbottoms, and disturbingly choreographed production numbers.
As for The 1st Annual Trump Family Special, it's described as a well-calibrated spoof of a "live televised event for the new Trump TV network" featuring Trump sibs Ivanka (Lisa St. Lou), Donald Jr. (Brian Sills) and Eric (Peter Hargrave), as well as Melania precursors Ivana (Suzanne Sole) and Marla Maples (Marissa Mulder). Joining them are Mike Pence (Glen Pannell) and the show's director, Jeremiah (Michael Sheehy). And lest we forget DT POTUS, he'll be heard vis-à-vis the voice of John di Domenico.
The creative end of the production begins with show creator Danny Salles (book, lyrics, direction), with music and additional lyrics by Grammy-nominees Tor Hyams and Lisa St. Lou (formerly Rothauser). As for choreography, expect some awesome moves courtesy of So You Think You Can Dance winner Benjamin "Benji" Schwimmer.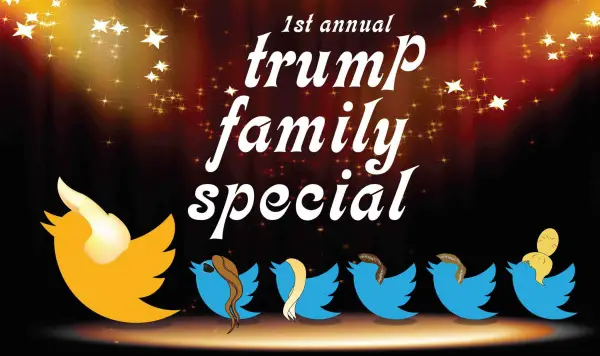 After selling out to wildly enthusiastic crowds during its Los Angeles premiere and follow-up NYC showcase, The 1st Annual Trump Family Special at The Triad (158 W. 72nd St.) may well experience a weekly scramble for its coveted tickets—especially since it only runs one night a week: Thursday night (except Thanksgiving) at 9:30pm for a limited run beginning September 13th, with a closing date of December 6th. So it is suggested you move swiftly and pick a performance, mark your calendar, and Tweet continuously with incomprehensible abandon!
For tickets and information (including videos of the cast in action), visit trumpfamiliyspecial.com. You can also reserve seats by calling 212-279-4200 (Call Center is open 7 days a week, 12 noon-8pm). FYI: There's a two-drink minimum, but the tickets are only $39 to $89, so feel free to sip the night away, even if you're drinking The Donald's signature quaff: Diet Coke.