Give your little ones a holiday thrill with a visit to Madison Square Park, which will be hosting a one-of-a-kind life-size gingerbread house this December. Built with ginger "bricks" and topped with a "frosting"-covered roof, the Taste of Home Gingerbread House's exterior features decorative licorice, gummies, and other colorful candy-like trimmings. Open from Thursday, December 6th through Wednesday. December 19th, this year's life-sized gingerbread house features peppermint-themed décor (including checkerboard tiles made of 500+lbs of real candy canes!) with a matching sleigh, all set against a winter wonderland backdrop. You can look inside the house's frosted windows to see a toy train that travels through an edible replica of U.S. landmarks.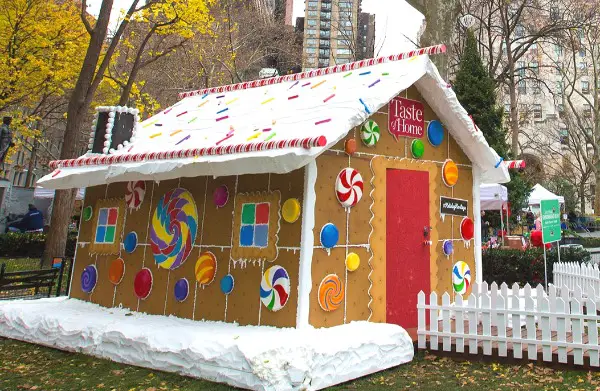 This year, for the first time, Gingerbread Boulevard is inviting visitors inside the house for "The Ultimate Holiday Tastings": a series of free dessert tastings and sit-down brunches, featuring a curated menu of sweets and savory treats from the Taste of Home kitchen. Foodies and families can sign up here for the chance to win one of these  dining experiences, or at the kiosk at Gingerbread Boulevard starting December 6th. Sign-ups close on Monday, 12/10. Winners will be notified on 12/11 and the dining experiences take place 12/15, 12/16, and 12/18. Featured desserts and dishes include gingerbread truffles, swirled peppermint marshmallows, bananas Foster baked French toast, ice cream sundae caramels, and maple-bacon doughnut bites.
The Taste of Home Gingerbread Boulevard house will be on display through December 19th, 2018, in Madison Square Park (between Fifth and Madison Avenues, 23rd and 26th Streets).