You can drop kick any cinematic nostalgia of Gary Cooper, Grace Kelly, and assorted bad guys back to 1952. Axis Theatre's adaptation of Hollywood's quintessential Old West showdown has been given a new, lushly surreal life with a company that paints the material and their characters with strokes of conflict—both internal and verbal.



Photos: Pavel Antonov
The intimacy of this High Noon is as palpable as the storyline as it snakes its way through a wedding, a telegram, the hours ticking down, and the anticipated arrival of a noon train carrying one hell of a vengeful passenger. The town itself is filled with people, each one busy digging his or her own grave of detachment. All except the marshal, who registers as the most detached of all. Even the marshal's Quaker bride has a simmering backstory.
In this town without pity or spine, the barkeep serves liquor as soon as the sun comes up, bullets are dropped and roll across the floor, a rosary and a fan appear and disappear like magic, neighbors, lovers, and business partners are interchangeable and the color scheme is film noir. The feeling—at least for me—was also vintage celluloid;  French New Wave, to be precise.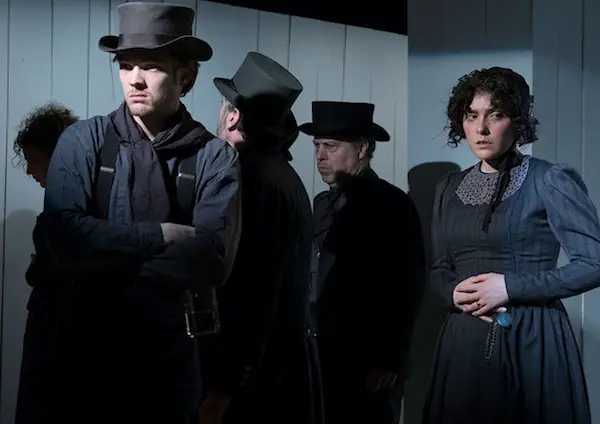 This haunting theatre piece—a simmering 75 minutes, no intermission—is a true ensemble performance with every actor connected and showcased. It is also in its limited run homestretch, so your window to catch it at 1 Sheridan Square is small.  But I recommend you make the effort. Axiscompany.org