If you ask a New Yorker where everybody goes on a beautiful spring day, chances are that he'll tell you: Central Park. This sprawling park, designed by Federick Law Olmsted in the mid-1800s, is the city's greatest gem, and it provides a place of nature and solace in an otherwise concrete and bustling city. Here are our top five tips for how to spend a spring day in Central Park.
Lay Out at the Great Lawn
Image: ctsnow/Flickr


If you want to take in the beauty that is Central Park without having to exert too much energy, head over to the Great Lawn, where you'll likely find quite a few others laying out on blankets and towels. Packing a picnic isn't a bad idea, nor is bringing along a kite or Frisbee. And don't worry if you come empty handed, because the Great Lawn is ideal for people watching. Sit back, relax, and blend in with all the locals soaking in New York City sunshine amongst the concrete jungle's greenest pride and joy.
Remote Control Sail Boats at Conservatory Water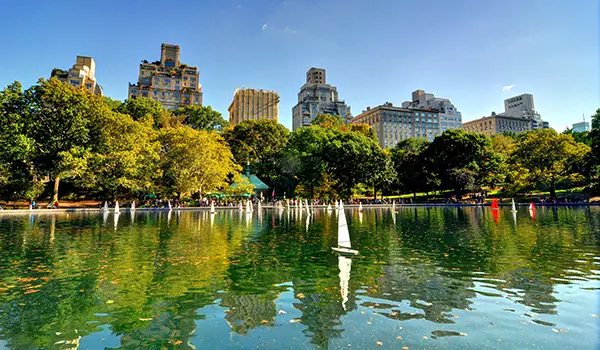 Image: Mike Norton/Flickr 
A copper-roofed boathouse can be found nestled beside the Conservatory Water. In it you'll find a café, as well as Central Park's famed remote-controlled sail boats that glide across the small pond. If you find yourself in Central Park on a Saturday morning, you might be lucky enough to catch a sailboat race on Conservatory Water. Benches surround the pond, so you can take a break from walking and enjoy the peace, quiet, and tradition that can be found in this picturesque location of Central Park.
Go on a Statue Scavenger Hunt
Image: Ron Cogswell/Flickr 
Central Park is filled with statues and sculptures galore, and you can easily make a warm, spring day out of tracking them all down. Some of the most famous statues include Hans Christian Andersen, Alice in Wonderland, Beethoven, Balto, William Shakespeare, Daniel Webster, and the Bethesda Fountain. While you're seeking out all of the iconic statues of Central Park, you may also want to stop by Belvedere Castle, debatably the park's best viewpoint and most stunning structure.
Have a Row at the Loeb Boathouse
Image: Clemens v. Vogelsang/Flickr
Rowboats can be rented for $15 an hour at Loeb Boathouse from 10:00am to sundown (each boat seats up to four people and a $20 deposit is required per boat). With a fleet of 100 rowboats, the wait is never long, and you'll likely have some memorable fun out on the water as you maneuver your way around other rowers. A gondola can also be rented for $45 per half hour, providing a classic Venetian tour from Andres Garcia.  
Bike Around the Park's Perimeter
Image: Shinya Suzuki/Flickr
Truth be told, Central Park is enormous (a whopping 843 acres!), and the best way to see it in its entirety is to cruise through it on bike rentals. Different loops provide varying levels of difficultly, and you can of course create your own route so long as you stick with the one-way directional flow of traffic. Make your way past the Central Park Zoo, around the Jacqueline Kennedy Onassis Reservoir, up to the Harlem Meer and back down through Strawberry Fields all while feeling the breeze on your face and the wind in your hair.