Ice Skating NYC. Ice skating likely began in the south of Finland more than 3,000 years ago, when some clever person fastened sharpened bone to the bottom of his foot. Ice skating more as we know it came about in the 13th or 14th century, when the Dutch thought up a steel blade with sharpened edges. In the 18th century, ice skating was brought to England from the Netherlands and before you could say "Hans Brinker" (or Tonya Harding) people the world over were ice skating for transportation, hockey, dancing, or figure skating, which was the first winter sport brought to the Olympics in 1908. Despite New York's perpetual squeeze for real estate, there are great opportunities for getting out on the ice. The best spots for ice skating NYC follow.

Ice Skating Midtown West: Rockefeller Center
When the air grows cold and winter is on the land, there's no more dramatic place to take a turn around the ice than The Rink at Rockefeller Center. Whether you glide or stumble, being overseen by 200 fluttering flags of all nations, with the gilded bronze statue of Prometheus by Paul Manship looking down, is a memorable experience. The rink is open from early October through April. General admission for daily one- and one-half hour sessions starting at 8:30am and ending at midnight is on a first-come, first-served basis, often with long lines (especially during the holiday season from November 7 through December 17). Those high-traffic times also see a price bump, with another bump coming between November 25 and January 2, 2016. A premium pass that takes skaters through the VIP Igloo and includes refreshments and a "skate concierge" enables you to make an advance reservation and get right onto the ice. For the ultimate in romance, book a proposal to remember on select dates with packages ranging from the $350 Silver to the $1,000 Platinum. Note that it's BYOR (Bring Your Own Ring). The justly famous Rockefeller Center Christmas Tree will be lit this year on December 2 and stay glowing until the evening of January 6, 2016. Skate rentals and lessons are available, or you can enjoy just watching the adventuresome, often talented skaters, twirling in the middle.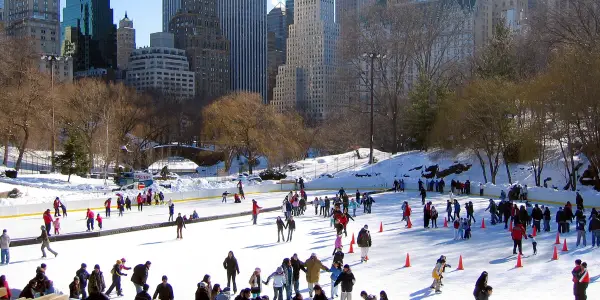 Image:"Central Park Wollman Rink" by Tomás Fano
Ice Skating Upper East Side: Wollman Rink
The Wollman Rink on the east side of Manhattan (between 62nd and 63rd Sts.) is right in Central Park so skaters have an ultra-romantic view of the city as they glide from late October to early April. Be aware that this rink can get crowded and even spectators are charged a $5 fee (Donald Trump co-manages the facility, which is officially known as Trump Skating Rink). If you are up for a $72 charge, you can have concierge service with free rental skates, priority admission, and unlimited snacks of coffee, hot cocoa, filtered water, fresh-baked cookies, fruit, and granola bars.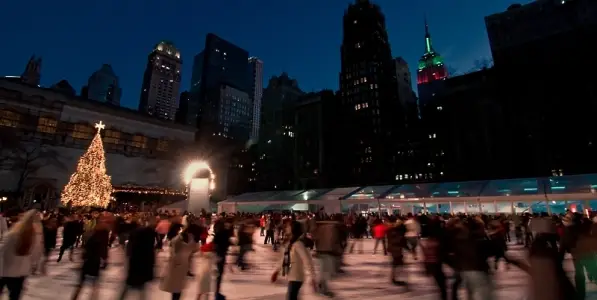 Ice Skating Midtown West: Bank of America Winter Village
To skate for free in mid-town Manhattan, check out the Rink at Bryant Park at 42nd Street and Fifth Avenue, open October 30 through March 6, 2016 from 8am to 10pm. Skate and helmet rentals are available as are lockers and a bag check. There are lessons for groups and individuals. Penguin skate aids can give beginners under ten a hand for $20 an hour. If you can—and want to—leave the skaters for a bit, take a stroll through the holiday shops or hang out at the Southwest Porch to charge your electronics and enjoy the fire pit, restaurant, and bar. For shelter, wait for your skaters inside the (often crowded) Skating Pavilion. Those willing to spring for charges can take advantage of fast passes and other VIP-type arrangements.
Ice Skating Downtown: Standard Ice Rink
Take in two New York scenes at once at the Standard Ice Rink, 848 Washington at 13th Street right under the magical High Line. This rink opens after Thanksgiving, depending on weather. It's more an adult than kiddy spot, especially in the evening when a party atmosphere prevails. An adjacent patio offers alpine-themed drinks and eats like apple cider, hot toddies, doughnuts, and fancy hot chocolates.
Ice Skating Upper East Side: Trump Lasker Rink
For fewer skaters in your way, the Trump Lasker Rink at the north end of Central Park, (110th Street and Lexington Avenue) has classes in a serene, nature-filled setting. Public skating hours are somewhat limited because this rink hosts lots of hockey. However, thinner crowds make it worth looking into. There is a spectator fee that's the same price as admission. The rink is open daily but hours vary; skate rental is available.
Ice Skating Prospect Park: LeFrak Center at Lakeside
Skating is not confined to Manhattan. In hip Brooklyn, skaters can work on staying upright or perfecting their triple Lutzes at the newly renovated Lakeside skating rink in Prospect Park. There are two rinks, one covered, one open air, with classes for every age starting with toddlers. Admission is $6-8; skate rental is $6. The venue is open daily but hours vary.
Ice Skating Marine Park: Aviator Sports and Events Center

Amelia Earhart and Howard Hughes are just two of the aviation pioneers who flew out of Floyd Bennett Field, NYC's first municipal airport. If you visit Floyd Bennett today, you'll find acres of parkland and Aviator Sports and Events Center, the largest space of its kind in New York City. Refurbished airplane hangars hold not one but two NHL-sized ice rinks, which are open for public sessions every day of the year. You can learn to skate here, and also catch a hockey game: this is the official home rink of the New York Riveters of the newly formed National Women's Hockey League. Admission is adults $11 and children $9. Skate rentals are $5/pair. Marine Park, Brooklyn.

Ice Skating Coney Island: Abe Stark Rink
Also in Brooklyn but further afield you can glide over the ice at the Abe Stark Rink at the Coney Island Boardwalk. Public skating takes place at this rink right by the famous boardwalk on Saturday and Sunday afternoons October 31–March 27, 2016. The rink hosts hockey as well as ice skating classes and is at Coney Island Boardwalk and W. 19th St.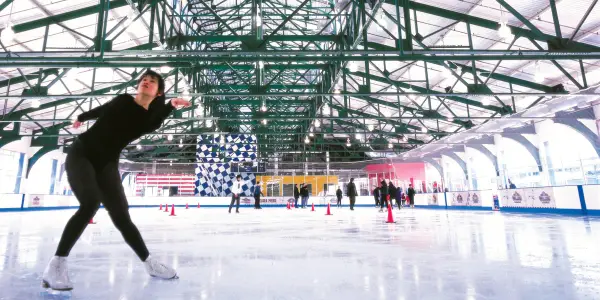 Image: Fred George
Ice Skating Chelsea: Sky Rink at Chelsea Piers
And, when the weather outside is just too frightful, there is Sky Rink at Chelsea Piers. It's open every day other than certain Wednesdays all year round and accommodates skaters of all ages and ability levels. The two rinks offer general skating, as well as the Sky Rink Skating School and special programs for ice hockey and figure skating. There are party rooms for rent, with food service, so this is a popular spot for birthday bashes and other events. Helmets and skates are available for rent; there's a $10 general admission fee. Lace up!