Celebrate The Intrepid's 75th Anniversary in NYC This August
July 27, 2018 - by Merrill Lee Girardeau
Seventy-five years ago, the U.S. aircraft carrier Intrepid was commissioned on August 16, 1943, and sent into World War II for combat in the Pacific. It was later used during the Cold War and the Vietnam War. Since that time, Intrepid has retired from duty and become a museum of history, science, and technology. To honor the ship's 75th anniversary since its commissioning, the Intrepid Sea, Air & Space Museum will welcome veterans who served on Intrepid, their families, and the public to the ship and celebrate their courage. The entire year of 2018 has held exciting events and exhibitions for Intrepid, and they just get better and better! Visit throughout the month of August to join fun, insightful events like the 75th anniversary weekend, movie screenings aboard the ship, and astronomy nights for the whole family.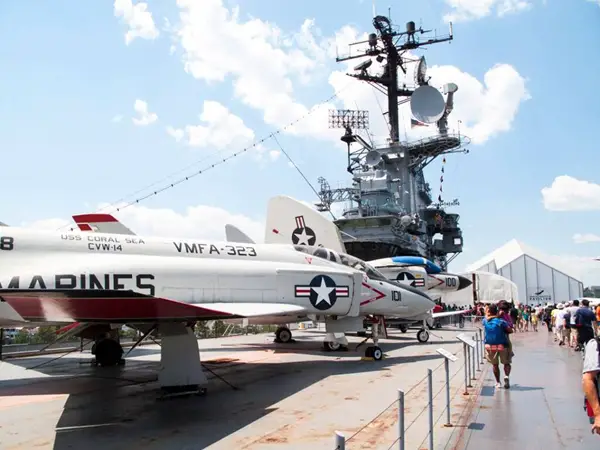 Intrepid 75th Anniversary: Commissioning Anniversary Events (August 16-19)
The Intrepid has invited all former crew members of the aircraft carrier to its special anniversary event this August. These veterans from World War II and the Vietnam War will gather with their families to commemorate their service, and you're invited! Throughout the weekend of August 16-19, the museum will host special events like talks, demos, behind-the-scenes tours, and family programs. It all kicks off at 11am on August 16 with the Commissioning Ceremony, a tribute to the ship's commissioning on the same day 75 years ago. Every afternoon during the weekend, kids will have opportunity for hands-on discovery with a planetarium show, a showcase of jobs aboard the Intrepid, and crafts. Add depth to your museum experience with talks like "Gun Tub 10" and "Poof! Life in a Vacuum," also offered to museum-goers during the afternoon throughout the weekend. August 16-19.
Intrepid 75th Anniversary: Family Astronomy Night (August 3)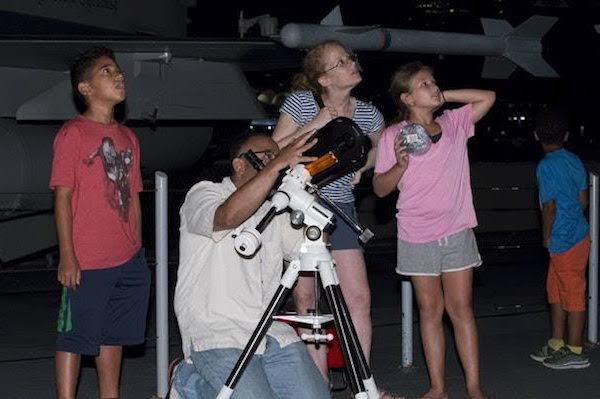 A frequent Intrepid event, Family Astronomy Night brings everyone together for stargazing, pop-up planetaria, and discussions about the universe. August 3, learn about the search for life on other planets at Searching for Life on Mars. NASA astrobiologist Laurie Barge will discuss her study of our planetary neighbor and its suitability for life. The event is free and lasts 7-10pm.
Intrepid 75th Anniversary: Celebrating Jerome Robbins (August 9)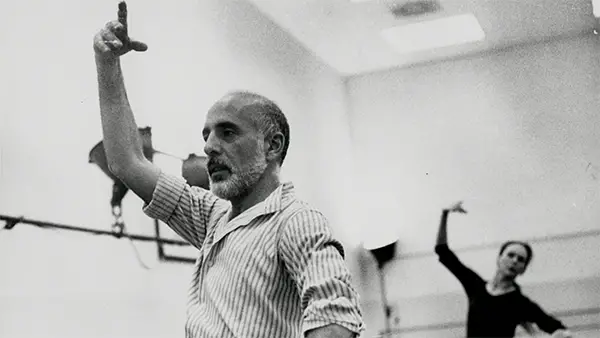 Jerome Robbins. Photo: NYCB
The 75th anniversary coincides with choreographer Jerome Robbins' centennial. In his honor, the museum will host a live dance performance on the flight deck. You'll see the opening dance from the Robbins-choreographed music On the Town, a show whose characters have just landed in New York for Fleet Week. In the Intrepid's theater later that evening, Robbins' legacy will be discussed by a panel of his colleagues and contemporary counterparts. Panelists will include Grover Dale, who danced Robbins' choreography in West Side Story; Joshua Bergasse, Tony Award-winning choreographer of the 2014 On the Town revival; Adam Green, theater critic for Vogue; Daniel Ulbricht, principal dancer with New York City Ballet; and Amanda Vaill, author of Somewhere: The Life of Jerome Robbins. Tickets are $40 and $32 for members.
Intrepid 75th Anniversary: Summer Movie Series (August 10 & 24)
Every other Friday, movie lovers sit atop The Intrepid and watch a film for free! The Summer Movie Series has occurred throughout the summer, but it's not too late to get in on the fun. August 10, busts ghosts with Bill Murray and Rick Moranis with Ghostbusters. August 24, a to-be-determined film will screen, chosen by the Intrepid community! There are five choices; go online and cast your vote!
Intrepid 75th Anniversary: Growler's 60th Anniversary (August 30)
One of the nation's first nuclear missile submarines, the USS Growler sits inside the Intrepid, waiting for you to explore it! Celebrate the 60th anniversary of its commissioning at a special event with former crew members, and view artifacts, hear oral histories, and learn this vessel's long history in combat. You'll walk inside the thin chamber of the submarine and find out what life on Growler was really like during the Cold War. The exhibition, called A View from the Deep, is now open for visitors.
---
Pier 86 at W. 46 St. and 12th Ave., 877-957-SHIP, intrepidmuseum.org
Looking for Free Group Planning Services?
Get free advice on planning your group's trip to New York.
RESTAURANTS

Vida Verde brings the tastes, colors, sounds, and scents of ...

THEATER

Kander and Ebb's "musical vaudeville" in which Roxie Hart ga...

SHOPPING

PANDORA, one of the leading names in jewelry for more than 3...

SIGHTSEEING

Located in Times Square in the heart of New York City, Riple...