NYC's Best Food Festivals
August 16, 2016 - by City Guide News Desk
New Yorkers know how to eat, and you can bet your last dollar that some of the world's best food festivals take place in NYC. Rounded up below are seven foodie fests that we know will treat your stomach and tastebuds well. No matter if you're a carnivorous dude on the hunt for a good steak sandwich or a vegetarian hippie wanting to try out the latest vegan ice cream in town, there's a festival here for everyone. Eat up!
Best of NYC Food Festivals: Taste of Times Square (Midtown West)

Amy Hart for Times Square Alliance

Enjoy more than 50 restaurants' finest dishes from around the world, right in the heart of the city. Combining food and music, Taste of Times Square is the place to be during one special night in the early summer (usually the first week of June). From Junior's blueberry-smothered cheesecake to a beer garden serving up Heartland Brewery, enjoy the sights, sounds and tastes of the city as you make your way from Broadway all the way down to 10th Avenue. 46th Street and Broadway, timessquarenyc.org
Best of NYC Food Festivals: Madison Square Eats (Flatiron)
This pop-up market takes over Madison Square Park semi-annually, and you'll find it bustling with businessmen and businesswomen on their lunch breaks during the weekdays. As for the weekends, residents and tourists make their way over without hesitation. Vendors include Mr. Bing Bejing Street Food, Melt Ice Cream Sandwiches, Gotham Poke, Bar Suzette Crepes, The Paella Shack, and Hong Kong Street Cart. 1 25th St., madisonsquarepark.org
Best of NYC Food Festivals: Smorgasburg (Brooklyn)
Head over to Brooklyn on either a Saturday (East River State Park in Williamsburg) or Sunday (Breeze Hill in Prospect Park) to experience one of the best food festivals in the city. Smorgasburg is where the ramen burger, amongst many other delectable treats, got its start. Fill up on the likes of Takumi Taco, Lumpia Shack, Wooly's Shaved Snow, and wash it all down with freshly split coconuts hacked open with a machete. East River State Park and Breeze Hill, brooklynflea.com
Best of NYC Food Festivals: Broadway Bites (Koreatown)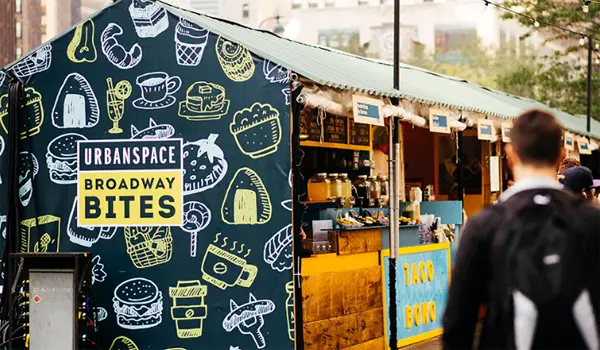 Greeley Square is the place to be in both the summer and fall when an eclectic mix of chefs, baristas, and artisans take over the park. To mix things up a bit, Broadway Bites isn't your average food festival thanks to its dedication to up-and-coming entrepreneurs who are bringing fresh concepts to the market for the first time. Come here to see both entrepreneurial history being made and to get your fill of all the city's best eats. 33rd and Broadway, urbanspacenyc.com
Best of NYC Food Festivals: Taste of TriBeCa (Tribeca)
If you're looking for a foodie festival to take the whole family to, then Taste of TriBeCa should be your next stop. This event is now in its third decade, with over 65 of the neighborhood's best restaurants joining in to help support arts programs at two of NYC's local public schools. Enjoy wine and beer tours, scarf down goodies from Bubby's Tribeca and Walker's, and feel good about it all the while. Greenwich Street and Duane Street, tasteoftribeca.com
Best of NYC Food Festivals: NYC Vegetarian Food Festival (Chelsea)
Whoever said that food festivals were only for meat-lovers? Nobody, because they're not! The NYC Vegetarian Food Festival is one of the city's most popular foodie events (held in early May), and there's not a chicken kabob or grilled burger in sight! Instead, visitors can fill themselves on 100% vegetarian food options that range from vegan cheese to vegetarian BBQ. Innovative and delicious…there's no way you can go wrong. 125 W. 18th St., nycvegfoodfest.com
Best of NYC Food Festivals: The Big Apple Barbecue Block Party (Flatiron)
If vegetarian BBQ just isn't going to cut it for you, NYC has you covered with The Big Apple Barbecue Block Party. Baby back ribs, BBQ-sauce-smothered brisket, pulled pork galore? You name it, it's being served here. Combine all the mouth-watering food with some good tunes (read: live music!) and you've got yourself a little slice of foodie paradise. 1 25th St., bigapplebbq.org
Looking for Free Group Planning Services?
Get free advice on planning your group's trip to New York.
RESTAURANTS

Beloved midtown spot takes inspiration from local tradition,...

THEATER

In a heartbeat, 38 planes with 6,579 passengers were strand...

SHOPPING

The sweetest experience in Times Square!...

SIGHTSEEING

Spirit Cruises is New York City's most vibrant and entertain...