Please see our 2014 NYC Parks Update.
Central Park has been a backdrop in countless films such as When Harry Met Sally, Serendipity (remember John Cusack lying on the ice of Wollman Rink?) and Enchanted. In You've Got Mail, Meg Ryan and Tom Hanks' characters have a memorable meeting in Manhattan's Riverside Park. Flushing Meadows Corona Park, home of the iconic Unisphere (created for the 1964 World's Fair), was recently seen in Iron Man 2 and Captain America.
These parks are certainly picturesque and have captured the hearts of many. However, New York City is home to some 1,800 parks and playgrounds. Beaches, golf courses, ballfields, tennis, marinas, parks, playgrounds, and cafes [combined] comprise nearly 15% of NYC. 
Our parks offer a great deal of history and beauty—not to mention artwork, myriad conveniences such as walking/biking trails, playgrounds, dog runs, opportunities for bird watching and more. Here's a sampling of some new park features and hidden park gems that are worth a visit. (With special thanks to NYC Department of Parks & Recreation) - Linda Sheridan
Nathan Sawaya Sculptures in Clement Clarke Moore Park
Photo: NYC Parks
New York artist Nathan Sawaya, whose renowned work with LEGOs can also be currently seen Discovery Times Square's <i>The Art of the Brick</i> exhibit (through Sept. 7), recently installed a one-of-a-kind series of Hugman sculptures in Clement Clarke Moore Park, located in Manhattan on West 22nd Street and 10th Avenue. Sawaya has left his creative mark in each city his exhibition stopped, including Singapore, Melbourne, Brussels, and most recently, Dublin. For this installation, he has created three larger-than-life Hugmen, created from recycled LEGO bricks. 
Washington Square Park $30 Million Restoration Complete
Photo: Daniel Avila/NYC Parks
A must see when visiting Greenwich Village, Washington Square Park recently completed a three phase, $30 million dollar restoration, designed by NYC Parks' Landscape Architect George Vellonakis, that includes an additional passive lawn space, comfort stations, and a run for large dogs. "With the completion of its restoration, it looks better than ever," said NYC Parks Commissioner Mitchell J. Silver. "We look forward to working with the community to ensure that Washington Square Park remains an inviting oasis to New York City's residents and visitors for present and future generations."
New Waterfront Open Space Along Harlem River, Muscota Marsh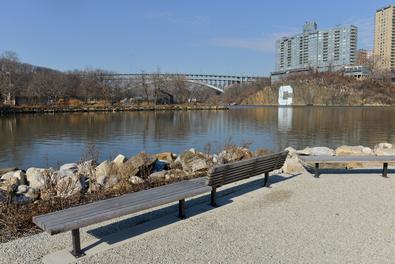 Photo: Daniel Avila/NYC Parks
New in 2014, Muscota Marsh, at West 218th Street and Indian Road in northern Manhattan, was developed by NYC Parks and Columbia University. This new park increases public access to the Harlem River waterfront, restores and extends the area's native marshland adjacent to Inwood Hill Park, and creates an opportunity for increased recreational and educational activities. Muscota mean "place in the reeds" in the language of Lenape, the land's original Native American inhabitants. 
Highbridge Park and Water Tower (map)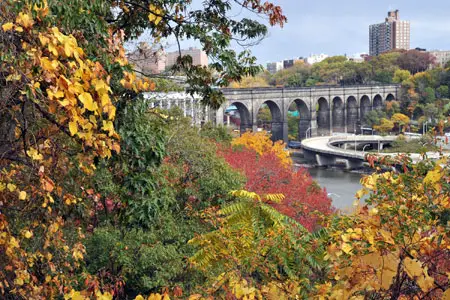 Daniel Avila/NYC Dept. of Parks and Recreation
Built in 1872, the tower was originally used to equalize water pressure from the Croton Aqueduct. As NY was expanding uptown, the 44,000 gallon tank provided enough water pressure to serve New Yorkers living at higher elevations uptown. The High Bridge, which connects Highbridge Park near West 174th Street, Manhattan, and West 170th Street in the Bronx, is the oldest bridge connecting two boroughs. When it was built between 1837 and 1848 it actually connected two separate towns, since that area of the mainland did not become a part of New York County until 1874 (and the Bronx did not become a separate county until 1914).
*Scaffolding is now up on the historic bridge; however, construction is underway for returning it to New Yorkers for the first time in 40 years, in the near future.
 Inwood Hill Park (map)

From Owl Prowls with NYC Parks' chief naturalist Mike Feller to fantastic hikes and outdoor classrooms on nature with Urban Park Rangers, Inwood Hill Park is a beautiful way to step into a forest without leaving the city. Inwood Hill Park is a living piece of old New York. Evidence of its prehistoric roots exists as dramatic caves, valleys, and ridges left as the result of shifting glaciers. Evidence of its uninhabited state afterward remains as its forest and salt marsh (the last natural one in Manhattan), and evidence of its use by Native Americans in the 17th century continues to be discovered. 
In the summer of 2007, the park's Dyckman Marina was added to New York State's Hudson River Greenway Water Trail, a project aimed at reacquainting city dwellers with natural bodies of water and encouraging citizen stewardship. Similarly, a hiking trail and the Hudson River Bike Trail offer visitors chances to appreciate large stretches of the park's natural beauty in an environmentally friendly manner. Inwood Hill Park provides many modern conveniences like athletic fields, playgrounds, dog runs, and a barbecue area, in harmony with its natural assets.
Wi-Fi in the Parks
AT&T Wi-Fi is now available free of charge to park visitors at more than two dozen sites throughout all five boroughs. Newest locations in 2014 include Coney Island & the Boardwalk, Rockaway Beach & the Boardwalk. For a current listing of parks where Wi-Fi is available, visit http://www.nycgovparks.org/facilities/wifi
Freshkills Park (map)
Ornithologists, or bird-watchers, are big fans of Freshkills Park, Staten Island. At 2,220 acres, it is nearly three times the size of Central Park and the largest park developed in New York City in over 100 years. What was formerly the world's largest landfill has begun the process over the past several years (and will continue over the next two decades) of being transformed into a productive and beautiful cultural destination. You can expect to see many species of birds, such as meadowlarks, common mergansers, buffleheads, red-tailed hawks, great black back gulls, various owls and more. Birding tours begin this month (March). For more information on tours, visit nycgovparks.org/park-features/freshkills-park.
 Fort Totten Park, Queens (map)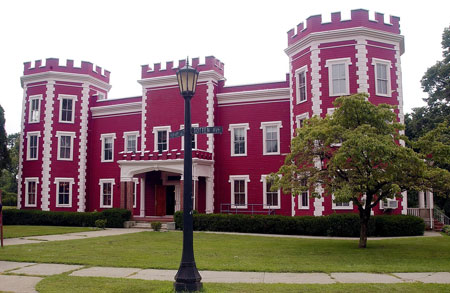 Photo: Malcolm Pinckney, NYC Parks & Recreation
Year-round, New Yorkers can flock to the Civil War fortress, Fort Totten Park in Bayside, Queens to enjoy its special events, natural wonders, and historic buildings.  On hot summer days, swimmers can take a dip in the pool and sunbathe around its grassy edges, or take canoes out and paddle along the Long Island Sound. Come Halloween, thousands are spooked by its enormous haunted "house," located in the old water battery. During the winter, bird enthusiasts congregate to watch migrating waterfowl rest before flying south. Urban Park Rangers lead regular tours of the fortress and the wildlife surrounding it for those who enjoy guided treks, and a visitors' center inside the park provides helpful information on the park's past for those prefer to scout alone. For more information, click here.
 Concrete Plant Park, the Bronx (map)
Thirty years ago, the Bronx River was in terrible condition. Today, thanks to a partnership between community organizations and public agencies, it is a clean peaceful corridor for fishing, strolling, biking, canoeing and nature study amid the noise and bustle of urban life. Concrete Plant Park, formerly home to a barren concrete mixing plant, is one of a string of new and renovated parks opening along the Bronx River Greenway. Opened in 2009, the seven-acre park features a waterfront promenade, kayak/canoe launch, green lawns, a reading circle, native tidal wetland plantings, and landscaping. It is a model for 21st-century resiliency and adaptive re-use in parks across the country.

 Alley Pond Park Adventure Course, Queens (map)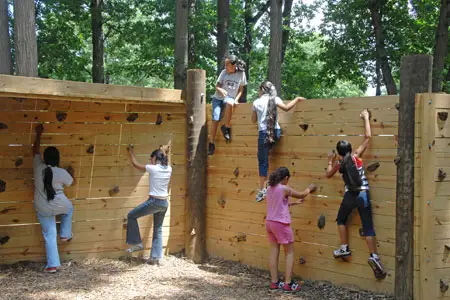 Daniel Avila/NYC Dept. of Parks and Recreation
Alley Pond is the second largest park in Queens and is perhaps better known for its freshwater and saltwater wetlands, tidal flats, meadows, and forests, which create a diverse ecosystem and support abundant bird life. The Alley Pond Park Adventure Course is the first challenge course in New York City, the largest challenge course in the metropolitan region, and perhaps the most technologically-advanced challenge course in the United States. The course features both low- and high-ropes course activities that promote teambuilding and problem-solving skills. Elements of the Adventure Course include a "zip-line", a climbing and bouldering wall, a trust fall station, swings, nets, leaps and balance platforms. Best of all, the course is fully accessible; there are activities for all ages and all physical abilities.
 Alice Austen Park, Staten Island (map)
This park, overlooking New York Harbor, is named for Alice Austen (1866-1952), an accomplished photographer. Austen emerged as one of the earliest female photographers to work outside the studio and pursue realistic documentary photography. Her subjects ranged from high society to new immigrants and she captured memorable images of life in late 19th- and early 20th-century Staten Island and Manhattan. Upon her death in 1952, Austen left behind more than 7,000 negatives, which are now in the collection of the Staten Island Historical Society.
The oldest part of the house dates back to the 1690s when it was part of a farm near the scenic Narrows. In 1844, John H. Austen, Alice Austen's grandfather, bought the property, remodeled and expanded the home in a Gothic Revival style, and named it "Clear Comfort." The house was acquired by the city, along with the park, in 1975. With the aid of Austen's extensive photographs, it was restored in 1984-5 to look as it did in the 1890s. The park has also been replanted according to the garden species depicted in the photographs of Austen, an avid gardener and founding member of the Staten Island Garden Club. Alice Austen House is both a New York City Landmark and a National Historical Landmark.
 The Heather Garden at Fort Tryon Park, Manhattan (map)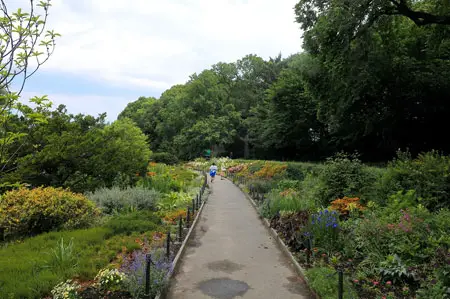 Photo: Malcolm Pinckney, NYC Parks & Recreation
The Heather Garden in Fort Tryon Park is one of the largest heath and heather gardens on the East Coast and the largest public garden with unrestricted access in New York City. While the garden is named after the low-growing pink-purple Heathers, normally found in Scotland and England, they are but a few of the many plants found here. The garden is also home to more than 200 varieties of perennials and shrubs. Throughout spring, snowdrops, crocuses, narcissi, tulips, brooms, azaleas, peonies, dogwoods, rhododendrons, and oriental poppies flower. In summer, hybrid musk roses, hydrangeas, and irises make their floral show. Stately American elms shade the Stan Michels Promenade throughout the year and rare Franklinia trees bloom in fall.
 Minton Tiles (map)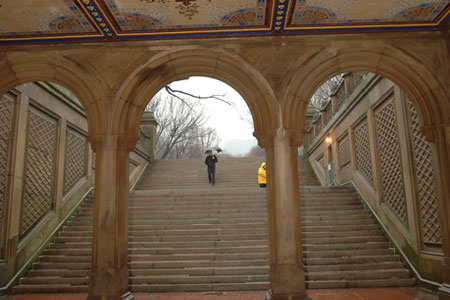 Photo: Malcolm Pinckney, NYC Parks & Recreation
Ok, admittedly, this is located within Central Park. Bethesda Terrace Arcade was created in the 1860s, as a part of Central Park's main formal architectural feature. A grand staircase connects the Mall to the subterranean Arcade and offers a completely different experience from the surrounding scenery. It was conceived to be an ornate interior that would act as a distinct counterpart to the open terrace and Lake. The highlight of the Arcade is the magnificent Minton Tile ceiling designed by British-born architect and designer, Jacob Wrey Mould, who also conceived of the decorative carvings throughout the Terrace.  Installed in 1869, there are more than 15,000 colorful, patterned encaustic tiles, made by England's famed Minton Tile Company. Over the decades, the 50-ton ceiling weakened and its tiles deteriorated. In the 1980s, the tiles were placed in storage. Thanks to charitable donations, the Central Park Conservancy was finally able to restore the Arcade. In 2007, it opened to the public.
 Brooklyn Bridge Park, Brooklyn (map)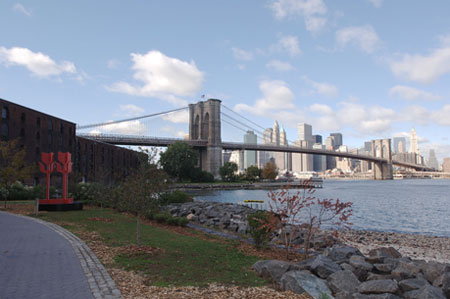 Photo: Malcolm Pinckney, NYC Parks & Recreation
Brooklyn Bridge Park is the ultimate recycled park! Through adaptive reuse, the NYC Parks Department is turning this chain of abandoned mid-20th century piers and warehouses located under the Brooklyn Bridge into a waterfront park with beaches, fishing piers, canals, paddling waters, and restored wetlands. Ground up rock was used from the digging of the East Side Access tunnel to build the hills in the park, granite from the Queens-borough Bridge to make dramatic steps along the river; even the benches are made from wood recycled from a nearby demolished building. And sustainable qualities aren't the only attraction at this park – its location across from the southern tip of Manhattan provides postcard-perfect sights of New York City and the Statue of Liberty.
For information on these and all other NYC parks, events and permit information, visit nycgovparks.org.