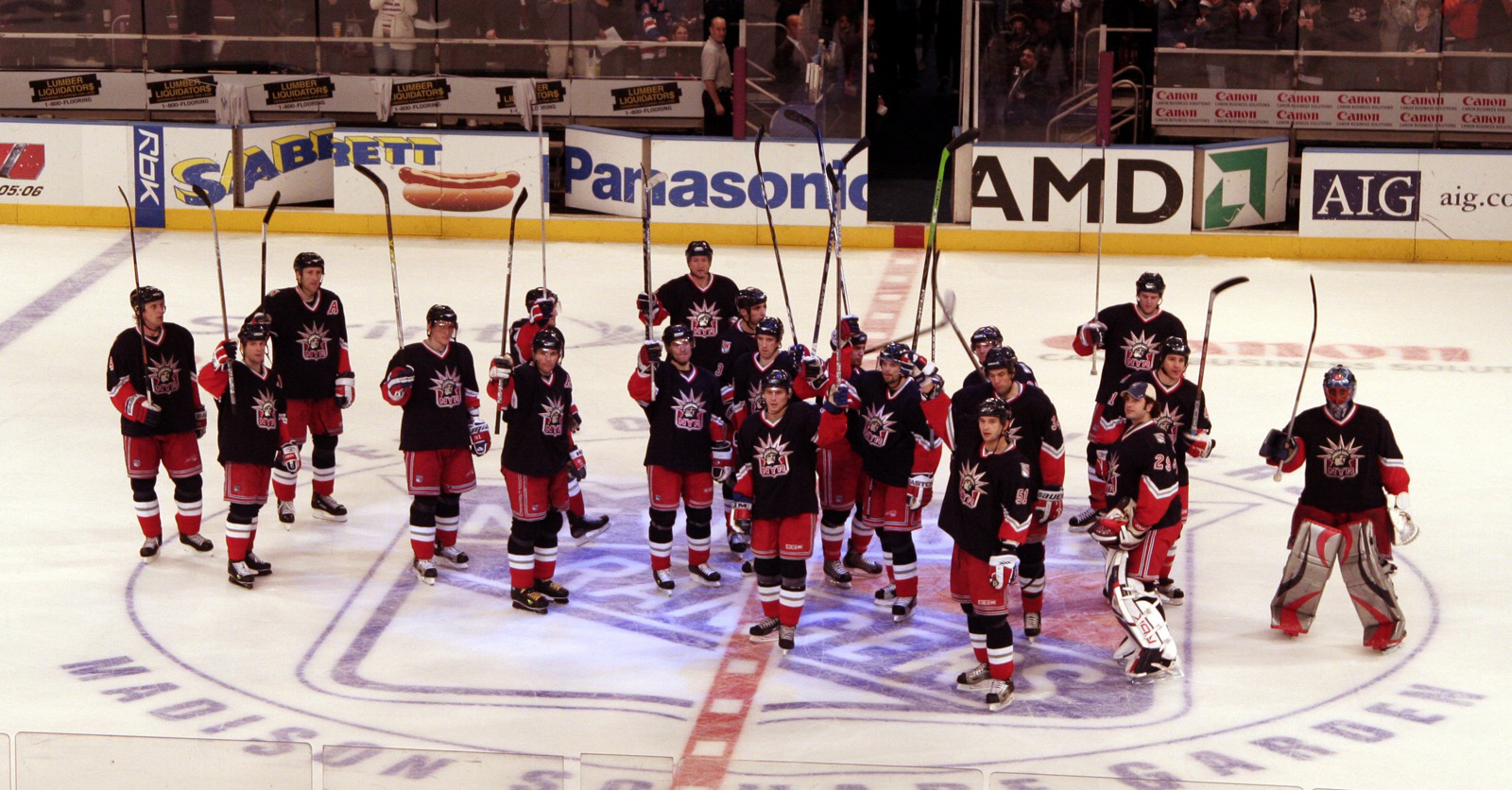 Photo: Joseph O'Connell/Flickr

Sometimes you just want to get out in the stands and cheer on your team. In New York City, you can do that! No matter what your preferred sport is (basketball, hockey, baseball, etc.), the City Guide calendar is filling in all the blanks. Don't miss a game this season, from college to the minor leagues all the way up to the pros.


Watson Adventures' Gangsters' New York Scavenger Hunt - Columbus Park
April 13, 2019 - New York
Discover the bygone haunts and battlegrounds of gangs and gangsters in Little Italy and Chinatown on this unique scavenger hunt. You'll explore the streets where Tongs waged war and wiseguys got rubbed out, the notorious Five Points spot that inspired the book and movie, Gangs of New York, and locations featured in The Godfather. You'll also discover cafes, bakeries, teahouses, colorful stores, exotic sidewalk markets, historic buildings and the street where Irving Berlin sang and the Sex in the City gals strolled in this unique neighborhood. Advance purchase is required.
2019 SHAPE Women's Half-Marathon - Central Park
April 14, 2019 - NYC
The 16th annual SHAPE Women's Half-Marathon brings together thousands of women of all ages and backgrounds for a day of fun, fitness, and camaraderie in NYC. Whether you're coming from across the country or from around the corner, join SHAPE and New York Road Runners in Central Park on Sunday, April 14, for an unforgettable race.
Chinese Grand Prix Screening - Classic Car Club Manhattan
April 14, 2019 - New York
Join us at CCC to watch the full schedule of F1 championship races. Sunday we'll watch the teams take on the Chinese Grand Prix. We'll press play at 1pm - come enjoy the race with us over brunch and a pint.
Karting - Classic Car Club Manhattan
April 16, 2019 - New York
It's no coincidence the best racers in the world got their start on the kart track. The car control skills learned from driving a vehicle with no suspension is invaluable for drivers of any experience level. We'll be heading up to Grand Prix New York, for a night of wheel to wheel action in their adult league race karts. Meet at CCC at 6pm for immediate departure to convoy up together to GPNY where we'll have some light dinner before donning our race gear. We'll be returning to CCC by 10:30pm to finish the night off with a cocktail. All required safety equipment will be provided. RSVP for yourself and up to 4 guests Cost: $200 per person
Top Rank Boxing: Terence Crawford v Amir Khan - Madison Square Garden
April 20, 2019 - New York
World Championship Boxing returns to Madison Square Garden on Saturday, April 20th as two of the sport's biggest stars face off in the year's most anticipated welterweight showdown when TERENCE "Bud" CRAWFORD puts his WBO Welterweight World Title on the line against the pride of Bolton, England, AMIR "King" KHAN. Crawford (34-0, 25 KOs), from Omaha, Neb., is ranked by many experts as the world's best fighter, a switch-hitting dynamo who has reigned supreme in three weight classes. Crawford made history when he unified all four 140-pound titles in 2017 before moving up to Welterweight. Crawford will be stepping into The Garden's famed Boxing ring for the third time in his career. Khan (33-4, 20 KOs) burst into the public consciousness at the 2004 Summer Olympics in Athens when, at 17 years of age, he captured a silver medal for Great Britain. The lightning quick former unified 140-pound champion has won seven of his last eight bouts as he prepares to take on the pound-for-pound king in a legacy-defining superfight. Before the main event, a pair of 21-year-old wunderkinds — Teofimo Lopez and Shakur Stevenson — will look to steal the show in their respective co-feature bouts. Steve... (read more)
Britfest Car Show 2019 - Horseshoe Lake Park
May 04, 2019 - Succasunna
The MG Car Club Central Jersey Centre will sponsor Britfest on May 4,2019 an all British car show held since 1992. The show features sports cars, motorcycles, and other vehicles celebrating British auto history. The show, very popular with British car and motorcycle enthusiasts, attracts up to 250 vehicles and up to 800 spectators annually. This year as in the past few years, Britfest will be held at Horseshoe Lake Park in the Roxbury Township Recreation and Municipal Complex, 72 Eyland Avenue, Succasunna, New Jersey on May 4, 2019, rain or shine. Every year a chosen marque is celebrated at the show. This year we are celebrating the Austin Healey 3000, but all British marques are welcome. The show will be held from 9am - 3pm. Pre-registration before 4/15/19 is $20 after 4/15/19 and at the gate, the cost is $25. Spectator admission is $3. Voting on your favorite cars in 20 different classes will take place from 9am to 12noon. Prizes will be awarded at 2pm. Dash plaques will be given to the first 100 cars. There will also be door prizes, vendors and food available at the show. To obtain an entry form please go to our website at www.mgccnj.org. Any questions please contact Eliot Ganek... (read more)
Damon Runyon Cancer Research Foundation to Hold Annual Runyon 5K at Yankee Stadium on Saturday, May 11, 2019 - Yankee Stadium
May 11, 2019 - Bronx
Registration is now open for the 11th Annual Runyon 5K, which will be held on Saturday, May 11, 2019, at Yankee Stadium. 100% of donations raised will directly support bold and innovative scientists funded by the Damon Runyon Cancer Research Foundation. Since the inaugural event in 2009, thousands of Runyon 5K participants have helped raise more than $5.2 million for breakthrough cancer research. "Each year, the Runyon 5K draws people from all five boroughs and the entire tri-state area, and beyond. From cancer survivors and their friends and family members to baseball fans and runners, all participants come with a common goal: to support groundbreaking cancer research that will save lives," said Yung S. Lie, PhD, President and CEO of Damon Runyon. "We encourage anyone who has been touched by cancer to join us at Yankee Stadium on May 11." The Runyon 5K route starts at Gate 4 and winds through the ballpark's concourses and ramps, and up the stairs between levels. Participants have the opportunity to take two laps around the warning track that circles the field, appear on the centerfield video board, and meet scientists funded by Damon Runyon. The 2019 Runyon 5K is pre... (read more)