Prost! Celebrating Oktoberfest 2017 NYC
September 5, 2017 - by Linda Sheridan
The original Munich Oktoberfest was held in 1810 and New Yorkers have been using it as an excuse to down a few beers almost ever since. For Oktoberfest 2017 in NYC, grab your favorite sweater, a friend or two, and toast Prost! at the Oktoberfest celebrations going on all around the city.
Oktobefest 2017 NYC: Beer Halls
Loreley Restaurant & Biergarten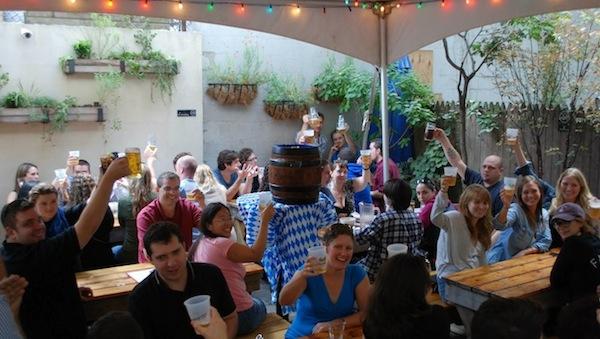 It's basically Oktoberfest year-round at the Lower East Side's Loreley Restaurant & Biergarten. There are a dozen German beers on tap, a wide selection of brats, and a friendly back yard. The kickoff party begins Sept. 16 at noon, with a free keg tapping and a pig roast (followed by a hangover brunch party the next day, Sept. 17); on Sept. 20, enjoy Das Craft Bier Weekend; festivities will be continuing, check the website for details. 7 Rivington St., 212-253-7077, loreleynyc.com
Houston Hall

Manhattan may be cramped for space, but Houston Hall has managed to snag a whopping 8,000 square feet of prime West Village real estate. In September, catch two dedicated nights for Oktoberfest (Saturday, September 16th and Saturday, September 30th) where $20 includes entrance to the festivities, two mugs of beer, and a pretzel necklace. They'll be serving their own seasonal craft beers, including Oktoberfest Lager and hefeweizen, plus a live DJ, traditional German fare, and drinking songs. 222 W. Houston St., 212-675-9323, houstonhallny.com
Reichenbach Hall
One of Manhattan's largest indoor beer halls at a whopping 5,000 square feet, midtown's Reichenbach Hall will be celebrating Oktoberfest all month long, with 14 German beers on tap and a smorgasabord of pretzels, brats, and more. 5 W. 37th St., 212-302-7744, reichenbachhall.com
The Standard Biergarten at The Standard, High Line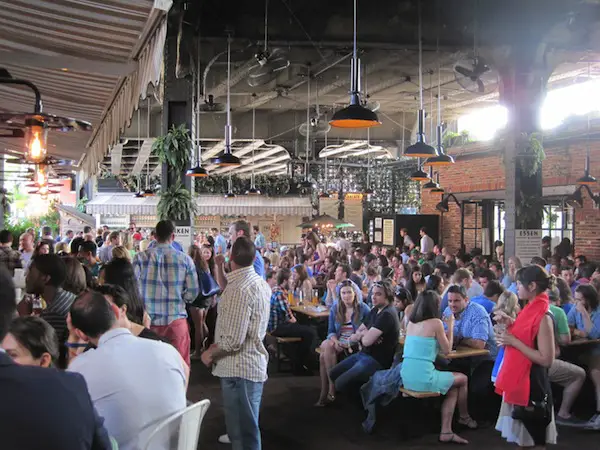 The street-level garden of the always hot Standard Hotel will be celebrating Oktoberfest 2017. Look for pretzels, brats, specially made cookies, prizes, the house-brand Standard Biergarten beer, and more. Watch this space for further details. The Standard, High Line, 848 Washington St., 212-645-4100, standardhotels.com/new-york/features/biergarten

Bohemian Hall and Beer Garden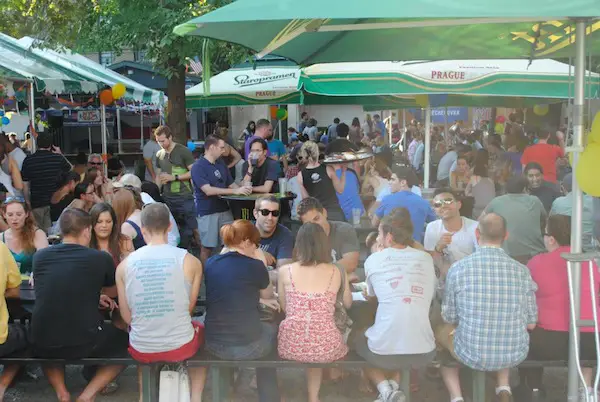 Sept. 23-4, Sept. 30-Oct. 1, Oct. 7-8, it's Oktoberfest at the sprawling Bohemian Hall & Beer Garden in Astoria, Queens with a special menu, live bands, beer, stein hoists, and more. Festivities kick off Sept. 23-24 with a weekend pig roast. On Sept. 30, have fun with a specialty cask from Blue Point and a strike a pose in the photo booth. Weekends only, 2919 24th Ave., Astoria, 718-274-4925, bohemianhall.com
Black Forest Brooklyn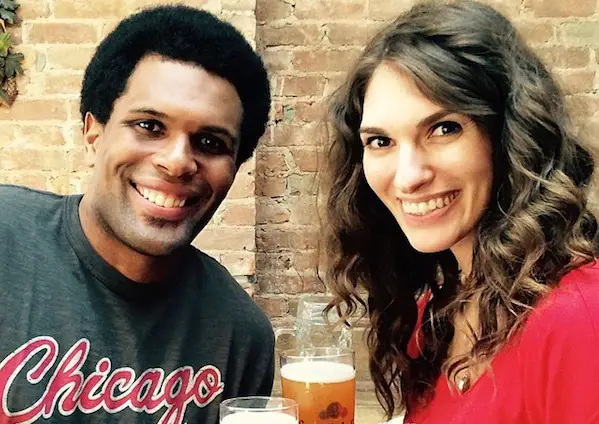 The indoor Brooklyn restaurant/beer garden Black Forest will be kicking up the festivities for Oktoberfest with a keg-tapping ceremony, a mug-holding competition, a dirndl & lederhosen costume contest, live performances and more. Watch this space for further details. 733 Fulton St., Brooklyn, 718-935-0300, blackforestbrooklyn.com
(New!) Greenpoint Terminal Warehouse
The first ever Brooklyn Oktoberfest will take place at Greenpoint Terminal Warehouse, the weekend of Oct. 20-Oct. 22. The warehouse structure located in the Greenpoint neighborhood of Brooklyn will mimic an authentic Munich festival tent, with Bavarian blue & white ceilings, & authentic festival tables imported from Germany. Music by the Alex Meixner Band, plus special guest appearance by Melina, performing her hit song "I love German Boys". Tickets range $40-$100.
Flatiron Hall

Flatiron Hall is the quintessential New York City beer hall, featuring a 25-foot Victorian style bar with antique glass arches and an array of vintage chandeliers and old school décor. As for the booze, you can find 12 special beers on tap at all times in this speakeasy-inspired establishment. Get a group together and you can enjoy Flatiron Hall's amazing facilities for private parties. For Oktoberfest, you can bring a group of 40-125 down to the cellar, or you can book a smaller event on the main floor and enjoy a special Oktoberfest-themed happy hours and more. 38 W. 26th St., 646-790-3200, flatironhall.com
Oktoberfest 2017 NYC: Events
Munich on the East River

at Zum Schneider
The boisterous Bavarian bierhaus Zum Schneider in the East Village hosts this annual event, held in a tent, Sept. 29-Oct. 8. Staff fluent in German and English, dresed in Dirndl and Lederhosen. Tickets required, starting at $28. (In addition, there will be an Oktoberfest Warm Up event Sept. 23-24, at 1pm both days. Free admission.) Zum Schneider Oktoberfest Tent, 24-20 FDR Drive Service Road East, nyc.zumschneider.com
Oktoberfest at Treadwell Park
Sept. 15-Oct. 8 (weekends) it's Oktoberfest at Treadwell Park. The celebration at this Upper East Side beer hall will kick off on Sept. 15 at 7pm where customers can try an array of German regional beer selections with the ultimate goal of filling a special passport. Event is free, tickets required. 1125 First Ave., 212-832-1551, treadwellpark.com
Oktoberfest at Watermark Bar
Sept. 15-17, Sept. 22-24, and Sept. 29-Oct. 2, Watermark Bar overlooking the East River in the South Street Seaport will be celebrating Oktoberfest from noon to midnight, with a smorgasbord of food, games, beer (incuding Hofbrau, Weihenstephan and Radeberger), and live music. 78 South St., 212-742-8200, watermarkny.com
Oktoberfest at the Manhattan Bridge Archway
The DUMBO Improvement District (DUMBO BID) hosts its second annual Oktoberfest celebration under the Manhattan Bridge Archway on the Brooklyn side. Look for two days of festive musical performances, crafts, and themed food offerings on Friday, October 6 from 5:00 p.m. to 10:00 p.m. and Saturday, October 7 from 1:00 p.m. to 10:00 p.m., transforming the Manhattan Bridge Archway into a traditional German "beer hall."
Musical entertainment includes:
The Polka Brothers, a four man band of young polka lovers that perform a unique mix of classic polka favorites, covers of pop and rock songs with a polka spin, as well as original tunes (Friday, October 6 from 5:30 p.m. to 9:30 p.m.).
Street Beat Brass, a New Orleans inspired brass band, playing traditional German, Polka, and Oompah hits (Saturday, October 7 from 2:00 p.m. to 4:00 p.m.).
Melina and the Oompahs, performing music ranging from the traditional German tunes of her native country to hits from the 50s and onward, complete with costumes, tubas, and accordions (Saturday, October 7 from 5:00 p.m. to 9:00 p.m.).
Circle Line's Oktoberfest/Bear Mountain Cruise
Sept. 23-Nov. 12 (+Oct. 9), take advantage of Circle Line's Bear Mountain Cruise, or as it has come to be known by many, the Oktoberfest Cruise, presented by Warsteiner. Peak fall foliage, live bands, craft vendors, and the largest pretzels known to mankind all welcome you to a hoppy universe far away from the daily grind. You can burn off all those beer and brats, plus stock up on fresh air, with a gorgeous three-hour hike along one of the 50 hiking trails in Bear Mountain State Park. They'll be setting sail Columbus Day, too. $65 adults, $52 kids. Boards 8:30am sharp. Pier 83, W. 42nd St. and 12th Ave., NY, 212-563-3200, circleline42.com
Looking for Free Group Planning Services?
Get free advice on planning your group's trip to New York.
RESTAURANTS

The handsome, 12,000 square foot Times Square location offer...

THEATER

The story of cosmetics titans and fierce competitors Helena ...

SHOPPING

Heaven for designers, artists, and antiques lovers....

SIGHTSEEING

Opened to the public in 1913 thanks to the ingenuity and amb...