A trip to the observation deck of One World Observatory carries with it a particular set of expectations. It's not just: How will the view be? It also carries, of course, the weight of its past, of 9/11 and its aftermath. Happily, the One World experience offers just the right measure of gravitas and time for reflection.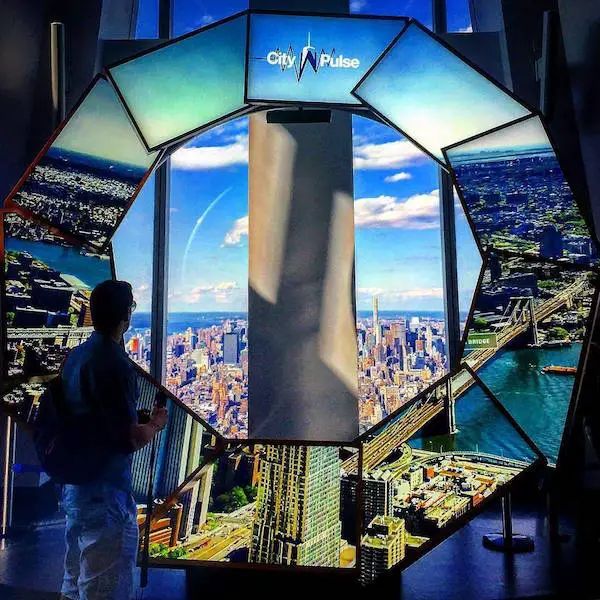 Photo: One World Observatory Facebook page, via Instagram user cadbimmanager.
The journey starts in the lobby at the Global Welcome Center, which has real-time info about visitors—it flashes material in 10 languages and shows the countries from which guests hail. Watching the screen is mesmerizing; you could easily stand there for quite a while. Don't, though, because there's a lot more to see.
As your visit gets underway you'll see a video wall that focuses on the workers who built One World Observatory. It's undeniably moving; the video montage changes to focus on different people who were involved in the building's creation, but the sincerity of their pride in being part of the project drives home where you are. It's a good way to approach the rest of the tour, and a subtle way to avoid a lecture about its origins.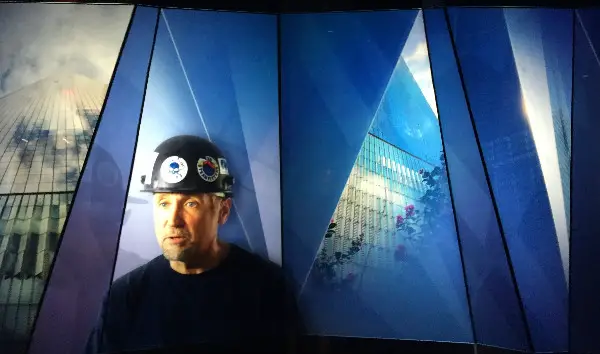 One of the coolest parts of the whole experience: a trip through "Foundations," both literally and metaphorically. As you make your way to the elevators, you'll see the bedrock on which One World Observatory—and in fact, the whole city—is built. You're actually starting from the ground up. It's a great contrast to the light and views that await you higher up.
To get to the top, of course, you have to, um, actually get to the top, and that means riding in the Sky Pod Elevator. The good news is that it only takes 60 seconds. If you're not a fan of heights or speed—or both at the same time—the bad news is that it takes 60 seconds. However, you're surrounded by incredible time-lapse LED technology showing the city's evolution; if you don't want to think about how fast or high you're going, focus on the wall straight in front of you, breathe deeply, and you'll be fine. (It's also a seriously cool bit of technology.)
When you emerge from the elevator, there's another cool audiovisual experience. We wouldn't dare reveal the reveal what happens at the end, but it's expected (sort of, or maybe not at all) and it's completely breathtaking. If you don't literally gasp, check for a pulse. It's an astounding moment, and one that's well worth the whole trip. You'll be tempted just to stand there—but don't. There's much more to see.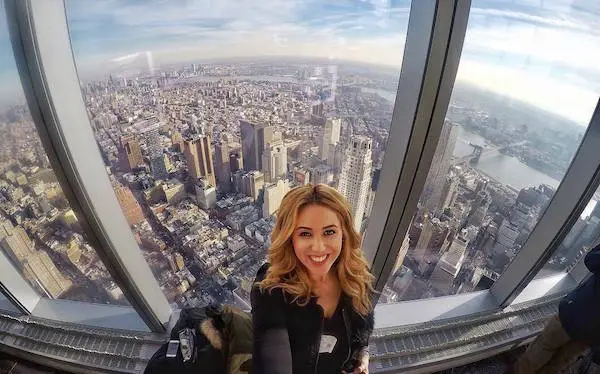 Photo: One World Observatory Facebook page, via Instagram user thesocialgirltraveler.
You're now on the 100th floor, with 360-degree views of Manhattan, New Jersey, Brooklyn, and the waters round you. It's an amazing experience, and there's nothing else quite like it. (Caveat: sunny days are great. Although there's plenty to be said for dusk and night views, too.)
The view is extraordinary wherever you stand—there's simply no bad spot. You should definitely take your time and wander around at your leisure. We really like the way the teeny tiny Statue of Liberty looks, as well as the uptown views. (City Pulse Ambassadors are always on hand to answer questions and point out landmarks.) It's worth walking around the entire space to see the whole city from different perspectives—even if you're a New Yorker, you'll be surprised at how unfamiliar certain sights look, and how hard it is to orient yourself. You'll definitely spend time trying to find landmarks, even if they're landmarks just to you, like your Aunt Mabel's favorite grocery store, or your health club. (Think about going early; fewer crowds, and fantastic shadows on the water.)
One of our favorite things: the sky portal, a 14-foot glass disc in the floor that transmits images of what's happening on the street below. It's a fantastic idea—who knew that watching taxis could be so mesmerizing? It also emphasizes the building's relationship with the city, and reminds you that it's part of a larger landscape.
You'll be surprised that as you walk around (and around and around and around) that the view through the window you were at five minutes ago now looks different because the sun has shifted; or there are more people, new shadows, something you didn't notice before. (Good news: If you're not crazy about heights, you should be fine. The setting is constructed in such a way that you always feel like you're back just far enough. We speak from experience.)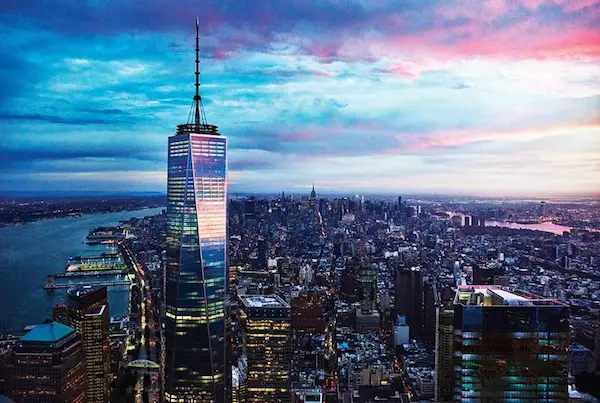 Who else has been here? If you were wondering about recent celeb visitors, they include the Prime Minister of Ireland, Josh Gad, Sarah Gellar (Olaf and Buffy in the house!), and country music singer Brett Eldridge. Don't be suprised if you see a bold-faced name or two on your visit.
You can purchase a variety of ticket packages that offer such options as priority tickets that let you skip the line, or flex admission (enter when you wish, within reason). The venue also offers special programming throughout the year, from Sky Yoga (well, what else would it be called?) to live performances.
You can definitely experience New York from on high at other venues, like the Rainbow Room, but this one is special. The combination of the panoramic views, the extras—that sky portal—and the weight of the site's legacy make it unique. It also feels like a really complete experience—it wouldn't be as rich if, for instance, you started right at the Observatory.
Toast the view at the bar and restaurant atop One World Observatory.
The Observatory also offers dining options and gift kiosks (which break the mood a little, but we get it), but the lure is, of course, that astounding view. When you're standing up there, we defy you to not think about the video images you saw at the beginning of the tour, listening to the voices that built it, or to think about the building's past and all it took to get here.
One World Observatory, 285 Fulton St., entrance on the corner Vesey and West Sts., 844-696-1776, oneworldobservatory.com