Enjoy a Libation at Oscar Wilde, NYC's Longest Bar
December 6, 2017 - by Linda Sheridan
"Work is the curse of the drinking classes."—Oscar Wilde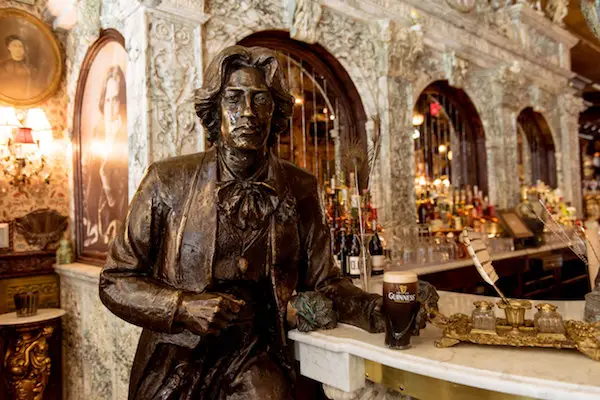 Photo: Oscar Wilde NYC
Looking for a bar after work with a distinguished atmosphere? NoMad's Oscar Wilde NYC could be your next Friday evening destination. NYC's longest bar, at a generous 118.5 feet, is named after one of Ireland's most renowned writers/playwrights, Oscar Wilde, who gave us The Picture of Dorian Gray, The Importance of Being Earnest, plus countless quotable gems such as, "We're all in the gutter, but some of us are looking at the stars," "True friends stab you in the front," and "The truth is rarely pure and never simple."
"We named our newest bar after Oscar Wilde, since he was longtime friends with Lillie Langtry, a successful British actress and socialite of the late 19th century and the namesake of Lillie's Union Square and Lillie's Times Square," said bar co-owners Tommy Burke and Frank McCole, making their third foray into the Manhattan nightlife scene.

Photo: Linda Sheridan
The cocktail bar/gastropub is a definite must for one's Instagram feed, beginning with the seated statue of the man himself on a bench outside the bar. Almost cavern-like at a whopping 5,874 square feet, the interior is decorated in a rich Victorian style, with handsomely carved Carrara marble bar tops, elegant lamps, a Belgian piano from the 1890s, a standing clock from England in the 1880s, antique fireplaces, and shelves that reach the ceiling with some 300 whiskeys and just about every kind of spirit imaginable. The bar's location isn't random—the building it's housed in dates back to 1919, when it was headquarters of New York City's Bureau of Prohibition (Oscar Wilde always appreciated ironies).
Photo: Linda Sheridan
The charming cocktail list reflects the Victorian and Prohibition eras, with names such as "My Bookie's Wife's Cocktail" (Bisongrass Vodka, elderflower liqueur, rose wine, grapefruit, and Peychaud's Bitters) , Absinthe Drip (served at the Absinthe fountain), and the Bee's Knees (Darnley's Gin, honey, lemon, black ice, and lemon twist), among many others.
Photo: Oscar Wilde NYC
Lunch and dinner menus serve up some tasty gastropub fare, such as moules frites (Prince Edward Island mussels, bacon, peas, brandy cream, frites), seasonal grilled pear salad (with lemon ricotta, bacon bits, and vinaigrette), cottage pie (braised lamb and oxtail, whipped tomato puree, English peas, puffed pastry), burgers, and lamb sliders, in addition to a selection of desserts, including memorable bourbon-apple galette, all presented on lovely vintage china. A brunch menu is also available.
Even the bathrooms downstairs are a treasure to freshen up in, with WWII-era songs and radio spots playing, and sinks decorated with elegant bronze swans. There is also a bathroom on the main floor for handicap access.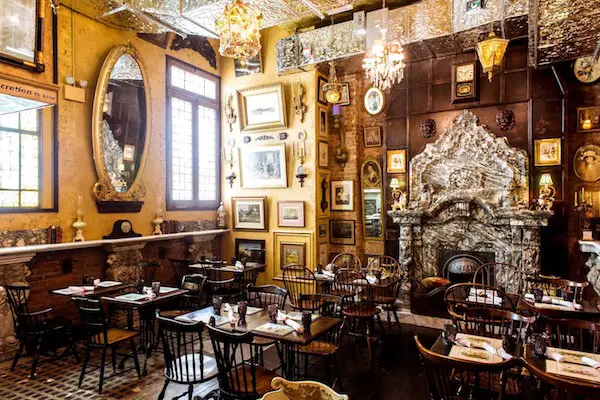 Photo: Oscar Wilde NYC

For groups seeking to get away from the din of the crowd, take care to make a reservation instead, and request the seated dining room in back, which has a capacity for 90 standing/75 seated. The bar's overall capacity is 400 standing/225 seated.
Oscar Wilde NYC is open seven days a week from 11am-2am, at 45 W. 27th St. For more information, visit oscarwildenyc.com.
Looking for Free Group Planning Services?
Get free advice on planning your group's trip to New York.
RESTAURANTS

Beer hall casual meets craft cocktails with a healthy dose o...

THEATER

In a heartbeat, 38 planes with 6,579 passengers were strand...

SHOPPING

Specializing in the great vineyards of California, France, A...

SIGHTSEEING

This renovated museum complex includes the 900-foot-long air...