"Live, from New York, it's Saturday night!"
Saturday Night Live has been an integral part of NYC culture since 1975, each week, with its skits and "Weekend Updates" poking fun at current events and satirizing celebrities. Even if you're not from New York City, you know the names and faces-Bill Murray, John Belushi, Gilda Radner, Eddie Murphy, Dan Aykroyd, Chris Rock, Tina Fey, Amy Poehler, Tracy Morgan, Kristen Wiig, Jimmy Fallon. Many enjoyed continued success years later, but they got their start writing/performing for SNL. They're now being honored in Saturday Night Live: The Exhibition, at the brand new venue, Premier Exhibitions 5th Avenue, opening appropriately Saturday, May 30. 
Organized by Premier Exhibition's Creative Director Mark Lach, the exhibit, which took six years in the making, is designed to give one an intimate understanding of the show's weekly production schedule, broken into daily sections. Premier Exhibitions worked with Broadway Video Enterprises (Michaels's production company) for this project.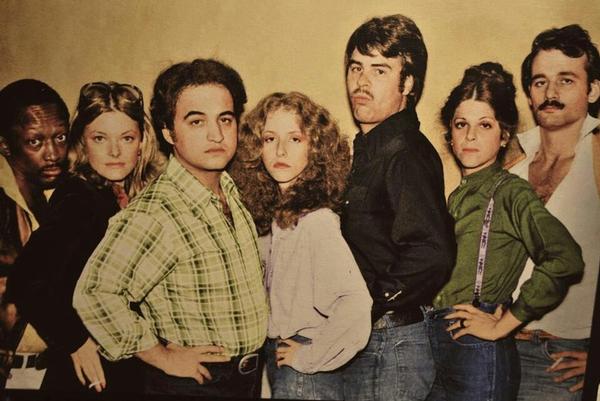 One of the original SNL lineups-Garrett Morris, Jane Curtain, John Belushi, Laraine Newman, Dan Aykroyd, Gilda Radner, Bill Murray
The exhibit begins with a walk-through recreation of the entrance to 30 Rockefeller Center, and a welcome video hosted by 30 Rock's Alec Baldwin, who has had the honor of hosting SNL a whopping record 16 times.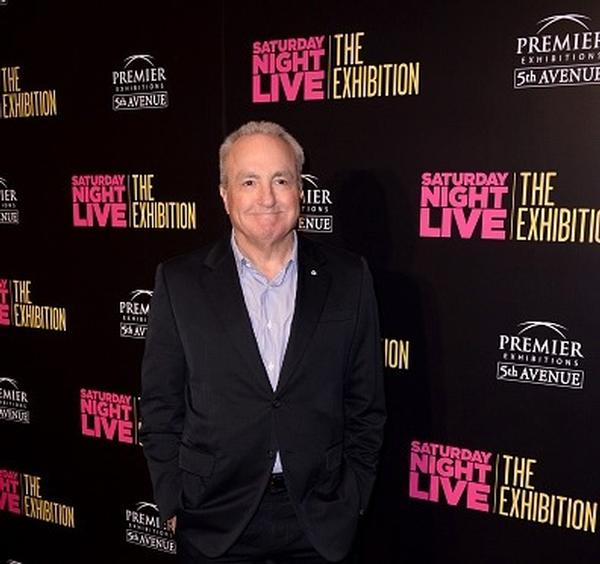 Creator/Executive Producer, Lorne Michaels, at the exhibit's opening night. (Credit: NBC/Getty Images)
"Monday" is a reconstruction of the office of SNL Creator/Executive Producer Lorne Michaels. "Tuesday" is a room where the writers put sketches together. "Wednesday" is a "read-through" room, where you can hear cast members throwing ideas together across a virtual dinner table, and peek at their scripts. "Thursday" and "Friday" rooms are dedicated to constructing sets/creating costumes. The "Saturday" room is a recreated control room of Studio 8H, SNL's home. In each of the rooms, there are video screens, with cast members offering up anecdotes of their experiences, plus clips of the best skits.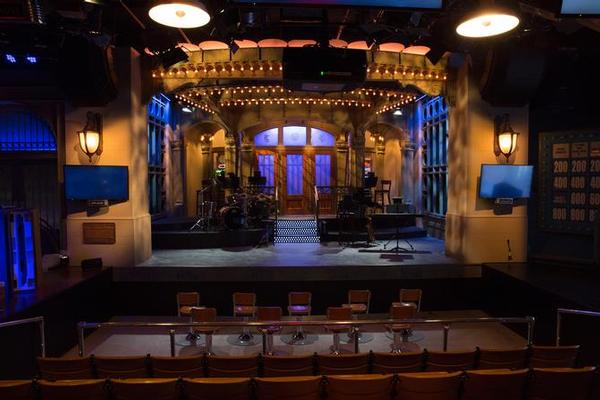 (Credit: Premier Exhibitions)
In addition to the weekly prep rooms, there are sets, including the den of popular 90s duo "Wayne's World" made famous by Mike Myers and Dana Carvey. The exhibit is also packed with costumes, such as Bill Murray's "Nick The Lounge Singer" jacket, John Belushi's bee costume from the first season, Tina Fey's red dress for her spot on imitation of Sarah Palin, and the cheerleader outfits sported by oddball team Will Ferrell and Cheri Oteri.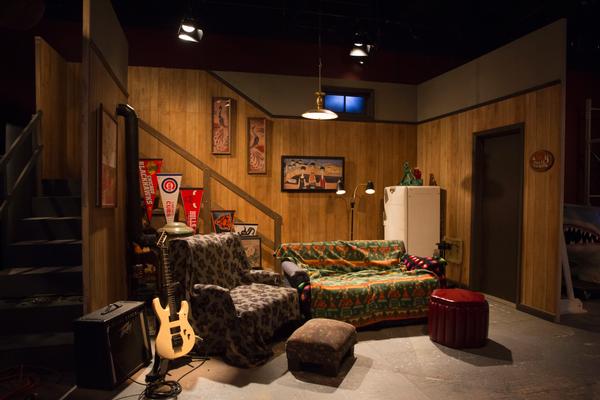 Set from "Wayne's World" (credit: Premier Exhibitions)
Saturday Night Live: The Exhibition, runs through Jan. 2016. For more information, or to order tickets, visit snltheexhibition.com
*Click here for some of Saturday Night Live's most popular catchphrases.