Subway NYC: Tips for Riding the Rails
October 30, 2015 - by Kristen O'Neal
Subway NYC: If you've never visited New York City before, you might be feeling nervous about how to tackle NYC's famous transit system, the subway. It might seem impossibly complicated, but we have some tips to get you on the right track.
Image: Metropolitan Transportation Authority of the State of New York/Flickr
Pick up or download a map: You might be thinking to yourself, "But I have a smartphone! It'll tell me where to go!" Don't underestimate the value of a physical map—especially if you get lost on the subway, where your cell phone mostly won't have service!* (*Mostly won't have service: if you are riding on elevated track, outside of central Manhattan and Brooklyn, you'll be able to use your phone. The MTA, which runs the subways in New York, is adding WiFi and other phone coverage to more and more stations every year. Check here to see the current stations that have coverage.)
Pay attention to the "uptown" and "downtown" entrances: In many other major cities, it doesn't matter which entrance you take, because all roads lead to the metro system. Not so in New York! Figure out if you're going uptown or downtown and walk down the corresponding stairs (across the street from one another) to make sure you don't end up in Brooklyn trying to get to the Met!
Invest in a MetroCard: The extra dollar is worth not having to pay for a single ride ticket every time you want to go somewhere, and you can refill your card at any of the MTA machines.
Walk to the end of the platform: Or, walk to the area where people aren't already crowded to avoid the most crowded cars of the subway.
You only have to pay once: Once you're underground, you can transfer to other lines at the correct station without any extra charge past the original $2.75.
Don't get on the wrong train: This might be easier said than done! Make sure you're going the right direction—uptown or downtown—and keep an eye out to make sure you don't get on an express train when you need a local. Also, some tracks are home to multiple lines, so check the outside of the car (so you don't get on the E instead of the M, for example). If you get turned around, just check the maps inside the car.
Always look to see which station you're at: While most subway cars have announcements, a few do not—make sure to check out the windows for the name of the stop on the station walls so you don't miss your stop.
Pay attention to weekend modifications: New York schedules subway maintenance on weekends so that subway delays don't interrupt or ruin anyone's weekly work commute. There are several blogs with up-to-date changes, and these changes will also be clearly posted on papers inside the station. The MTA posts its Weekender here.
Give yourself extra time: Because you may have to wait five to ten minutes (or even longer late night) at some parts of the day for the next train, there may be delays, or you may get turned around, allow yourself a range of times to arrive at a destination.
Brace yourself: "I can just keep my balance while looking cool and crossing my arms," you think to yourself. You are wrong—the handrails are there for a reason!
Subway facts: For some fast facts, and a little trivia, click here.
Now good luck, and happy subway travels!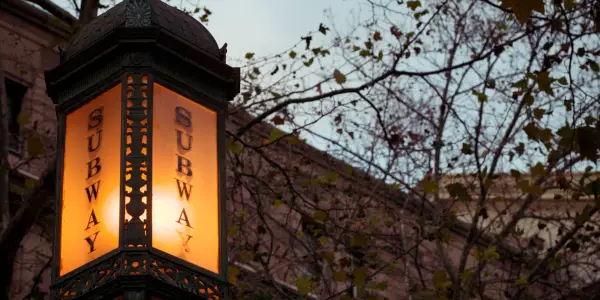 Looking for Free Group Planning Services?
Get free advice on planning your group's trip to New York.
RESTAURANTS

Brings together the character of Hell's Kitchen past with th...

THEATER

In this new musical, Jenna, supported by her quirky crew of ...

SHOPPING

Shop or sell at this weekend bargain hunters' paradise....

SIGHTSEEING

Opened to the public in 1913 thanks to the ingenuity and amb...