Taylor Swift isn't just a household name, she's a 10-time Grammy award winning artist who has been one of few to cross the world of musical genres from country to become one of the world's best selling pop artists. Now for a limited time, fans in New York City can see an exhibit of Taylor Swift's costumes, hand-written song lyrics, and more. The Grammy Museum opened The Taylor Swift Experience on November 18, 2016, and the exhibit has been going strong ever since. On display in New York's Seaport District through February 19, 2017, if you haven't yet checked it out, make plans soon.
 Taylor Swift Official Facebook Page
While Taylor Swift is only a youthful 27 years old, she has accomplished an impressive amount more than any of her Hollywood peers. With the release of her critically acclaimed album, 1989, in the fall of 2014, Swift conquered a feat that had previously been called impossible: selling nearly 1.3 million albums in a record's debut week. And the accomplishments don't end there. Swift is the only artist in history to have three albums break a million copy sale record in their first weeks of release. Swift is also the proud recipient of ten Grammy awards, part of Rolling Stone's prestigious "The 50 Greatest Albums of All Time" (by women) list, and Billboard Magazine's youngest recipient of the "Woman of the Year" title. Simply put, Swift has a career that will not be falling to the wayside anytime soon.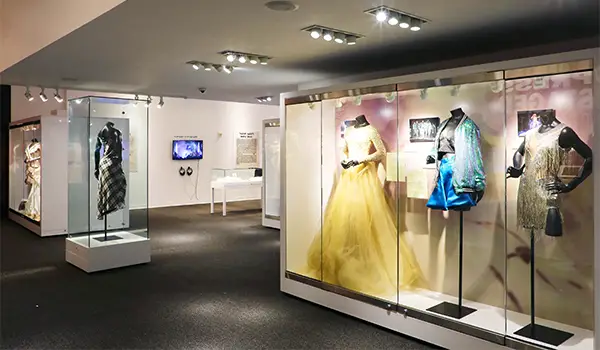 The Taylor Swift Experience has dozens of the superstar's personal items and awards on display, including:
* Personal family photos & childhood books
* Tour costumes from "The RED Tour" and "The 1989 Tour"
* Iconic outfits from the award-winning music video "Bad Blood" & "Mean"
* A never-before-seen pre-Met Gala Louis Vuitton dress
* Handwritten lyrics for the smash hit "22"
* A Grammy Award for Best Female Country Vocal Performance
* The banjo from Swift's Grammy performance of "Mean"
* A one-of-a-kind custom-built piano for the "The 1989 Tour"
Along with the plethora of artifacts on display, there will also be interactive elements to The Taylor Swift Experience, inviting visitors to partake in the fun.
Purchase your tickets now to view The Taylor Swift Experience. At only $9 a ticket, there's no excuse for missing this once-in-a-lifetime gallery that celebrates the life and career of one of the music industry's biggest stars. Tickets can be purchased at Ticketmaster.
"Debuting The Taylor Swift Experience at our Museum in L.A. was an incredible honor and a huge success for us. We couldn't be more excited to get this exhibit on the road for fans all over the world to experience the remarkable singer, songwriter and musician that is Taylor Swift, and we're so thrilled for New York and the Seaport District to be the first stop on this tour," said Bob Santelli, Executive Director of the GRAMMY Museum at L.A. LIVE.
Seaport District NYC, 19 Fulton St., 646-822-6972, southstreetseaport.com