The Christmas Spectacular Starring the Radio City Rockettes® is back for 2017, starting November 10th! One of New York City's perennial favorites has returned, with high-kicking Rockettes and all the spirit of the holiday season. The 2017 edition features dazzling dance numbers and costumes, traditional favorites, and state-of-the-art technology. The finale, "Snow," transforms the hall into a winter wonderland that features GPS-enabled snowflakes. "Snow," which was introduced in 2013, takes the Rockettes signature technique and athleticism to its greatest heights ever. The show also includes long-running favorites, including "Living Nativity," a reverent tribute to the first Christmas, and "Parade of the Wooden Soldiers," which sets the standard for the Rockettes' style of precision dance.
The show also features the world's largest flying indoor LED screen, new routines and surprises, songs and carols, razzle-dazzle costumes, 3-D and cutting-edge digital projection, alongside beloved numbers that have been traditions since 1933. Entertainment at Radio City begins a quarter hour before showtime when the mighty Wurlitzer organs roll out with dueling organists for a most entertaining concert of holiday favorites.
What's New for 2017 for the Christmas Spectacular
For 2017, the Christmas Spectacular has received a complete technological overhaul. A new LED wall, new digital projections, and updated graphics are just the beginning. Audiences are immersed in the action like never before—the screen on stage is one of the largest 8K-resolution LED screens in the entire world.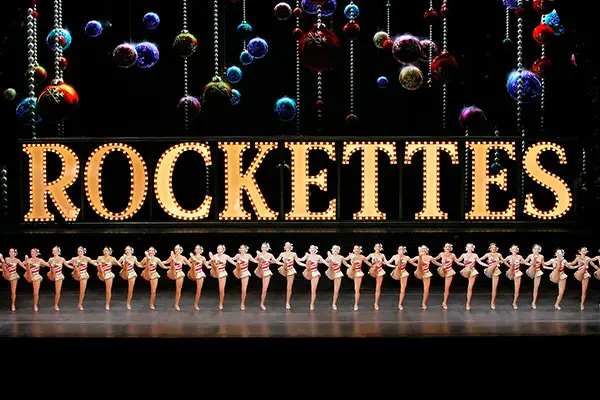 Behind the Music Hall Curtain: Rockettes Trivia
• Before they became The Rockettes, the precision troupe was called the "Roxyettes" after their first NYC venue, the Roxy Theatre.
• There are nine free-floating snowflakes, roughly four feet in diameter, that fly throughout the theater in "Snow." Controlled by a mini GPS system, they transform the Music Hall into a glistening wonderland.
• The "New York at Christmas" scene features a faux ice rink made from an artificial surface with the same properties as real ice.
• Between the Rockettes, ensemble, and Santa Claus, more than 1,200 pairs of shoes are worn per show.
• One of the Christmas Spectacular Starring the Radio City Rockettes®'s most beloved performers is a camel named Ted, who costars in the "Living Nativity."
The Christmas Spectacular Starring the Radio City Rockettes® runs through January 1st, 2018. For tickets, visit the Music Hall box office Mon.-Sat., 10am-6pm (Sixth Ave. & 50th St.), rockettes.com/christmas or call 866-858-0007.